Do you suffer from flaky and scaling scalp often? If yes, then you should try essential oils for your hair care routine. The increased pollution and the regular use of chemicals and hot irons on your hair can damage your hair and the follicles. To have a healthy scalp and hair growth in this era is very rare and difficult to maintain. 
There are home remedies, hair supplements, and expensive treatments to get rid of dandruff, but the core care routine for your hair is the best solution. Not everyone can afford regular appointments at the professional salon to get their dandruff fixed, or products to manage them.
But you surely can rely on nature's elixir that not only treats your dandruff but also gives your hair shine and volume. In this blog, we are going to discuss how essential oils come in handy when you have an itchy and scaling scalp, and 5 essential oils that will help you overcome that.
How Does Essential Oil Help You?
Using natural products over artificial treatments has always been preferred in the wellness industry. Essential oils are extracts from natural gems that are known for their medicinal benefits. They are marketed in various forms, be they essential oils, supplements, or powders that can be mixed easily in the water.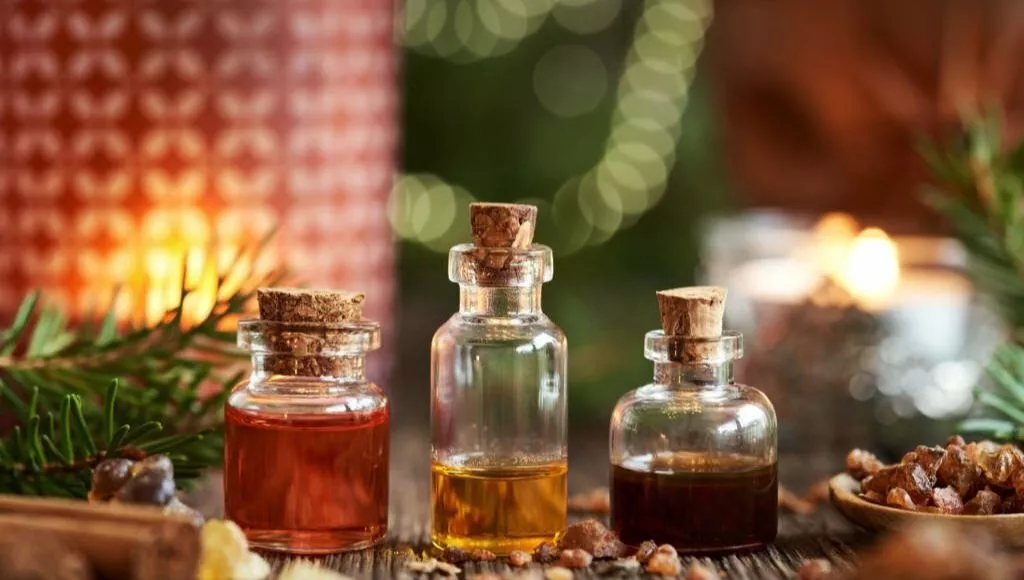 Researchers have concluded that essential oils like lemongrass, peppermint, thyme, rosemary, and tea tree are effective in getting rid of dandruff. To be more concise, each essential oil has a different component and affects different aspects of hair complications, but their common benefit is to manage dandruff.
5 Essential Oils For Treating Dandruff
Dandruff can be caused by poor hygiene, dry scalp, oily skin, or as a side effect of using harsh products on your hair. Here is how you can rectify these situations by using essential oils.
Lemongrass Essential Oil
Lemongrass is very different from lemon and is often mistaken as an extract from the citrus fruit. It is extracted from a long-leafed plant that has anti-inflammatory and anti-fungal properties that help to reduce the itchy and flaky scalp. This oil improves the hair texture and gives a healthy shine to your hair. 
Also, it contains neral and citronellol that come in handy when you have thinning hair or live under extreme climatic conditions with pollution. This essential oil acts as a deep cleanser and promotes hair growth.
Peppermint Essential Oil
Peppermint is not only a great taste enhancer but also helps you get rid of dandruff. It has a cooling effect and is yellow which can be mixed with other essential oils to bring the best results to your scalp.
The usual process of including peppermint oil into your hair care routine is mixing 5 drops of it in your shampoo and massaging it. This will also improve your hair growth, treat flaky scalp, and add a fresh fragrance to your hair.
Thyme Essential Oil
Using a sweet and herbaceous essential oil when you have snow in your hair is the fastest and most effective solution. Thyme essential oil is known to increase blood circulation and treat scalp infections.
Many beauty products include thyme as their primary ingredient as it has anti-fungal properties. You can make a hair tonic of Thyme essential oil, honey, and apple cider vinegar. Use this tonic daily to get rid of dandruff and enhance hair growth.
Rosemary Essential Oil
Rosemary oil is quite popular in the cosmetic and rehabilitation industry as it helps soothe your senses. This oil reduces excess oil that secrets in your scalp which leads to flaky skin and dandruff. Massaging your scalp with rosemary essential oil once a week is enough to treat dandruff and stimulate healthy hair.
Tea Tree Oil
Tea tree oil has a camphoraceous fragrance that not only soothes your scalp but also provides moisture to your hair. It has anti-inflammatory properties that work best for scalp and skin infections. You can add a few drops of tea tree oil to your shampoo, let it sit for 3-5 minutes, and then rinse it.
Conclusion
Using essential oils in your hair care routine will save you tons of money and time. Head massages, washing your hair at regular intervals, and using a mild shampoo can help you avoid dandruff.
You can also indulge in healthy eating habits, get sufficient sleep, and avoid stress to steer clear of hair complications and premature aging.