Occurring dandruff is the condition that sades dead skin cells from the scalp, resulting in white flakes that can be visible on the hair or shoulder. It is one of the common and frustrating issues, and people implement various remedies and products to treat this issue.
Apple cider is one such natural remedy that is believed to have the potential to eliminate dandruff from the scalp. However, the research doesn't support ACV use to treat dandruff. But some elements like anecdotal and properties like antifungal and disinfectant evidence that it has some benefits. So, let's explore the seven effective ways through which ACV can be used in dandruff treatments.
Effective Ways To Use Apple Cider Vinegar For Dandruff Treatment
1] Moisturize Your Hair With ACV And Coconut Oil
Coconut oil is considered the best option for moisturizing and complementing the dandruff-fighting effects. You can enhance its moisturizing properties by adding apple cider to nourish your scalp.
Just mix an equal amount of ACV and coconut in a bowl and massage your hair and scalp. Wash your hair after 30 minutes with a shampoo or conditioner to reduce dandruff and keep your hair soft and shiny.
2] Use ACV With Baking Soda To Nourish The Scalp
The next effective way you can treat dandruff issues is the mixed use of baking soda and ACV. The process of creating a paste is very simple; you just need to maintain the ratio of ACV and baking soda at 2:1.
Now, use this paste to scrub your scalp in a circular motion for a few minutes and leave it for 15 to 20 minutes. Wash your hair with mild shampoo or conditioner to eliminate dandruff while cleaning your scalp.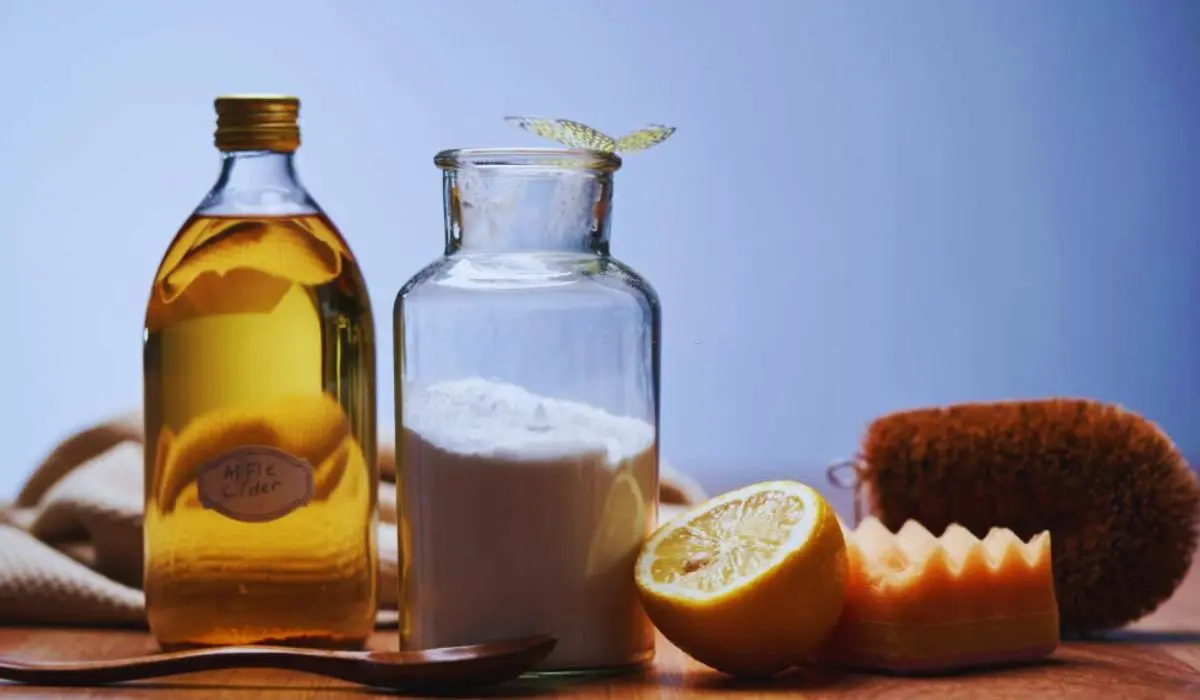 3] Combine Neem Oil With ACV For Dandruff Treatment
For more effective results, you can combine apple cider vinegar with neem oil for dandruff treatment. It has natural antifungal properties that can reduce dandruff in the scalp.
To enhance this property, you can mix one tablespoon of ACV with a few drops of neem oil and apply it to your scalp, especially in dandruff-prone areas. Thereafter, leave for 20 to 30 minutes and wash with a mild shampoo for better results.
4] Blend Apple Cider Vinegar With Egg And Honey To Make A Hair Mask
You can also use apple cider vinegar as a hair mask to combat dandruff issues. To make the mask, you can use one egg and a tablespoon of ACV and mix it with honey.
Apply this solution to mask your hair and scalp with a shower cap and leave it for 20 to 30 minutes. Now, shampoo your hair while nourishing your scalp to reduce dandruff and promote healthy hair growth.
5] Use Apple Cider Vinegar For Scalp Massage
Another easiest way to get the most out of apple cider vinegar for a healthy scalp is by using it directly for massage. You can even pour ACV into a spray bottle to easily apply it on the hair scalp whenever you require. 
After shampooing, you can directly spray the apple cider vinegar into the scalp and gently massage it for a few minutes. Once it's done, leave it for 15 to 20 minutes, and then wash your hair with water to remove dead skin, which ultimately reduces the dandruff.
6] Soak Your Hair In An ACV Soaking Solution
Another effective way is soaking your hair in an apple cider solution. Just mix a cup of apple cider with two cups of water in a bowl and soak your hair for 15-20 minutes. After that, wash your hair, and you will observe that you have reduced dandruff.
7] Achieve An Effective Result With ACV And Aloe Vera
Last is the use of Aloe Vera with ACV, which helps to eliminate scalp irritation associated with dandruff. You can use an equal part of aloe vera gel and an apple cider and apply them on your scalp. Leave for 20-30 minutes and wash your hair to treat your itching problem effectively.
Related:- What Is Textured Hair? A Comprehensive Guide To Different Hair Types
Bottom Line
You will be amazed to know that apple cider can be an effective and cost-effective solution for dandruff treatment. Though there is no evidence that it works on everyone, many people have found relief by incorporating ACV into their scalp and hair. The methods above are versatile that you can choose that is best suitable for you.