Rosemary oil is a pale liquid extracted from the rosemary plant, which is typically grown in the Mediterranean Sea and the Himalayan region. It is a herb that contains anti-inflammatory, antimicrobial, and antioxidant properties. It offers a pleasant aroma, which makes it the perfect choice for cosmetics products such as perfumes and skincare.
Besides these, it is also used as an essential oil to treat hair for strong and prompt growth. Studies also suggest that rosemary oil can be an effective solution for hair loss, no matter if it is due to stress or genetics. So, let's delve into this article and find out how rosemary oil can be beneficial for hair growth.
How Rosemary Oil Is Beneficial For Hair Growth
Rosemary oil can be beneficial if it is applied directly to the scalp. The plant rosemary contains carnic acid, which helps in recovering nerve and tissue damage and improves cellular turnover. It helps to improve blood circulation, which boosts the supply of essential nutrients for hair growth.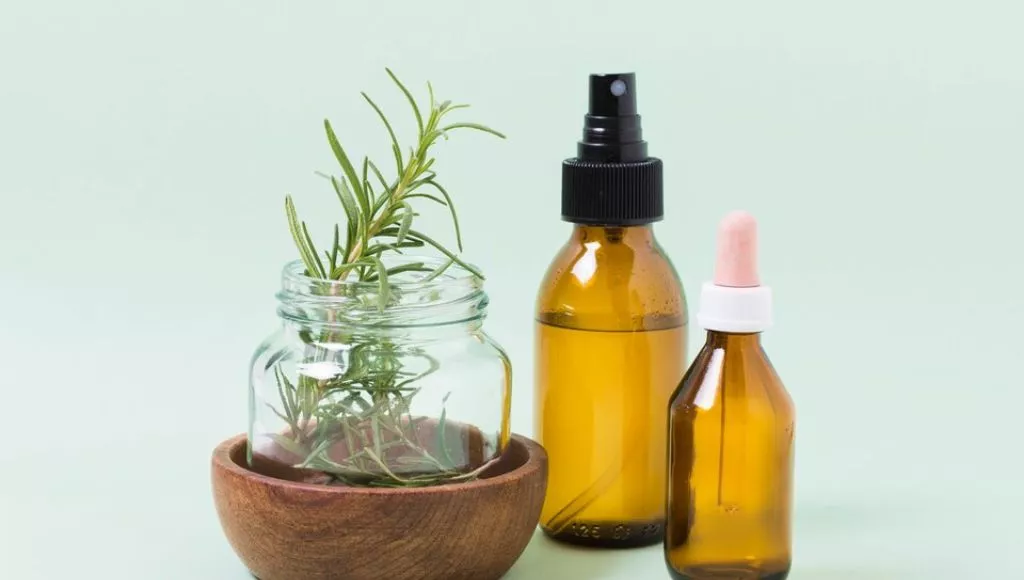 The presence of antioxidants in rosemary oil helps to fight against free radicals, which are responsible for destroying the cells. It reduces such radicals from the scalp and promotes healthy hair growth. It can do so by damaging the hair follicle and preventing the hair loss.
Besides promoting growth and frequent hair loss, this oil can also reduce scalp irritation. The anti-inflammatory properties present in the plant helps to prevent itching problem in the scalp. Rosemary oil is often beneficial in treating and soothing distressed scalp.
It is also an effective solution to prevent dandruff from the scalp while improving blood circulation. It helps to eliminate bacteria and potentially reduces the occurrence of flakes on the scalp. Additionally, it also prevents aging factors like greying the hair by actively fighting against free radicals.
These are the benefits that are provided by the rosemary essential oil for strong and dense hair growth. But it is also crucial to know the better method of treating your scalp with rosemary oil for the best result.
How Rosemary Oil Is Used For Better Results
Several ways are available that can be used to massage your hair or scalp with rosemary oil. The most important thing is you must apply it directly to your scalp and leave it for at least 30 minutes for better treatment. You can use it every day whenever you are desired or comfortable to use.
If you want to use it directly to massage your hair, then it is recommended not to use raw rosemary oil. It may create irritation or some other hair-related issues, which can even become chronic. So, it is recommended to add it to other essential oils and massage your scalp for an effective result.
You can also use shampoo or conditioner to nourish your hair or scalp for strong hair. Just add about 4 to 5 ounces to the product and use it as usual. You can also use 2 to 3 drops of rosemary oil in lotions, cream, or other hair products and massage your hair.
Before using rosemary oil for your head massage, it is essential to follow the following steps for the best result:
If you are experiencing hair loss, it is important to visit the haircare provider before implementing the rose marry oil.
First, start with a slow process, i.e. try the oils two times a week to avoid any type of irritation to the scalp.
If it doesn't cause any side effects, you can increase the use gradually to avoid any hair-related problems.
After massaging your hair, wait at least 30 minutes and then rinse it out with fresh water.
Use it in an adequate amount so that it also greases your hair, staying some part on the scalp.
Using these steps, you can easily massage your head and boost hair growth without having any side effects.
Bottom Line
Rosemary oil is a great source to treat your hair for better hair growth. The antioxidant and anti-inflammatory properties can help fight against free radicals, which can lead to improved blood circulation.
But it can also have various side effects, such as irritation to the scalp, especially when it not carrying oil. So, keep in mind the steps to use it properly to avoid these side effects and have healthy hair growth.