Minoxidil is a popular ingredient or active when it comes to the treatment of hair loss caused in men. But do you know that it can also be used in women and cause effective changes in the stimulation of hair growth and the overall health of your scalp?
Usually, Minoxidil is suggested for men when the individual is experiencing hair loss as a part of his genetics, or due to work pressure or stress. If the underlying reason for hair loss has not been detected, this activity is not generally prescribed by expert medical practitioners.
It is also not advisable when the root cause is somewhat complicated or a serious health issue and not something that is common. It is also not advisable for children below the age of 18. However, in this article, we will let you know everything related to minoxidil and its application among the women population. 
How To Use Minoxidil On Women?
Minoxidil comes in various forms and you may choose the one according to your package. But it is important to know that the ways to use each of them are different. Hence you should have a clear understanding of the application procedure in order to be safe and effective with the formulation.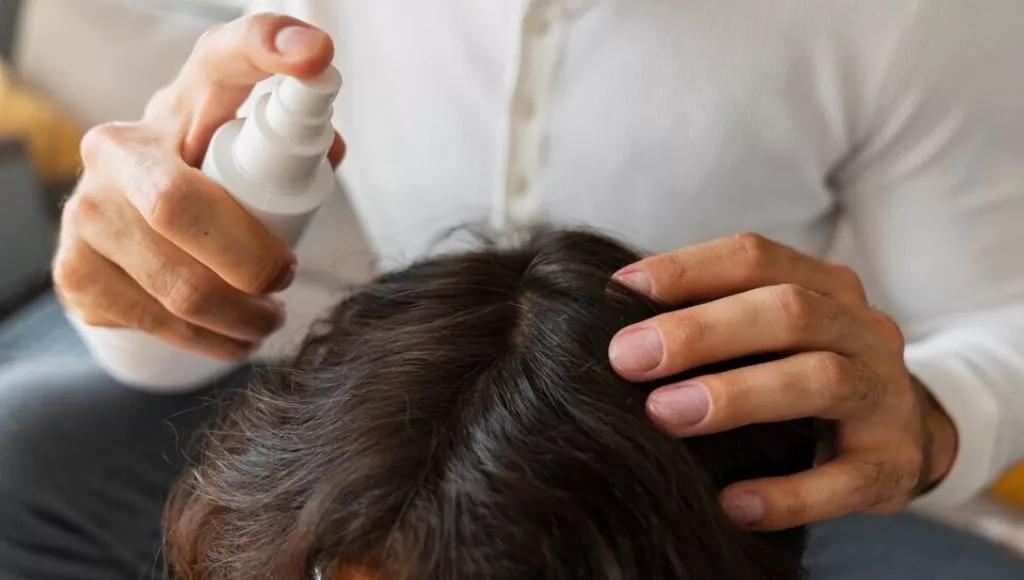 If you are using Minoxidil in the liquid form, clean your hands and get them dried properly. Your scalp must also be washed and dried before the application. 20 drops of Minoxidil is the recommended dosage of the formula. You may apply the same on your scalp and massage it gently onto your scalp for better penetration.
If you are using the foam formula, clean your scalp and hands just like in the case of the liquid drops. Half a cup is the measurement to be followed in this. Apply directly onto your scalp and rub gently. Regardless of drops or foam, make sure you are getting your hair and scalp dried completely before going to bed after the application.
It is also important to stay away from any type of hair styling tools for a while, at least until you find your strands and scalp to be completely dried. 
Things To Be Noted Before Applying
If you are someone having any kind of hair or scalp infections or irritations, it is better not to use the formula. Also, people who have treated their hair chemically may not find this formula working effectively on their hair.
There are also chances for the condition to get worse if you are applying it on such types of hair. Just like how you washed and cleansed your hair before the application, it is also important to wash them post-application. This is important to prevent any type of casualties if your hands come in contact with your eyes.
It is also important to be cautious not to apply this anywhere other than on the scalp region.
In case it comes in contact with your eyes, use plenty of water and wash your face thoroughly.
People with sunburns on their scalps should also strictly stay away from this formula considering its high potency. 
ALSO CHECK:- The Power Of Rosemary Oil For Hair Growth: A Complete Guide
The Treatment Duration
Usually, people who have used this formula are quite satisfied with the results that they have achieved through regular and right application. For best results, make sure you are following the frequency and dosage of application properly.
It is also important to be patient with the formulation for at least a period of 4-6 months to see the maximum results out of it. If you are finding any significant results even after the consistent application of the mentioned time period, there might be a serious underlying cause for your hair loss which may need serious medical assistance. 
In A Nutshell
To put it in a nutshell, Minoxidil is a formula that can be beneficial for both men and women if used properly. However, on account of its potency, you should be quite careful while dealing with the same.
It is quite common that you may experience a slight tingling sensation, itchiness, or redness on the scalp region after using the formula especially if you are using it for the first time. However, if the irritation persists, it is better to stop using the product immediately and seek medical help.