One of the questions I received this month on Quora was: 
"Why do women's faces look wider in photos without makeup? Even if you look at celebrities without makeup, somehow their faces look wide and sort of flat."
While many answers focused on contouring–which is a big part of the "flat" and wide face" piece, I immediately saw another issue: the eyes. 
If you look at any celebrities on the red carpet vs. the photos that tabloids post of them with no makeup, just leaving the gym, you'll notice that their eyes look incredibly small. Without mascara, falsies, dramatic smoky eyes and eyeliner (or contour), their faces do look fat and puffy, eyes small.
The beautiful, hilarious and talented Jennifer Lawrence comes to mind: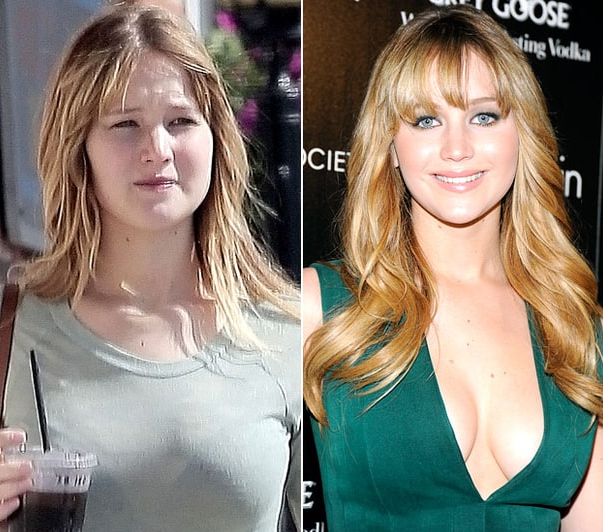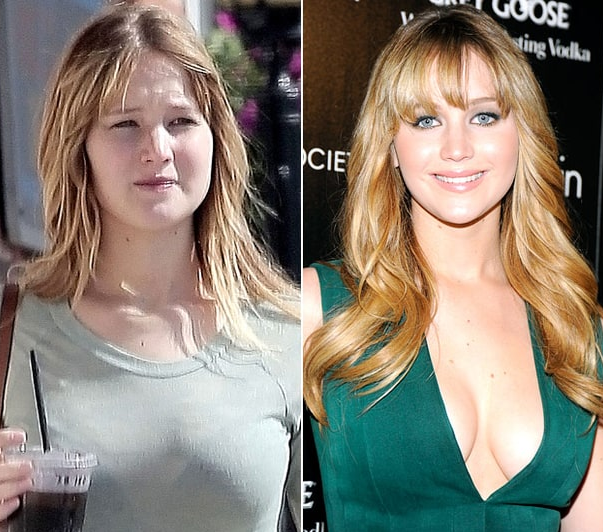 I don't mean to pick on J.Law; this effect is totally natural and universal. She just so happens to be in the public eye so it was all documented.
But we're not all doing photoshoots and red carpet events; you don't have to wear falsies and dramatic liner to get your eyes to pop the little bit you need to look good in everyday life. So if you weren't #blessed with big, almond shaped eyes, no worries. You can fake it with makeup. 
Don't you love that we have that option? Makeup is truly magical.
Step 1: Check Those Bags
Dark circles and discoloration under the eye can not only make you look tired, but also give you the appearance of smaller eyes. Go in with a creamy concealer that is slightly lighter than your skin, and has yellow undertones. Yellow will cancel out the blues and purples in your under-eye circles. Blend the concealer in with a damp sponge (like the Beauty Blender) and set with a translucent powder (I prefer the RCMA No Color Powder).
Step 2: Consider the Color
This is an optional step. By no means do I wear eyeshadow every day – it's more of a once or twice a month thing. However, if you want to make your eyes REALLY pop, I'd suggest giving it a try. Otherwise, skip this step–or simply highlight your browbone a bit–and move on to the next one.
While I am a big believer in wearing whatever you feel best in, there are certain colors of eyeshadow that will help enhance your natural eye color. Here is a list of shadows you should go with, if you want to bring out the color of your eyes:
Brown Eyes: almost all colors look great with brown eyes, but bronze, gold, and warm neutrals will really make them pop
Blue Eyes: light, neutral tones and corals or champagne. Avoid anything too dark and smoky
Green Eyes: muted purples, olive greens, and browns that have a hint of shimmer
Hazel Eyes: metallics, neutrals and dusty pinks are gonna be your jam if you want to make those hazel eyes really stand out!
I find that the Anastasia Beverly Hills Modern Renaissance Palette really has something for everyone; it's flattering for every eye color and skin undertone (read the full review here).
Pro Tip: Before you any eye shadow or eyeliner, use a primer. Here's my fav. You'll thank me later.
If you really want to take your eyes to the next level, finish off your look with a pair of false lashes! Here's a list of celebrity-fave falsies. Makeup is all about having fun and experimenting so don't be afraid to get out of your comfort zone and try something new!
Step 3: Curl + Primp Those Lashes
Best way to make your eyes look wider is by curling your lashes! If your eyelashes are straight they can not only cast a shadow, creating the appearance of undereye circles, but they will also make your eyes look smaller. Taking an extra 10 seconds to curl your lashes can make a huge difference in their appearance. Here's some more tips on curling your lashes the right way.
Step 4: Define the Lines
After curling your lashes I usually go in with eyeliner. The liner should be darkest and thickest at the outer corner. I never take the eyeliner past the center of my eye! Thick liner all around the eye will almost always make them look smaller! I usually do what I like to call the "mini cat-eye". I also like to apply a nude liner to the waterline, and a cream, white or light shimmer shadow to the inner corner. This will help brighten your eyes.
Step 5: Add Some Va-Va-Voom
Obviously after curling your lashes and applying liner, you will want to go in with mascara. Opt for a formula that will add fullness AND length. My fav is "Better Than Sex" (review here) and it works REALLY well and lasts a really long time if you first prep it with 2 coasts of a lash primer, like Lancome's XL Cils. It's by far my favorite lash primer as it's drier and builds volume and length faster than other primers. If you're not down for designer mascara, there are also some affordable dupes to get the job done.
As for applying the mascara, start at the base and gently wiggle the wand back and forth up your lash, this will help eliminate any clumping. I like to apply a black mascara to the top lashes and a brown mascara on the lower lashes. If you ignore your bottom lashes altogether, you might look like an anime character. However, if you go in with the blackest black mascara, they can easily look too defined. I find that the mix of black and brown mascara (on top and bottom, respectively) looks less intense for day-to-day wear. 
Step 6: Bring It On Home With the Brows
Alright, now that we've color-corrected, added eyeshadow, liner and mascara to the mix, it's time to finish it out with the brows.
Brows add definition and help frame the face (Find Your Perfect Brow Shape Here). Full, healthy brows will also shave years off, making you look as young as you feel!
Make sure to avoid these common brow-filling mistakes, and follow our steps below for achieving Feathered Brows:
Using Anastasia Brow Wiz, start by drawing a light line underneath your brow from the inner corner to the outer corner, in the shape that you want.
On the inner corners, starting from that line, draw light strokes upwards, as if you're drawing in individual brow hairs. Don't over do it.
Blend in the pencil with the spoolie on the end.
Using Glossier's Boy Brow and starting from the roots of your inner corners (again), lightly stroke up. As you move outward on your brows, move the strokes in an upward and outward direction. Don't overdo it on the Boy Brow. 1-2 strokes through any area is good enough; it builds quickly and can look flat when overdone.
Using the spoolie on the ABH brow wiz, comb through your brows again.
You're going to look (and feel!) like a million bucks!
Takeaways: How to Make Your Eyes Pop
I hope you enjoyed this list! I truly believe that when it comes to pulling a look together, the eyes have it. They convey a lot of meaning and hopefully beauty, as well ?
Gentle Reminders: If you liked this type of content and want to see more, scroll to the top of the page, enter your email in the right-hand column and click "subscribe." Use social sharing icons below this post to share with friends. This blog contains affiliate links. Clicking through on them and/or purchasing the products helps pay for this content.
Get the Look. Shop the Products: