For long, full-looking lashes, curling is a MUST.
Do it right and you're batting a million. Do it wrong and your eyes could end up bald (literally).
Follow these easy tips below to get long looking lashes every day.
Before you start – Get a solid lash curler
Ditch the dollar store curler. If the screws come loose, the curler will not clamp correctly, and could tear out your lashes from the root. Not only will you be suffering from a giant bald spot in your lash line, but this could lead to a permanent bald spot; it very well could cause trauma to the follicles, alerting the nearby lashes to stop growing as well.
Go for a mid-range curler ($10-20) and test the clamping action before buying if possible. We went for the Bobbi Brown eyelash curler. It's solid, but also pricey, at $40.
While you're at it – Get a solid lash base
For the final "va-va-voom" look, it's just as important to get a solid base of healthy, strong and long eyelashes. This is easier than you think, with a lash conditioner like WINK. Wink uses essential fatty acids to nourish the skin. Essential fatty acids can prompt the body to produce prostaglandins, which would lead to longer, fuller and stronger lashes, naturally.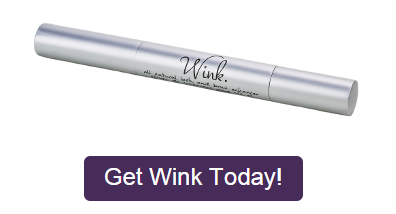 Alright – Ready to Curl?
Start with clean, dry lashes. NEVER curl with mascara or primer already applied.
Start at the base of the lash with the curlers open, and opened perpendicular to your face.
Get as close to the base of the lash hair as possible. Slowly clamp down, making sure not to catch your eyelid skin in the curler. Press and hold about 3 seconds.
Do not clamp too hard, or the curl will not look natural – it is possible to clamp them into a right angle.. not very good looking! ?
Open the curler again but don't move it. Turn it 10-15 degrees outward, toward the corner of your eye. Press down again, very slowly, until it's closed. Hold for 3 seconds.
The second slightly tilted curling will make your eyes look a little bigger, and make your lashes set more naturally, going outwards instead of straight up.
Repeat for both eyes.
Without makeup, your lashes should look something like this:
After applying primer + mascara, your lashes will look like this:
Interested in taking your lashes to the next level?