Looking beautiful and gorgeous is the dream of every girl or woman. They focus merely on hairstyles, outfits, nails, accessories, and toes and try numerous ways to beautify them.
Also, manicure and pedicure is one such important beauty treatment that gives flawless looks to nails. You can go to a salon, or there are many home-based processes that you can opt for to make your nails shiny and lovely.
For performing manicures, you just need essential products easily available at markets. However, if you are unaware or want an idea about performing a manicure at home, then you are at the right article. Here is the best guide to performing manicures at home easily, quickly, and safely.
Basic Ways To Do Manicure At Home
Performing a manicure at home is a simple and cost-effective solution to avoid appointments at the salon. You can get flawless nails even sitting at home by utilizing the right time and investing in the material needed for a manicure. Let's see some ways by which you can do a manicure easily and safely at home-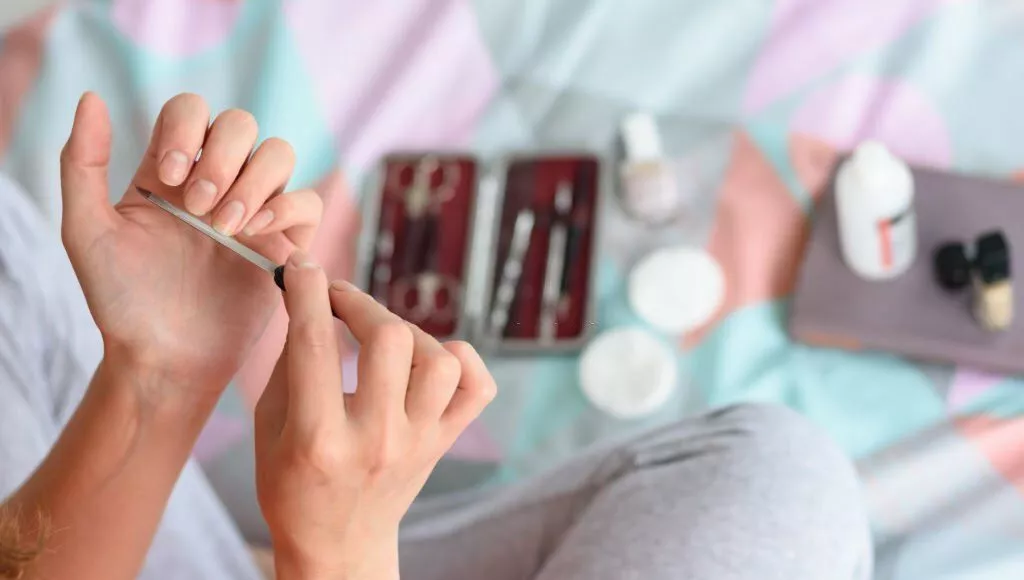 1. Keep All Materials Ready For Manicure
Before doing any beauty activity, either facial, manicure, or pedicure, it is necessary to keep all essentials in one place. It will ease treatment and save you time and money.
Also, if you are doing a manicure on your own, get a nail trimmer, nail polish remover, warm water, hand cream, nail file, and others. By keeping it in one place, you can easily do your process. 
2. Try To Remove The Old Nail Polish 
Once you have collected all the material, prepare your nails by removing the old nail polish with a thinner or remover. Next, shape it in the middle or side with a nail trimmer, giving it a soft and shining look. Also, removing old nail polish can prevent your nails from getting smudged.
CHECK OUT:- Essentials You Need For A Salon-Worthy Pedicure At Home
3. File Your Nails After Cutting Down Unnecessary
A manicure is the best way to give your nails life and look gorgeous. After removing older nail polish, you can file your nails by cutting down unnecessary. It will give your nails shape and length and leave healthy, shining, and gorgeous nails. Moreover, avoid doing it over because it can thin your nails.
4. Try To Soak Your Nails In Warm Water
After shaping your nails, the next step is to soak your nails with warm or lubricated water for a few minutes. Also, you can add a few drops of shampoo or soap to the water. It will help to loosen dust or dirt and use a nail brush to effectively remove it.
 5. Apply Some Cream To Moisten Them
Once the nails have dried, apply some moisturizer or any cream that oil helps to soften the nails and hands. You can start from the tip to the upper part of the nails and then rub with a soft finger. It will keep your nails hydrated for a long time and help give you a shining and soft look.
6. Get Your Nails Polish Done With Steps
After setting your nails, it's time to do nail polish with your favorite choices: either select a single color or choose contrast or mixed nail polish. But it should be done with the steps like-
You can apply the first coat with a base coat softly from the tip to the front.
Next, once it gets dried up, apply the next coat with the nail enamel of your favorite.
Let it dry up totally, and then finally apply the final coat.
CHECK OUT:- From Basic To Bold: 10 Simple Nail Designs You Can Master 
7. Properly Dry And Then Use Some Designs
After applying your nail paint, let the nails dry to design further and let your sides touch up to give a glamorous look. You can use beautiful designs mixed with variations. It gives a fabulous look and makes your nails healthier, shinier, and more beautiful than before. 
CHECK OUT:- Pamper Yourself With A Pedicure At Home: Easy Guide And Tips To Relax
8. Add Cuticle Oil Over The Nails
After applying various variations, the next step is finally coating with cuticle oils. It makes your nail paint last long and gives a shiner look. Also, your manicure process can be completed anytime at home.
Bottom Line
Instead of taking appointments to the salon or investing a large amount, knowing how to perform a manicure at home is the best choice. The above step will ease manicure and give your nails a shinier look. Moreover, avoid using hard detergents or products that would harsh the skin and nails.