Do you have an eye for detail? If yes, you must have noticed that people have beautiful eyes, but their brows could have been fuller, or thicker. Often the defining features of our face are covered with makeup blended with perfection. In today's progressive world, we have solutions like microshading, microblading, and eyebrow tinting for every brow issue.
In this blog, we will explore eyebrow tinting, its processes, precautions, and what makes it different from other techniques. So, if you are someone who is looking for a solution for your incomplete or thin eyebrows, or want to understand eyebrow tinting then this blog is for you.
What Is Eyebrow Tinting?
The history of eyebrow tinting has existed for thousands of years. In the modern-day cosmetic world, eyebrow tinting has just been refined with the use of tools and techniques. Ancient Egyptians and Eastern culture have seen the era where people not only used eyebrow tinting but also used to color their eyes.
Eyebrow tinting is a process of dyeing your brow hair semi-permanently. People with thinner or incomplete brow hairs always tend to use a brow brush and palette. Since the makeup takes time to set and can be washed off, it is not a daily solution for many individuals.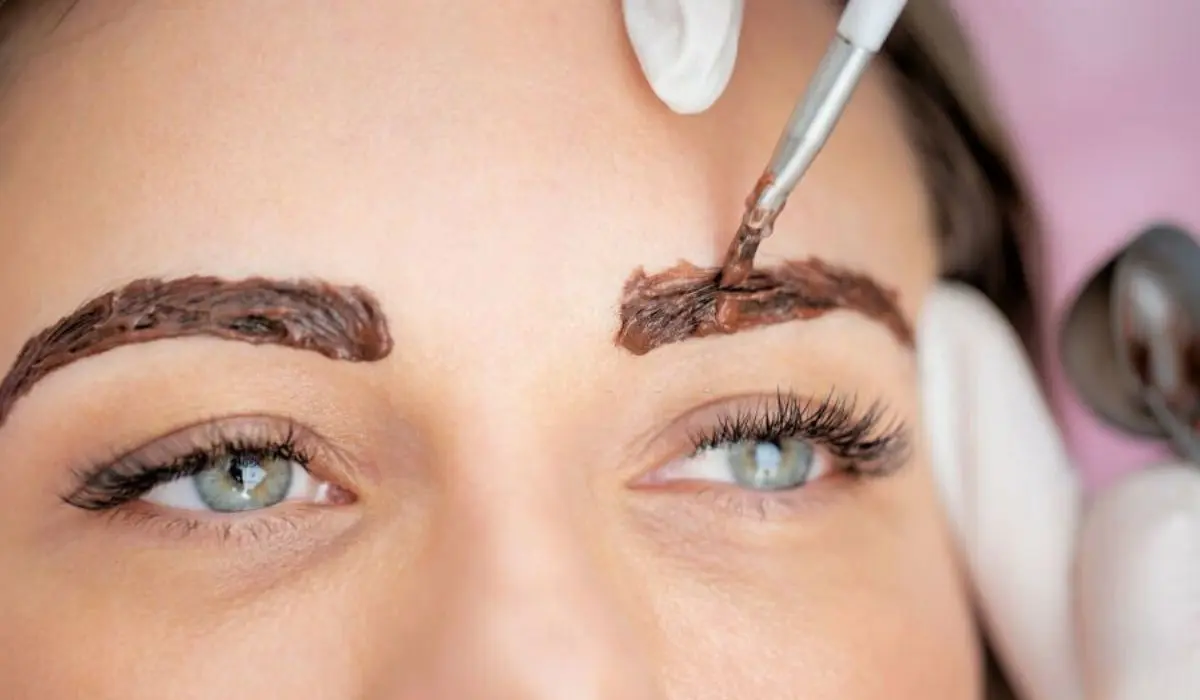 This cosmetic process will last for about 4-6 weeks and should be done by an expert only. The process has not been approved by the FDA as it is dangerous to have dye around your eyes. So if you try to do it at home, then the risks are too high. 
Process Of Eyebrow Tinting
The process of eyebrow dyeing takes about 15-20 minutes usually, but it depends on the growth, color, and your requirements. We have a clear and concise rundown of the process for you to understand.
👉 Consultation
When you make an appointment with a salon or spa for an eyebrow tinting procedure, you will be given complete insights into the process. The benefits, the after-care, your requirements, and the next visits will be decided in this session. Any allergies that you have should be discussed as it will avoid any unfortunate situation during the process.
👉 Preparation
Just like any other beauty product, eyebrow tints also need to have a patch test to understand their compatibility with your skin. This patch test will be completed 48 hours before the application process. After a successful patch test, your technician will clean the brows off of any makeup or dirt and apply petroleum jelly around the outside of your brow.
👉 Tint Application 
The technician will then mix the tint and apply it as per the marks of your required eyebrow and let it sit. This process usually takes 5-15 minutes depending on how you want the tint to develop. After the time is up, they will rinse or wipe the surface with a clean cloth.
👉 Aftercare
After the rinsing of tint, you can see a new set of bold eyebrows, but there might be redness around the area because of the chemicals. To soothe the pain and inflammation, a cool gel will be applied around the area by the technician.
Related:- Best Eye Bag Treatment- Recommended By Dermatologist
Precautions
There are some things that you need to take care of first when you are going for eyebrow tinting. The tint will last for about 4-6 weeks which means you will have to fix up monthly appointments to maintain the look.
Excessive dye around your eyes can cause damage and can even blind you. You must go to a professional who has expert knowledge in tinting to prevent any mishappenings. The patch test before the tint application should also be done under the supervision of an expert.
This will keep a check on developing the tint, which will give them a clear idea about setting a time for the tint to develop on your brows. You will be asked to use sunscreen on your brows while going out in the sun to avoid the tint fading quickly.
Avoid using any harsh products after the tint application as they can interrupt the color or stay on your brows. Lastly, always keep your skin and brows moisturized to avoid dryness or breakouts.  
Conclusion
Eyebrow tinting is a cosmetic procedure that can enhance the look of one's brows. When properly done by a trained professional using quality products, tinting can subtly define and fill in the brows, creating a polished, put-together appearance. While results last around 4-6 weeks, regular touch-ups are advised for maintaining the color. Overall, eyebrow tinting offers a semi-permanent way to frame the eyes and bring out their beauty.