This rebellious Japanese Makeup trend is about a bold attitude as well! Japanese women were meant to be submissive. They were voted as the best 'wifey' material because of this trait that is ingrained in them.
There was a time when they were made to wear iron shoes from childhood so that the growth of their feet won't be proportionate to their growth, hence they can not run away from their husband.
Gyaru makeup is an offshoot of the Gyaru fashion subculture, which is marked by their attitude against meekness. This reflects in the Gyaru makeup as well. Their attitude is also a liberal one. 
What Is Gyaru Makeup?
The denim major Lee introduced the transliteration of the word 'gal' with the term 'Gyaru'. Gyaru fashion subculture is all about throwing the norms to the wind, including the makeup dictum of dark hair and pale skin. They are all in for pale hair, darker facial skin tones, and dramatic eye makeup. Contact lenses also can come in. 
There are different types of Gyarus. The most popular ones are Yamanba Gyaru which opts for a darker skin tone and goblin vibes; Hime Gyaru which has Princess Vibes and is all pearls, pink, and glitter; and Onee Gyaru, which is a matured Gyaru look.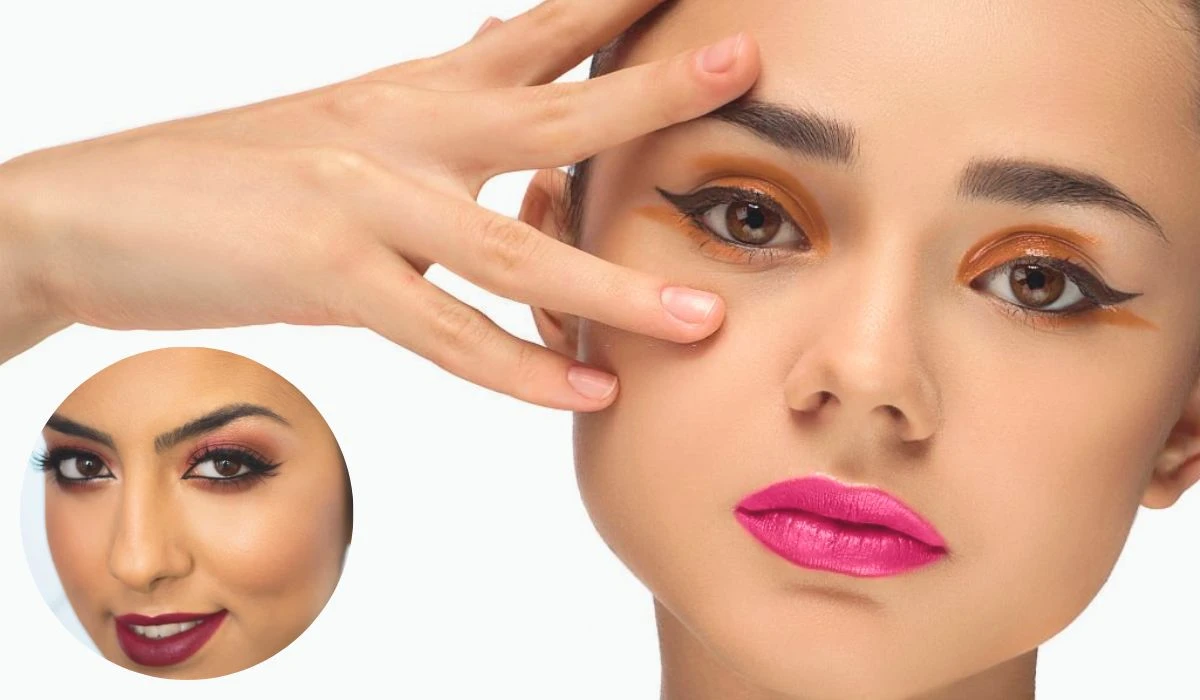 How To Achieve The Gyaru Look?
Gyaru makeup can be personalized in multiple ways. But you have to stick to the basics, being dramatic eye makeup and the tan. Again, it depends on which Gyaru you want to emulate.
? Eye Makeup
Eye makeup is the most emphasized part of the Gyaru makeup regimen. It is the same with all types of Gyarus.
Gyaru chooses everything in bold. Dark mascara, long thick fake eyelashes that can bat to put off a candle (!!), and contact lenses to be the cherry on top of the Gyaru look. Colored contact lenses will make your eye color lighter, which is a U-turn from the Asian girl's eye color expectations. 
The thick black mascara and eyelashes can be coupled with colorful eyeshadow hues. Shimmery eyeshadows can also make your eyes look brighter and bigger. You can also line your lower eyelash with white eyeliner to create the illusion of bigger eyes. Make sure you darken your eyebrows and angle them higher.
If you have really small eyes, it is your duty to make them look bigger for the Gyaru look. You can take a dark eyeshadow, say dark brown, and line your upper eye folds. You can line under the tear bags (the puffiness that shows up under the eyes when you squint), to make the eyes look large.
Then fix the thick long eyelashes and use the eyeliner to elongate the lash line. You may draw fake lashes at the under eyes to make your eyes look naturally big. 
Also Check: 5 Best Foundation For Combination Skin: Understanding The Facts And Factors Of Combination Skin
? Nose Job
You need to contour the nose to make it longer than it can complement your eye makeup.
? Dark Facial Skin
Japanese skin tone won't tan easily, but a tanned face is a must for some Gyaru. You could go for a tan that is two or three shades darker than your original skin color.
If you have a policy against tanning or are getting jittery about a tan, you can always go for bronzers. Take a brush and bronze your way to achieve a darker skin tone. Some may go orangey as well. 
? Lips
Gyaru has shimmery lips. Use a dark lip liner to define your lips. You can also use lipstick and blend it in while skipping the lining part.
You can apply any shade of lipstick that looks cute on you and makes your lips pop out. Say pink? Again, the shade would be determined by the facial skin tone you have created.
? Cheeks
You can use pink or peach to make your cheeks contoured. Again, the shade should complement your skin tone for aesthetics' sake.
? Hairdo
You may need to bleach your hair pale to achieve the Gyaru look. You can dab in some funky colors, but it is your call. Anything that is not black is acceptable for the Gyaru bigshots.
Princess or hot siren look, Gyaru makeup can make you your dream girl!