Hair extensions provide an instant way to transform your look with long, voluminous locks. But styling hair extensions for everyday wear can seem daunting. The added length and volume can appear overdone if not managed properly.
This article will explore 6 go-to hair extension styles perfect for daily wear. You'll learn foolproof techniques to blend, curl, braid, and pinup your new lengthened tresses in flattering, low-maintenance ways. With these classic looks, you'll get your money's worth from extensions and maximize versatility whether dressing up or down.
What Are Hair Extension Styles? How It Is Used?
Hair extensions are strands of either synthetic fiber or real human hair clipped, glued or woven into existing hair to add fullness and length.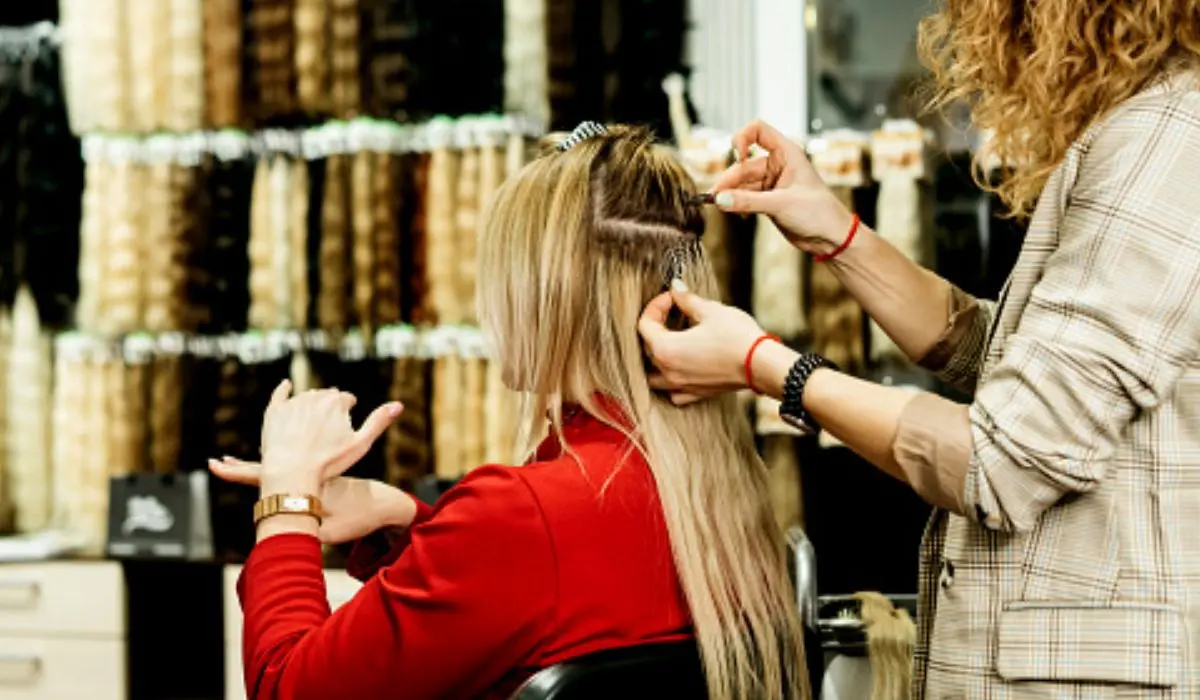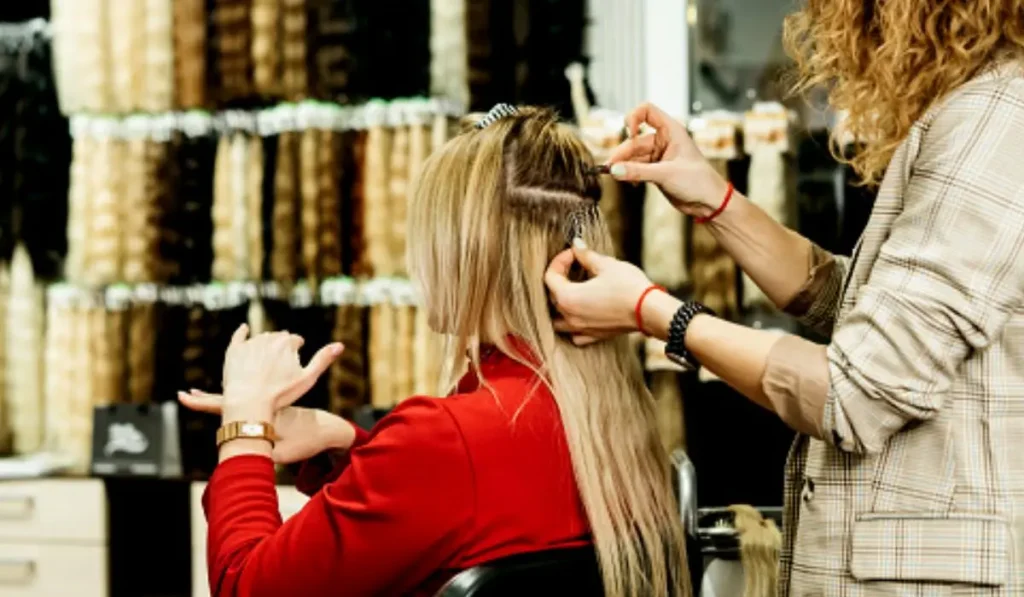 Extensions allow you to experiment with drastically different hairstyles that otherwise would not be possible with your natural locks. Removable clip-in extensions are the easiest and most budget-friendly option for temporary styling.
The most popular ways to wear hair extensions include:
✔ Long, voluminous blowouts
✔ Elegant updos like buns or chignons  
✔ Sleek, straight ponytails
✔ Big bouncy curls 
✔ Braids of any type
✔ Added thickness and layers  
When styling extensions, always begin by brushing through gently using a wide-tooth comb. Apply heat protectant spray before using any hot tools. Style extensions starting with mid-lengths and ends, leaving the clipped-in wefts untouched. This helps blend your natural hair and extensions seamlessly.
6 Classic Hair Extension Styles
Here are six go-to hairstyles that work beautifully with long clip-in extensions:
1. Beachy Waves – For tousled, natural looking texture, use a curling wand to add soft waves. Focus on mid-length down and leave roots/crown more straight. Finish by massaging in sea salt spray.
2. High Ponytail – Slick hair back smoothly into a sleek, high ponytail for a statement look. Wrap a section of ponytail around elastic to hide it. 
3. Fishtail Braid – Full fishtail braids are on-trend and look amazing with extensions. Part hair down the middle and braid each side separately towards neck.
4. Boho Updo – Create a romantic updo by twisting front sections away from face and pinning into a low messy bun in back. Leave face-framing tendrils down.
5. Hollywood Waves – For serious old Hollywood glam, set hair in large hot rollers focusing on mid-lengths and ends. Brush out into glossy waves.
6. Half-Up Style – For an easy daytime look, pull back top front sections into a mini ponytail or bun while leaving rest of hair down. 
How Can You Style Long Extensions For Daily Use?
The key to wearing long extensions for regular everyday activities is keeping styles simple, secure and avoiding overdoing length. Here are tips:
– Opt for easylow buns, braids or ponytails rather than elaborate down styles if very active. This keeps hair contained and tangle-free.
– When wearing hair down, use clips and pins to pull back and secure front/face framing pieces off neck and out of face.
– Sleep in a loose braid or high ponytail to avoid matting and knots overnight. Use a soft scrunchie.
– If hair gets messy, lightly mist and finger comb to refresh. Carry a brush for quick touch ups.
– Avoid overly tight hairstyles that cause strain on the scalp when worn for prolonged periods.
The key is not letting long extensions become a hassle! Have fun playing with quick styling tricks that keep hair manageable all day.
Benefits Of Hair Extension
There are many perks to using good quality hair extensions, including:
✔ Adds length and fullness easily without chemical processing or damage to your natural hair.
✔ Allows completely changing your style – go from short to long with clips.
✔ Boosts volume if hair is fine or thinning. Extensions create the illusion of thicker hair.
✔ Makes braids, updos and other intricate styles possible that couldn't be achieved with short hair.
✔ Provides instant gratification allowing you to wake up with a new long hairstyle.
✔ Ability to match exact hair texture, color and look. Customize extensions.
✔ Affordable, low-commitment way to experiment with dramatic length before growing your own hair out.
✔ Clip-ins can be applied and removed at home as needed for special events or daily wear.
Tips & Precautions While Using Hair Extension
Some tips for safely using clip-in hair extensions:
✔ See a stylist who is experienced with extensions for initial application and cut.  
✔ Avoid wearing extensions daily and give your scalp regular breaks. Overuse can damage hair.
✔ Thoroughly brush extensions and natural hair from the bottom up to prevent tangling. Use a wide-tooth comb.
✔ Gently wash by massaging shampoo into mid-lengths and ends only. Rinse well and air dry if possible.
✔ Use a leave-in conditioner or mask weekly to keep extensions conditioned, smooth and hydrated. 
✔ Take care not to tug or pull on extensions at the roots when styling to avoid damage and shedding.
✔ Remove extensions properly by unclipping rather than pulling them out in order to prevent natural hair loss. 
✔ Check clip placements every few hours to ensure extensions stay secure. Tighten as needed.
Conclusion
Hair extensions open up a world of styling possibilities for adding length and volume. With the right education on blending and caring for extensions, you can achieve beautiful results.
Any of these six classic hairstyles – beachy waves, high ponytails, fishtail braids, messy updos, glamorous curls, and half-up looks – are perfect go-tos for making the most of long extensions during daily wear.
Use good maintenance practices and clever tricks to contain hair and you'll get your money's worth from extensions!
Read More:- Baking Soda For Dandruff – How To Prevent Hair Dandruff?
FAQS
Q: How long should I keep clip-in extensions in for daily use?
A: Only keep extensions in for 12 hours maximum per day. Any longer risks damage and excess tension on your natural hair. Always remove at night.
Q: Can I curl and straighten synthetic hair extensions?
A: Synthetic extensions are not designed for heat styling. Stick to clip-ins made with real human hair if you want to curl or straighten regularly.
Q: Should I trim my extensions to blend better?
A: Yes, ask your stylist to trim extensions to create a seamless blend with your natural length and layers.
Q: What's the best way to wash clip-in extensions?
A: Handwash gently in a sink using a small amount of sulfate-free shampoo. Rinse thoroughly. Let air dry fully before storing.
Q: How often should I replace my extensions?
A: Quality human hair extensions can last 6-12 months with proper care. Replace immediately if clips, texture or ends become damaged.