Are you someone who is passionate about shining healthy hair? Then you should be really particular about taking care of your scalp as well.
Since the long, shiny hair you have been dreaming about sprouts from a healthy scalp, it is really important to maintain a better scalp condition throughout. Scalps with product build-up, irritation, itchiness, and infections would become a serious barrier to making your hair healthy and beautiful.
That is where the importance of taking care of your scalp lies. Maintaining the health of your scalp also helps in resisting other health problems such as frequent coughs and colds. Apart from all these the fresh feel of maintaining a healthy scalp is also priceless.
There are proper procedures to take care of your scalp on a daily and weekly basis. If you can follow them without fail, it is assured to make better results in the long run. It can also help you maintain healthy hair not just in your prime age but also in your old age.
Some of the important steps and procedures are mentioned and discussed below. Make sure you are not allergic to the ingredients mentioned in each of the steps mentioned not to mess up your hair care.
When To Wash Your Hair?
This is one of the most debated questions you can find whenever and wherever you are searching for that "perfect" hair care routine. Well, the answer is quite relative. Here, you need to understand and analyze your daily routine and lifestyle in order to find the correct frequency to wash your hair and scalp.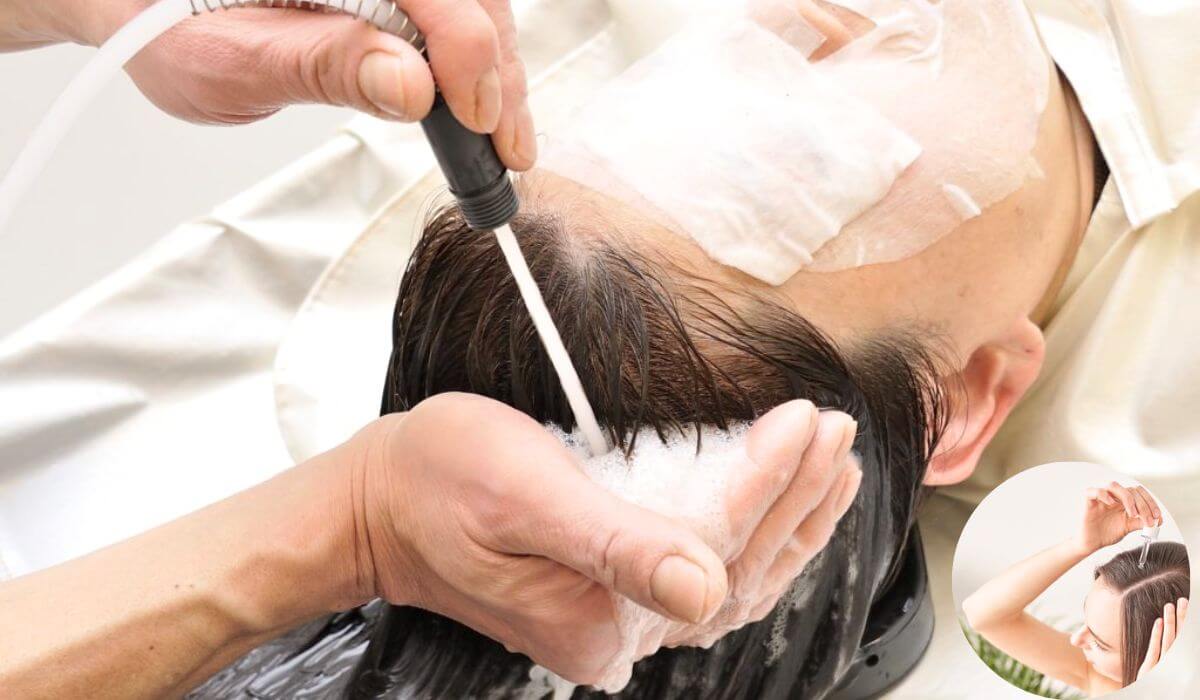 If you are someone who is exposed to pollution and dirt on a daily basis for prolonged hours, it is always better to wash your hair every single day. Increasing your hair wash frequency just to maintain the texture of your hair will do you more bad than good.
The dirt accumulation on your scalp will lead you to worse scalp conditions, destroying the health of your hair. The same applies if you are someone who is involved in physical activities such as gym workouts on a daily basis. The sweat accumulation on your scalp needs to be cleaned regularly.
Hence you can definitely try washing your hair every day. But it is always better to increase the hair washing breaks to twice or thrice a week. This is only applicable to those who do not fall into the above categories. 
Must Read: Scalp Care Can Improve Your Hair Health
How To Wash Your Scalp?
Just like the frequency of washing your scalp and hair, it is also important to take care of the methods you follow to wash your scalp. Cleansing your scalp should be done with a mild sulfate-free shampoo.
Oiling before shampooing your hair will also help to enhance the health of your scalp by promoting blood circulation in those areas. Oiling and massaging your hair is a proven hair-care methodology you can follow doubtlessly.
A good hair massage would also help you relax and have a self-pampering session at least once a week. Make sure the ingredients in your hair oil is not allergic to you. Also, try to stick to that one hair oil you have been using for a long not to confuse your scalp.
After oiling and shampooing, make sure you are not exposing your scalp to the hair conditioner since it is meant for the hair length and not the scalp. Moreover, the ingredients in the hair conditioner are quite destructive to your scalp. 
Other Tricks And Tips For A Better Scalp
If you have got more time and wish to acquire a better scalp in no time, you can also try a lot of DIY hair masks once a week. Many of the ingredients used to make a DIY hair mask are proven to be drying on your scalp and hair even though they can give you better results.
Hence make sure you are not applying it on your hair more than once a week. You can also try store-bought and packaged hair masks, considering the ingredients and the scalp problems you are facing right now.
Also Read: Winter Hair Care Tips for Healthy Hair and Scalp
One of the most common hair problems faced by people is dandruff. Onion juice diluted with your hair oil would be a great antidote for the same. You can try this as a hair mask once a week and wash it off using a mild sulfate-free hair cleanser.