Buns never go out of style when it comes to chic, elegant hairstyles. The classic bun has evolved into many creative versions whether you want a casual daily look or formal hairstyle. Buns keep your hair neat and sophisticated while lifting your look.
From messy buns to intricate braided buns, there are so many ways to get your hair off your neck and up in a fashionable bun. 
What Are Bun Hairstyles? Is It Suitable For All Day Occasions?
A bun hairstyle simply involves gathering and twisting your hair together at the nape of your neck or the crown of your head and securing it tightly in a knotted bun shape. Buns are suitable for any occasion from daily errand-running to formal events. They keep their hair tidy and are professional for work and school.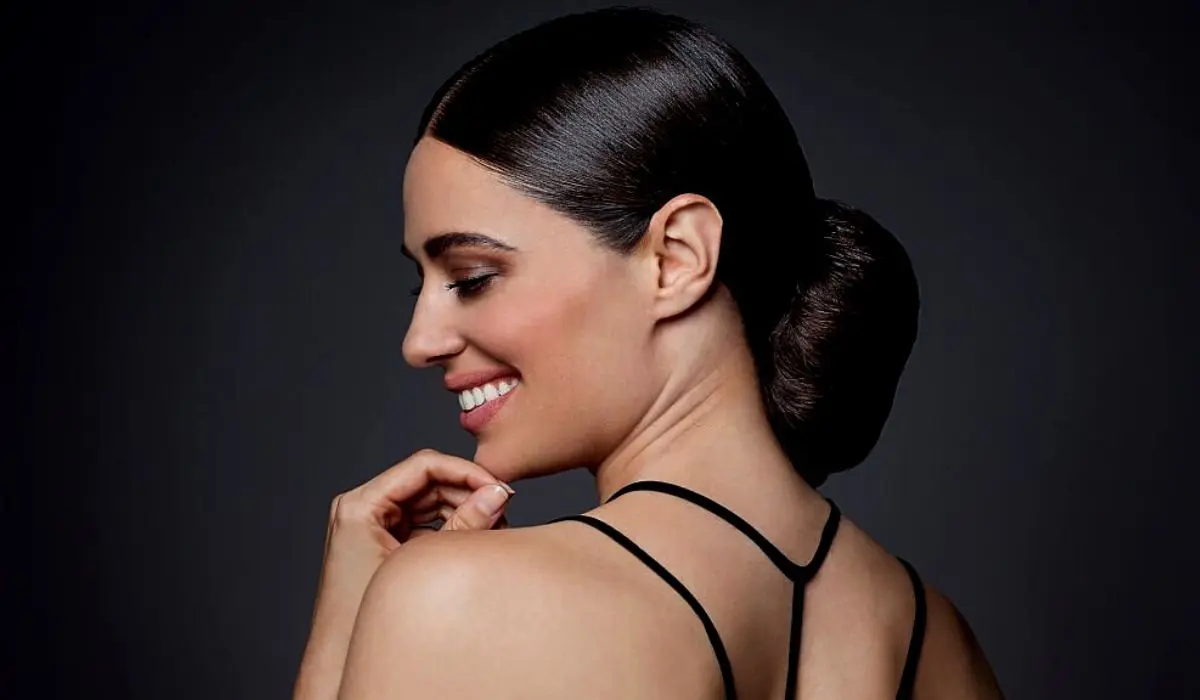 Buns are also great for keeping hair off your neck in hot weather. The position and technique of styling your bun can vary from casual loose buns to elegant classic buns using pins and products.
Step By Step Process For A Bun Hairstyle
◼ Start with clean, dry hair. Use styling products if needed. 
◼ Gather hair neatly and tightly into a ponytail positioned wherever you want the bun.
◼ Twist the ponytail over itself to form a coil or knot. 
◼ Wrap the twisted hair into a bun shape, tucking ends under.
◼ Secure tightly with bobby pins and hair elastics.
◼ Hide elastics by wrapping strands of hair over them.
◼ Finish with a smoothing serum or light hairspray.
◼ For extra polish, wrap the bun in a thin silk scarf.
8 Different Types Of Bun Hairstyles
Here are eight chic ways to style your hair in a bun:
1. The Classic Ballerina Bun
Pull hair back into a slick, centered ponytail. Twist hair and wrap it into a perfectly round bun. Secure neatly and tightly. This polished bun works for any formal event.
2. The Messy Bun
Gather hair loosely and make a messy knot near the crown. Pull out strands around the face. It's an easy everyday look that's feminine yet casual.
3. The Low Chignon Bun
Part your hair to one side. Pull back into a low ponytail then twist into a messy knot resting at the nape of the neck. Effortlessly chic.
4. The Braided Bun
Braid small sections for a textured look. Pull into a low-side ponytail, wrap, and pin into a long braided bun. Stunning for weddings or parties.
5. The Top Knot Bun
Tie a ponytail high on top of the head. Twist it before coiling it into a neat top knot or bun giving your look instant elegance.
6. The Faux Bob Bun
Create a fake bob by brushing hair neatly forward. Gather into a mid-height ponytail then tuck under to form a bun.
7. The Bubble Bun
Backcomb ponytail before wrapping into a bun to create volume. Looks fun and flirty for a night out. Finish by gently pulling out strands around the bun.
8. The Twisted Bun
Section hair into multiple ponytails. Twist each one before wrapping it into a unique patterned bun. Eye-catching style for medium to long hair.
Benefits & Uses Of Bun Hairstyles In Daily Life
◼ Keeps hair secure, neat, and off your face  
◼ Perfect for professional settings like work or school
◼ Elegant and polished for events, weddings, parties
◼ Classic style that always looks feminine and chic
◼ Get creative with braided, twisted, knotted, or messy buns
◼ Great protective style for natural hair 
◼ Lets you show off hair accessories like pins or flowers
◼ Lasts all day with minimal touch-ups 
◼ Ideal hairstyle for sports, gym, and yoga to keep hair contained
◼ Saves time and is ideal for days when you want an easy hairstyle
◼ Helps control frizzy hair by pulling it back tightly
◼ Can be worn high or low for different looks
◼ Lets you add volume at the crown or nape of the neck
Related:- Is Daily Straightening Bad For Hair? Is It Better Than Smoothening?
Precautions While Wrapping Bun Hairstyles
◼ Secure any flyaways with bobby pins to keep the bun tidy.
◼ Setting spray can help smooth any frizzy hair before styling the bun.
◼ Avoid pulling hair too tightly which can cause tension and breakage over time. 
◼ Add volume at roots by backcombing or using volumizing products.
◼ When wrapping hair, use your fingertips not palms to prevent tangling.
◼ Try not to wrap hair into too tight of a coil which can lead to headaches.
◼ Check bun placement suits your face shape. Softer buns work better for round faces. 
◼ For slick buns, apply gel to edges and ponytail but avoid getting product on ends.
◼ If you have layered hair, curl ends under to blend them into the bun.
◼ Add accessories like scarves, ribbons, or flowers to personalize your bun.
◼ Don't reuse elastics and bobby pins from previous days which can harbor dirt and oil.
◼ Give hair a break from tight buns by wearing hair down or in looser styles occasionally.
◼ Smooth any bumps by securing them with bobby pins close to the scalp.
◼ Finish with a light misting of hairspray for extra hold.
Conclusion
The classic bun has evolved into endless chic styles whether you prefer neat ballerina buns, messy textured buns, or intricate braided knots. The placement and technique you use to wrap your hair allows for so many options. Buns keep hair secure for busy days and lend an elegant finish for evenings out.
With some creativity and practice, you can master quick daily buns as well as special occasion buns that will make your look shine. The versatility of buns makes this hairstyle one you'll turn to again and again.
Read More:- Crimped Hair – Different Types Of Crimped Hairstyles For Women
FAQs
1. How long does a bun hairstyle last?
Properly secured buns can last all day with minimal touch-ups needed. Use good holding products and bobby pins to maintain the style. 
2. What face shapes work best with buns?
Buns are flattering on oval, long, square, and heart-shaped faces. Round faces look better with looser buns placed low rather than tight top buns.
3. Is it bad to wear buns daily?
It's fine to wear buns daily as long as you don't pull your hair too tightly. Give hair a break once a week by wearing it down or in ponytails.
4. How do I add volume to my bun?
Backcomb at the ponytail base, pin in hair cushions before wrapping bun, or wrap bun loosely. Products like mousse also add volume.
5. Which buns last the longest?
Slick buns with extra pins and gel application will stay the neatest for longest. Tight classic buns high on the head also hold better than loose messy buns.