Dip powder nails have become increasingly popular over the last few years as an alternative to traditional acrylics or gel manicures. Dip powder provides a durable, long-lasting manicure that can be easily applied at home.
With so many dip powder kits now available, it can be tricky to know which ones are the best for achieving a professional-quality manicure without the salon price tag. This article will explore 8 of the top-rated dip powder nail kits that you can easily use in the comfort of your own home.
What Are Dip Powder Nail Kits? How It Is Useful For Your Nails?
Dip powder nail kits contain everything you need to achieve a durable, chip-resistant manicure without harsh chemicals or UV lamps. The process involves dipping your nail into colored powder, essentially layering it on top to build the color. The powders contain various polymers, resin, and pigment to create a hardened finish.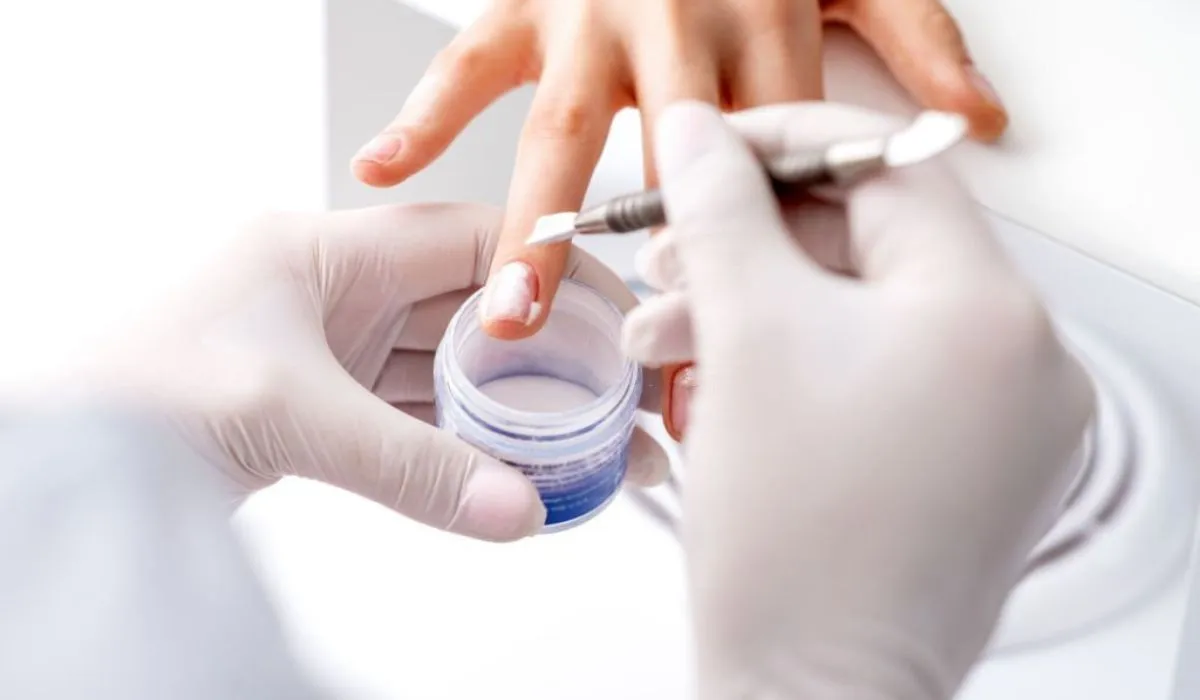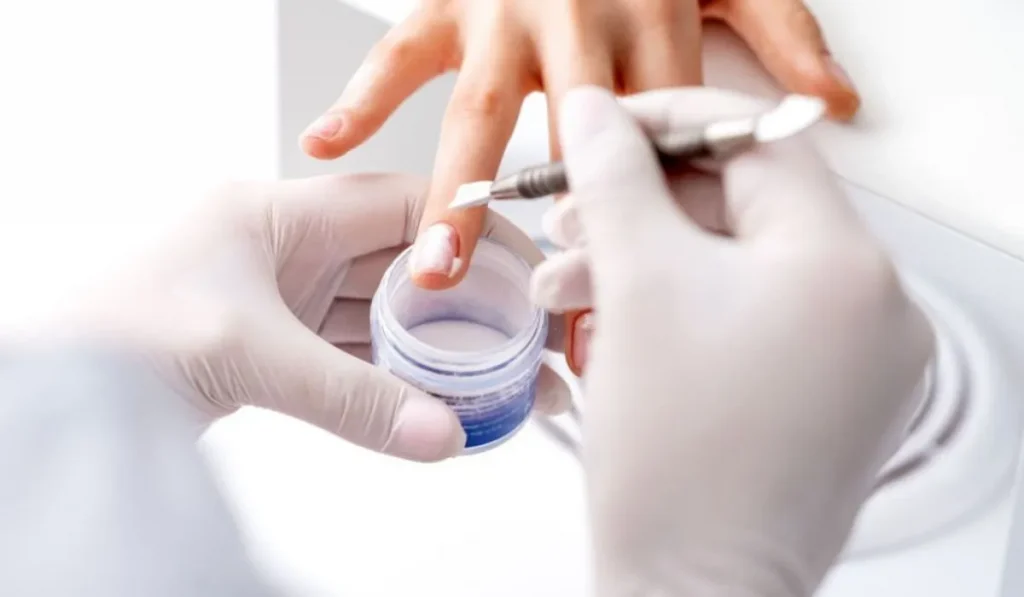 Unlike messy acrylics or gel polish that requires curing under lamps, dip powder hardens naturally when you apply the activator solution. The powder layers fuse together to create a tough, protective layer over your real nails. The result is a smooth, even color with intense shine that lasts for weeks without chipping or fading.
Dip powders are often praised for being:
Durable – The fused powder layers create a very hard finish that is resistant to chips and scratches.
Long-lasting – Most dip powder manicures can last 3-4 weeks without the need for fill-ins.
Chip-Resistant – The tough finish resists tip wear and chips better than gel or regular polish.
Easy To Remove – The powder dissolves easily in acetone for quick, simple removal at home.
Thickening – The layering process helps strengthen and add thickness to natural thin or weak nails.
Protective – It protects your nails from damage while exposed to water, cleaning chemicals etc.
Overall, dip powder nail kits are the perfect DIY alternative to pricey salon manicures, providing protection and long wear with easier application and removal.
8 Best Dip Powder Nail Kits That Could Try At Home
1. Kiara Sky Dip Powder Nail Kit
Kiara Sky makes one of the most popular all-in-one dipping kits that includes everything needed for beautiful nails. It comes with 6 colored dip powders, a base coat, activator spray, bonding powder, and a no-wipe gel top coat. The dip powders provide brilliant color with just 1-2 coats needed for full opacity.
The top coat helps seal and smooth the finish for a salon-quality look. Reviewers praise the kit for its easy instructions and premium quality powders that help their manicures last 4+ weeks.
2. Revel Nail Dip Powder Kit
The Revel dip powder system includes their highly-rated base coat, activator liquids, primer, brush cleaner, file, and buffer. It comes with 6 trendy dip powder colors like blush pink, lilac purple, sky blue, and more. The thick powders provide excellent coverage in just 2 dips.
The liquids dry quickly and the nourishing base coat helps condition nails and improve adhesion. Users say the kit is very easy to use at home and helps them achieve durable, glossy dip manicures that rival the salon.
3. OPi Dip-Powder Nail Kit
This professional-grade kit by OPi provides everything needed for a long-lasting dip powder manicure, including their best-selling Natural Nail Base Coat. It comes with 6 popular powders, activator liquids, primer, and mini file/buffer. The OPI powders are finely milled for smooth, even application.
The liquids provide a fast-drying experience. Reviewers say the kit is easy to use and the quality rivals what they get from expensive nail salons. Their manicures last 3-4 weeks even with daily activities.
4. Nails Inc Express Dip Kit
For quick, mess-free application, the Nails Inc. dip kit is a great choice. It includes their 3-step application powders, 6 trendy colors, activator fluid, dual forms, files, and cuticle sticks. The powders simplify the process with the base, color, and top coat all separated.
The activator dries in just 60 seconds for fast application. Users love the fuss-free experience with no liquids to mix and appreciate the salon-worthy results that last weeks.
5. Pink Dip Powder Kit
This kit by Pink Dip Powder contains their most popular sheer nude and pink powders perfect for natural nail looks. It comes with liquids, tips, nail forms, files, and accessories for a complete system. The fine glitter-infused powders create a pretty sheer look that lasts.
The liquids dry quickly and don't damage natural nails. Reviewers mention how easy the kit is to use for beginners and they get long wear without the need for touch-ups or fill-ins.
6. Gellen Dip Powder Nail Kit
For those who want bold, vibrant colors, Gellen's dip kit is top-rated. It has 6 bright dip powders, 2 types of liquids, primer, base coat, foil glue, acrylic brush, and more. The densely pigmented powders create opaque coverage fast for colorful dramatic nails.
The liquids have antifungal properties to protect nails. Users mention the high quality of the powders and how the colors don't fade, even after weeks of wear.
7. Azure Beauty Dip Powder Nail Kit
Azure Beauty offers one of the most complete beginner kits that comes with everything needed to get started. It contains natural pink, beige, and white dip powders along with colored acrylic powders to customize shades. It also has base gel, activator liquids, a nail dehydrator, a brush and accessories.
The user-friendly instructions make it easy for first-time users. Reviewers mention their satisfaction with the quality considering the low price compared to competitors.
8. Color Club Nail Art Pro Dip Powder Kit
Color Club's professional kit has versatile neutrals, French white, base gel, activator, dual forms, and nail tools. The finer milled powders create a thinner, natural-looking finish. The liquids provide a fast, hassle-free application.
Users love the natural pink and nude colors for work-friendly manicures. The quality helps them get a durable finish comparable to the salon.
Uses & Benefits Of Dip Powder Nail Kits
There are many advantages to using an at-home dip powder nail kit:
Strengthen Nails – The powder layers reinforce weak, brittle nails prone to splitting and breaking.
Enhance Nail Appearance – It masks imperfections and provides a smooth, flawless finish.
Protect Nails – The hard coating shields nails from damage while doing dishes, cleaning, typing etc.
Avoid Chipping – The durable finish resists tip wear and chips better than regular polish.
Quick Drying – No need to sit under UV lamps. Activator liquids dry dip powder in minutes for fast application.
Easy To Use – The simple dip, activator steps create a quick DIY salon manicure experience.
Cost Effective – At home dip powder kits provide weeks of wear at a fraction of the salon cost.
Have Fun With Color – Kits include a rainbow of dip powder colors to match any mood or outfit.
Read More:- Best Short Nail Designs To Try Out At Home!
Common Precautions Need To Maintain While Using Dip Powder Nail Kits At Home
While dip powders offer many benefits, there are a few precautions to take:
Read More:- 6 Best Nail Art Designs To Try At Home – A Sneek Peak!
Conclusion
Dip powder nail kits provide an easy, inexpensive way to get durable, long-lasting manicures from the comfort of home. The layering process helps reinforce natural nails while the activator liquids create a hard, protective finish.
With quality powders and the right technique, DIY dip manicures can look just as fabulous as the salon. Just be sure to prep nails properly and care for cuticles to maintain healthy nails.
Consider giving nails an occasional break between powders. With the right kit, you can enjoy chip-free, vibrant nails for weeks.
FAQs
Q1: How Long Does a Dip Powder Manicure Last Compared To Gel or Acrylics?
On average, a dip powder manicure can last 3-4 weeks without touch-ups compared to 2-3 weeks for gel and 2-3 weeks for acrylics. The fused powder layers create a very hard, durable finish that resists chips and scratches.
Q2: Do You Need a UV or LED Lamp For Dip Powder Nails?
No, unlike gel polish, dip powders do not require curing under special lights. The powder layers harden and fuse together when the activator solution is applied. This air drying process allows for quick, easy application.
Q3: Does Dip Powder Damage Your Nails?
When applied properly, dip powders will not damage nails. It's important to avoid over-filing the nails and use a nourishing base coat first. Taking occasional breaks between powder sets allows nails to breathe. Removing powders properly with foil wraps and acetone prevents breakage.
Q4: Can You Do Dip Powder Nails On Natural Nails?
Yes, dip powders adhere very well to natural nails as long as they are prepared properly. Make sure to keep cuticles back, dehydrate nails, apply base coat, and seal the free edges to get the best results on natural nails.
Q5: How Do You Remove Dip Powder Nails At Home?
To safely remove dip powder, apply acetone nail polish remover to foils or cotton balls. Wrap the foils around each finger for 10-15 minutes to allow the acetone to dissolve the powder layers for easy removal. Then you can gently file off any remaining residue.