Nobody wants wrinkles, especially on their chest. Yet chest wrinkles are becoming more common these days. It can be due to premature aging owing to the polluted environment and the exposure to sun rays that directly come in contact with the chest area.
The chest is a wrinkle-prone area after the face and neck, as it is one of the most exposed areas when we wear most types of cloth.
It causes the part to come into contact with air and pollution almost every day. This body part is made up of soft skin that makes the wrinkles easier to appear there.
If you have chest wrinkles, then you might be lacking the confidence to say 'hi', again to the glamorous dresses that once you slayed in.
When you have these fine lines on your body it is also a hint that your health has been conquered by the pollutant, also a beauty concern. You might also get blamed by people for not taking enough care of your skin.
Have you been wondering how to get rid of the chest wrinkles that have been taking away your sleep? Well, then you have reached the ideal place as we are going to shortly start that discussion.
This article focuses on the top 5 chest wrinkle pads available in the market. If you are not familiar enough with the concept of a chest wrinkle pad then no worries, because here you can find everything that you need to know about the pads.
How Do Chest Wrinkle Pads Work On Wrinkles?
A chest wrinkle pad can be placed on the top of your chest area so that it removes the wrinkles. The wrinkle pad is made out of silicone to prevent your skin from folding and creasing.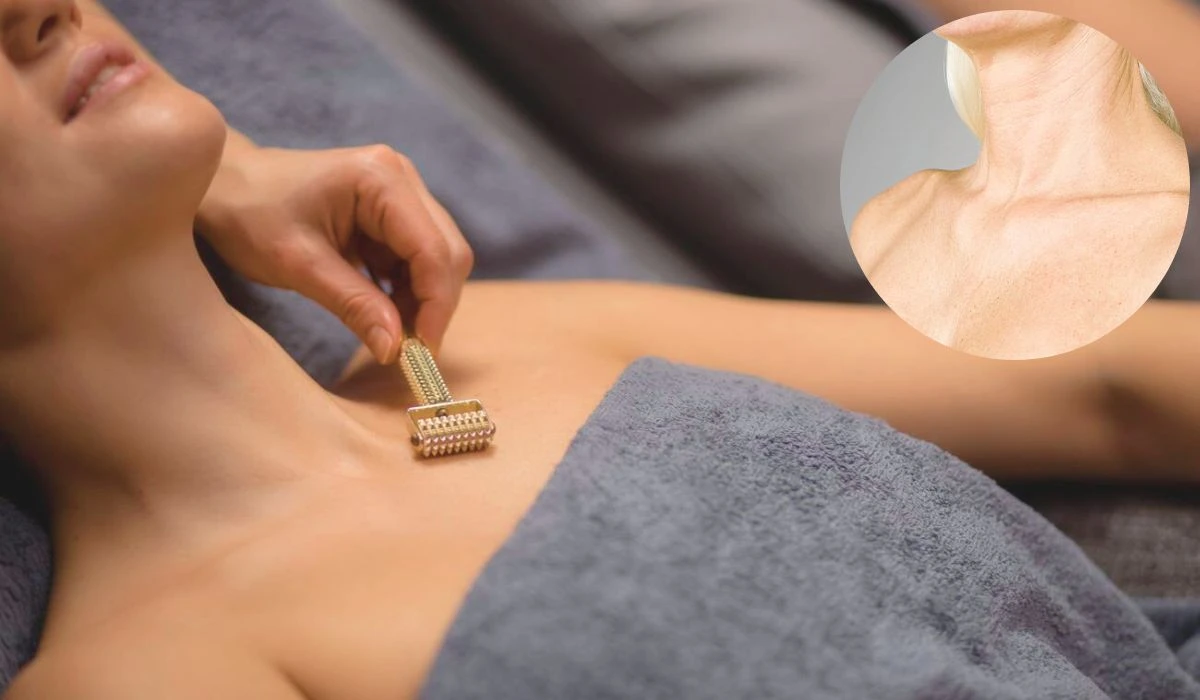 It protects the area covered by it and also keeps the moisture locked in your chest tissues. The hydrating property of the skin is regained to not let it bounce back and to not make it dry and creepy.
At the same time, it is responsible for creating an occlusive barrier in the skin to draw out moisture from the underneath layers to result in a plumpy and supple surface. They stimulate blood flow and boost collagen production.
The silicone pads work to remove the wrinkles in a way similar to ironing out the wrinkles from a cloth. It is also referred to as décolleté pads as it protects the décolletage which is described as the lower part of a woman's neckline. The pads come in funnel, triangular, and hourglass shapes and are just like a stick-on patch.
How To Properly Use Chest Wrinkle Pads? (Step-By-Step Guide)
✅Cleanse Yourself: As it is always said, cleanliness is the first step towards anything and everything related to health.
Rinse your chest with fresh or lukewarm water and pat it dry. Make sure that all the moisturizer and makeup that you applied, and the sweat, and dirt that got accumulated have been washed out.
✅Place It On Your Chest: Take the chest wrinkle pad and place it on your chest area. Make sure that it hugs the body well and do not let the pad get folded or lined when you place it.
When you take the chest wrinkle pad remove it from its packing by gently taking off the thin liner attached to it.
✅Get Some Rest: It is ideal to use the wrinkle-removing pad overnight. That way, you can get some sleep when the pad works its way to remove the fine lines that kill the beauty of your chest.
If you can not use it through the night then you have to let the pads rest on your chest for at least two hours.
✅Take It Off: After keeping the pad for a night or for a minimum of two hours, you can take it off. When you take the pad off your skin, hold the skin with one hand and use another hand to gently take it off in an upward motion. Don't peel it off using force. Keep the pad back in the original sheet in the storage tray.
Advantages Of Using Chest Wrinkle Pads
Quick Results – Chest wrinkle pads work faster than many other solutions designed for the same purpose.
Improves Structure – The pads are capable of regaining the lost structure by tightening the loose skin and by plumping the crepey skin.
Reusable – One chest wrinkle pad can be reused many times. After lifting it off, post the Pad usage, they are to be cleaned in freshwater. Then it should be air cleaned. Now it is all ready to be used again.
Convenient To Use – The chest wrinkle pads are easy to use. They just have to be placed safely and removed gently. There is no need for another tool or equipment to fix it or to peel it off.
Comfy To Wear – The pads are thin therefore it does not let you know the presence of it on your body. It does not cause stickiness and is comfortable to wear.
Skin-Friendly – It is made out of material that does not cause any kind of irritation or allergies on the skin.
Top 5 Chest Wrinkle Pads:
What follows is the list of the top 5 chest wrinkle pads that are available on Amazon. The pads were selected as the top ones, after analyzing their features and customer reviews.
Each of the five chest wrinkle pads contains details such as their features, material used, customer feedback, and effectiveness.
1. Blumbody Chest Wrinkle Pads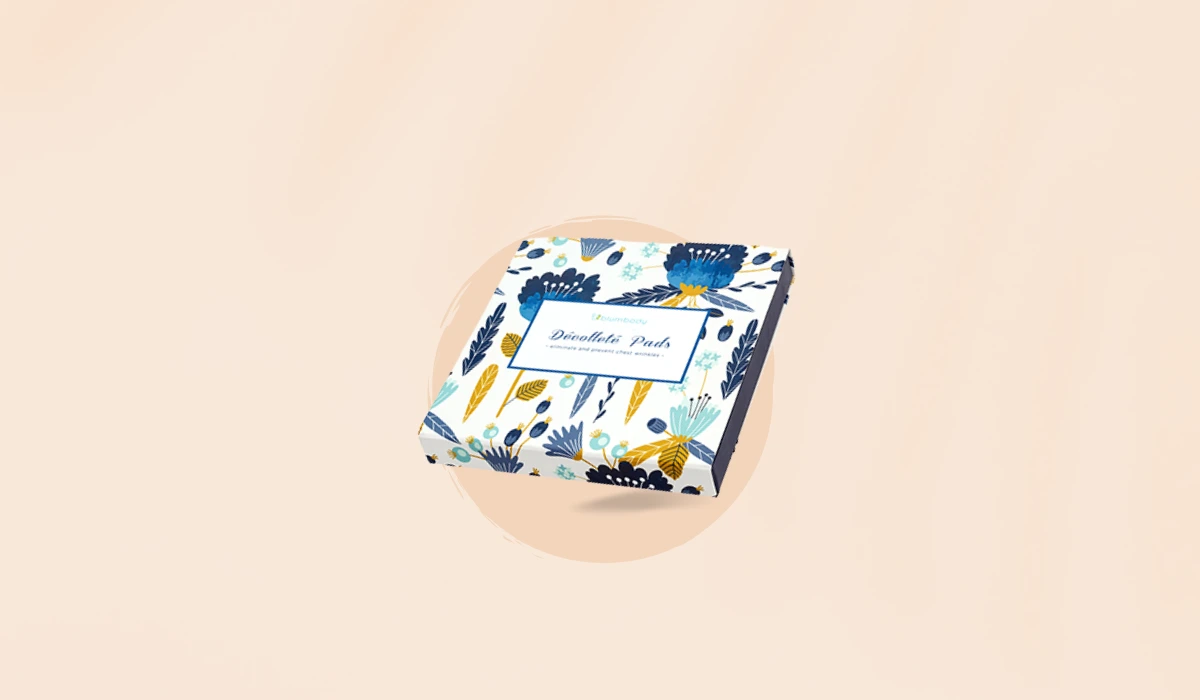 Features
Blumbody chest wrinkle pads are one of the top pads and it is most noted for their hydrating properties. The pads can be used for chest and neck wrinkles.
It is capable of reversing the effects of lifestyle choices, sun damage, and aging. The pads are reusable and can be used for approximately 15 – 20 times.
Material Used
It is made of natural material.
The silicone used is dermatologist tested.
Customer Feedback
Blumbody chest wrinkle pad customer reviews note that it does reduce chest wrinkles. There are more than 20,000 customers globally.
The customers say that the pads have reversed the wrinkles caused by their inappropriate lifestyle choices, exposure to the sun, sleeping on the side, usage of mobile, and general aging.
Advised to be cleaned with silicone pad soaps
Effectiveness
It is effective in removing wrinkles caused by a wide range of factors including premature aging. The hydrating properties rejuvenate the décolletage overnight. Its natural anti-aging skin-friendly formula can fade out the wrinkles caused by tanning.
2. Sio Chestlift Reusable Wrinkle-Smoothing Patches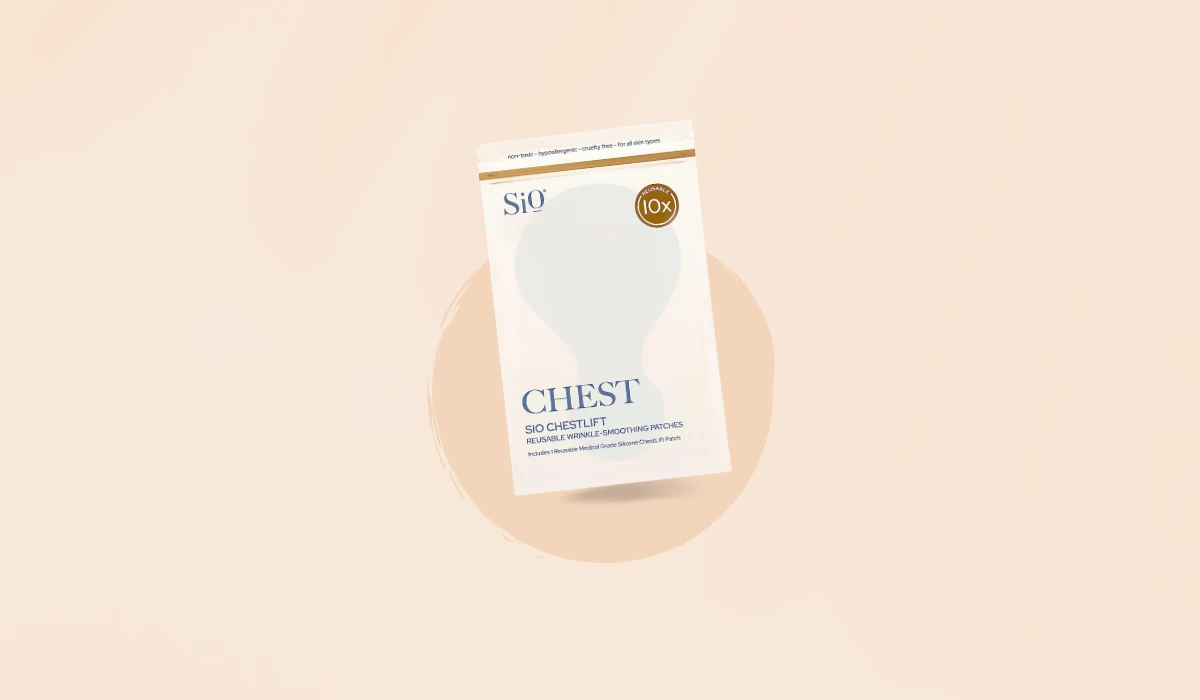 Features
Sio Chestlift Reusable Wrinkle-Smoothing pads plump and tighten the chest skin by smoothing the fine lines that appear on the chest skin. It compresses the décolleté wrinkles and hydrates the skin using the moisture-intensive microclimate.
Material Used
The material used is medical-grade silicone that can restore lost moisture. The pads are super thin, tapered patches that have wound-healing technology. It is suitable to be used by all body types.
Customer Feedback
Customers have reported back that the pads can reduce the wrinkles caused by side sleeping and aging. It is reported as one of the result-delivering pads for fading spots. It is ranked 4 out of 5 stars from 729 ratings.
Effectiveness
The pads work effectively on normal, dry, oily, and sensitive skin types. It can work on sleep lines that get developed on the chest skin. It works on the skin's edges.
3. Muzooy 4 Pack Chest Wrinkle Pads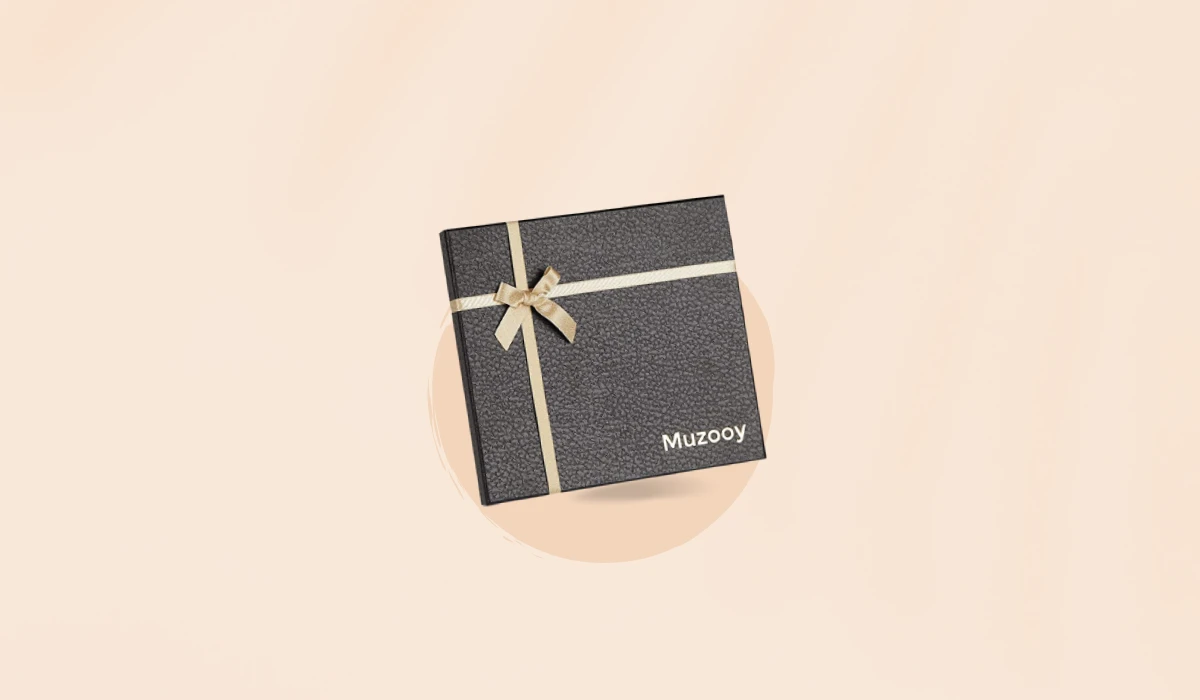 Features
The pads have a gel inside them. It can be applied to any area of the body. Comes as a 4-pack décolleté pad to correct chest lines and crepey skin. Works by boosting blood circulation and collagen production.
Material Used
Muzooy 4 Pack Chest Wrinkle Pads are made out of 100 percent medical grade silicones that do not cause a sensation of discomfort.
The silicone gel present in this is odorless and safe for the skin. The material does not contain latex. It functions as a hypoallergenic chest wrinkle pad.
Customer Feedback
It is reported as one of the best nontoxic chest wrinkle pads. Customers have viewed that it is easy to clean and that it is designed in the perfect shape to hug the skin.
The pads can be used for 30 days by washing them every two days. It has a rating of 4 out of 5 stars from a total of 750 reviews.
Effectiveness
These silicone pads are effective in enhancing the skin's firmness and elasticity. You can use it regardless of your skin tone or type.
It prevents the chest muscles from creasing while sleeping. The pad can smooth the skin and maintain its natural structure.
4. Silc Skin Decollette Pad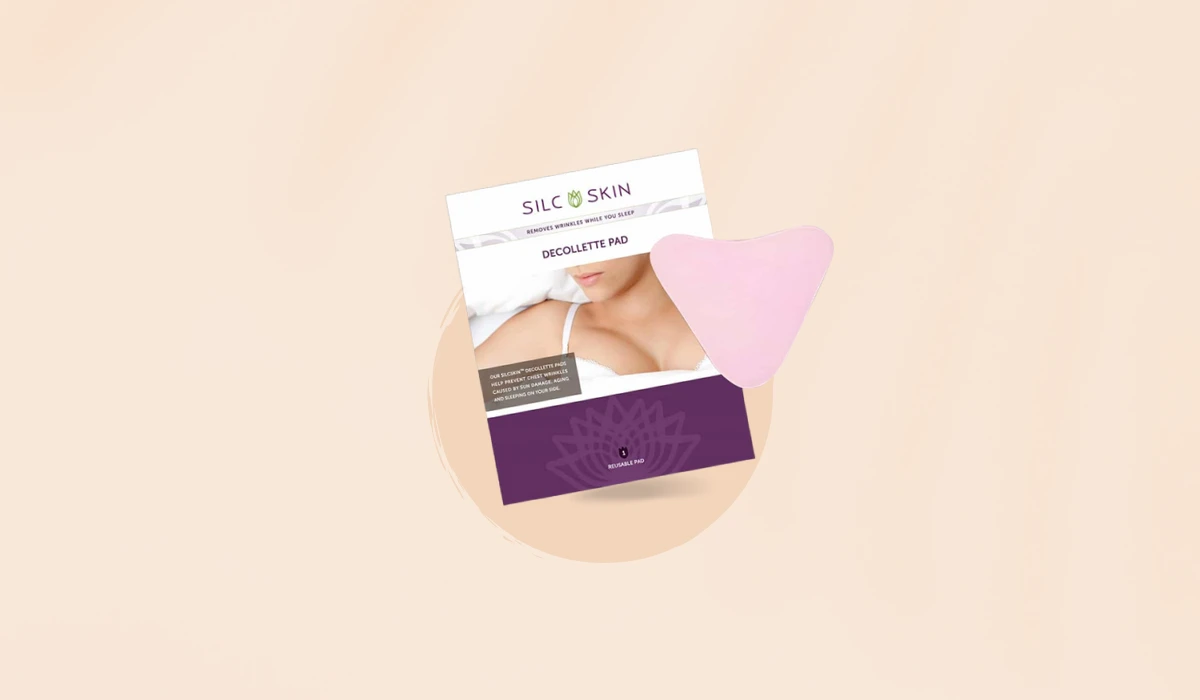 Features
It can be used up to 30 times if cleaned and maintained properly. The pads are comfortable and easy to wear. It does not stick to the skin nor does pinch or pull the skin when it is removed. This chest wrinkle pad is made in the USA.
Material Used
The material used is thicker silicone to make the pads stronger and reusable. The pads do not contain adhesive but have a natural adhesive-like quality in them.
The silicone used in Silc Skin Decollette Pad has undergone a platinum-cured process and, therefore, there is no presence of byproducts. The material is clinically proven.
Customer Feedback
Silc Skin Decollette Pad is reviewed as one of the best reusable chest wrinkle pads.
The pad has around 1,719 customer ratings and is ranked as having 4 out of 5 stars. The customers who have used this belong to all skin types and shades.
Effectiveness
This pad can be used for treating fine lines and stretch marks on the chest and neck. The pads come in a single size that is suitable to be used by all. It works as a self-adhesive skin.
5. Cleverfy Chest Wrinkle Pads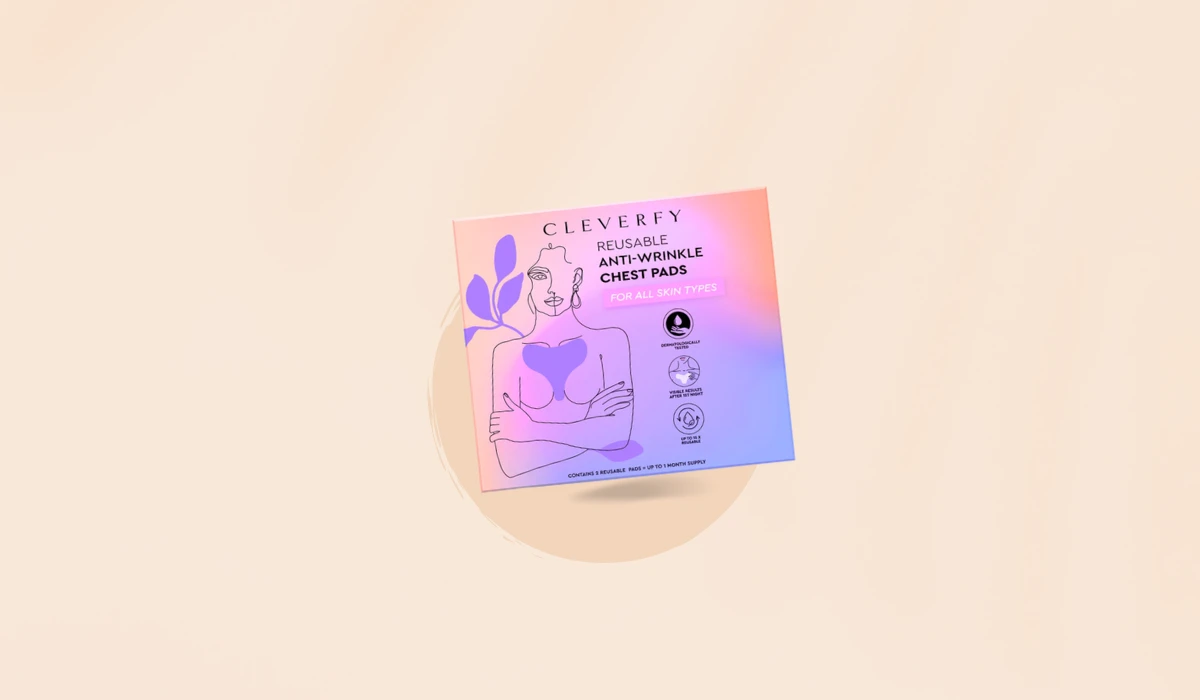 Features
Cleverfy Chest Wrinkle Pads are made out of SilicoFix Design that reduces décolleté wrinkles. It comes in a T-shape. The pads are washable and reusable. It has a maximum 15-time use life.
Material Used
It is made out of silicone that is clinically tested and dermatologist-approved. The pads are designed with an extra-firm adhesive in each of the patches.
Customer Feedback
Customers have viewed that these wrinkle pads are ideal to be used on all parts of the body. The user report shows that visible results can be obtained after the first use itself.
Effectiveness
It effectively flattens fine lines and can be used on all skin types. The pads can rejuvenate and review the chest muscles and tissues.
Choosing The Right Chest Wrinkle Pad: Factors To Consider
? You have to be careful that you choose the right kind of chest wrinkle pad. Choosing a low-quality pad can cause further side effects. Cheap silicone can clog the natural pores on the skin that traps bacterias, dirt particles, impurities, and sebum inside the skin.
? You should not go for a cheap-priced chest wrinkle pad. Another negative outcome that a compromised silicone pad can have on your skin is that it can enlarge the pores on the chest area which will lead to the formation of pores and blackheads.
? Choosing the wrong pad can alter the natural ability of the skin to form sweat. If the natural sweat forming is hindered it can lead to blemishes appearing on the skin.
? Notice whether the adhesive of the pad that you are using is getting automatically peeled off. If yes, you have to stop using that.
? Choose the right size. Buy the wrinkle pad that is ideal for your chest size.
? Upon placing the pad, if you feel that it's too stickier then do not leave it on the skin. Because you might feel that the pad will remain right in place, but the skin will be damaged when you remove it in the morning.
? Be sure that the pad is not too thick and you do not feel uncomfortable when you wear it.
Cleaning And Maintainance Of Chest Wrinkle Pads For Longevity
The chest wrinkle pad has to be cleaned gently. Take off the patch after usage to wash it using clean and fresh water. Avoid rubbing or scrubbing the patch, it will result in damage occurring to the adhesive.
After washing the pad, it has to be dried well, following the method of air drying. You can also use a silicone pad cleansing solution from a trusted and verified seller to clean the chest wrinkle pads.
After the pads are dry, gently touch the pad with clean fingers to know that the adhesive feels like it has life in it.
Related: How To Incorporate Wrinkle Creams Into Your Skincare Routine?
Preventive Measures To Take Before Using Chest Wrinkle Pads
▶️ When you are about to use a chest wrinkle pad there are some points that you have to ensure and take care of. The first thing you have to make sure is that your skin is well-cleaned and free of all moisturizer, body lotion, and make-ups.
▶️ Before placing the chest wrinkle pad, check whether the skin area is inflamed or has got any infections, blisters, or rub burns. If yes, do not proceed to use the pads.
▶️ The pads are also not to be used on top of open wounds and cuts. Don't use them if the body is scarred or has any kind of injuries. If you are allergic to silicone or if your skin is sensitive to silicone material, then it is not ideal to use the pads as they are made out of silicone.
▶️ You have to press the chest wrinkle pad firmly on your chest and after that, if any irritation or rashes occur you have to immediately remove the pad. After using when you remove the pad, be careful to lift it off gently in an upward motion.
Final Thoughts
Chest wrinkles are becoming a nightmare for many. Earlier these fine lines on your lower neckline made an appearance with increasing age but now the polluted environment and lifestyle choices are making these wrinkles inevitable at a younger age.
It can be a hint that your health is declining and many people might not be pleased with this. The wrinkles can also cause a dip in your self-confidence and also limit you from wearing many cleavage-revealing dresses.
If you are in search of a solution to diminish these wrinkles, then the chest wrinkle pad can be an ideal one. It does not take up much of your time and it is easy to use. You have to attach the silicone pad to your chest skin and sleep overnight.
When you wake up in the morning the fine lines will be flattened out. Make sure that you buy premium quality chest wrinkle pads and use them in the right way.
Frequently Asked Questions
Can side sleeping cause chest wrinkles?
Side sleeping may cause chest wrinkles. It is considered one of the habits that might result in the formation of fine lines in the chest area.
How do I keep my chest wrinkle-free?
There are some lifestyle choices that you can make to keep the chest free of wrinkles, such as avoiding the sun, using sunscreen, gentle exfoliation, and using a chest wrinkle pad.
At what age do chest wrinkles appear?
The drop in collagen production is one of the reasons for the appearance of chest wrinkles. This usually happens with aging and can be seen in those who are above the age of 40. Recently, it is also seen in people who are in their 20s and 30s due to prolonged screen time, side sleeping, and premature aging.
Do silicone pads work for chest wrinkles?
Yes, silicone pads are one of the suitable options to reduce chest wrinkles. The silicone pads hug décolletage and hydrate them.
How do chest wrinkle pads work?
The chest wrinkle pad works by flattening the chest of the fine lines present in that area. It plumps the loose and crepey skin. Also, it prevents the décolleté from the formation of new fine lines.