Women often prefer their nails having professionally manicured than leaving them uncared, but have you ever done them by yourself? It is only normal for you to think that you are not coordinated enough to do your own nails, but this Nailboo nail powder kit is meant to elevate your manicure experience to another level.
The aim of this Nailboo review is to provide customers with an in-depth understanding of this at-home manicure kit.
Nailboo Reviews – Quick And Professional Nails At Home!
The dip manicure kit by Nailboo is a salon-grade and easy-to-use nail kit that is meant to give you the perfect blend of products on your nails. It was created with a simple vision of developing nail kits that can be used from the comfort of your home.
For some reason, the Nailboo manufacturers wanted to make manicures free of appointments and other hassles and here you go. Thanks to Nailboo, you can now do your nails in less than 5 minutes.
In this Nailboo review, I am going to discuss every aspect of the system to help you make an informed decision on whether or not to try them. So, read on.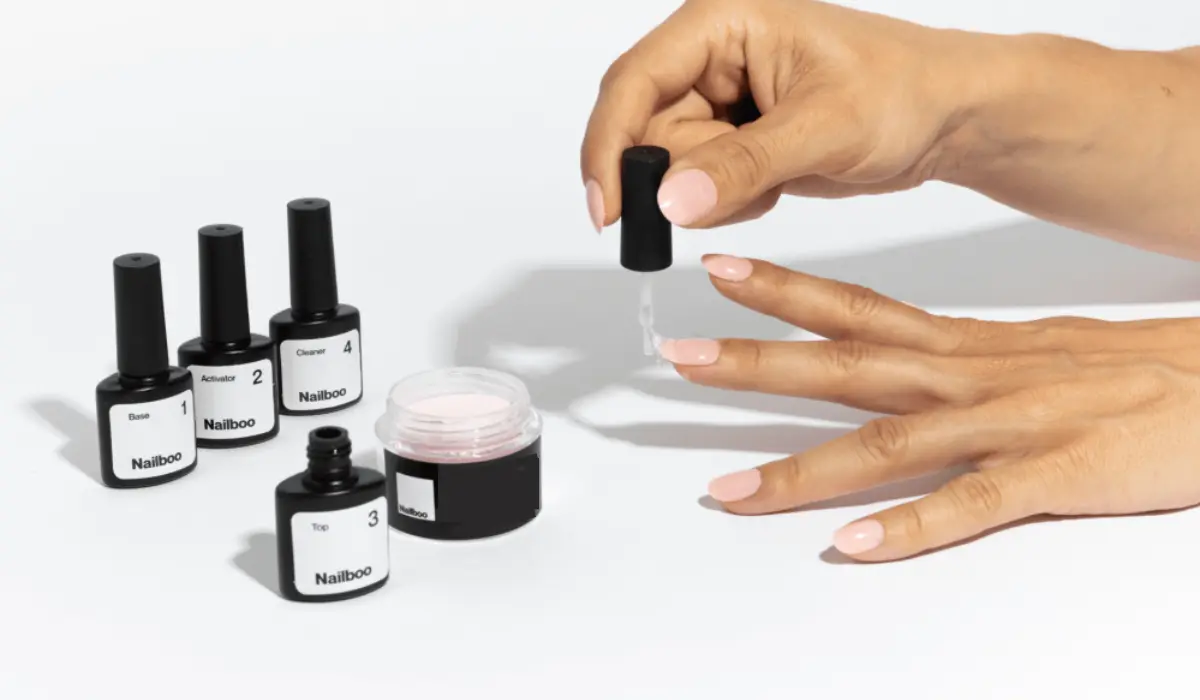 Product Name
Nailboo
Classification
Dip Powder Manicure Kit
Use For
Nails
Customer Reviews
★ ★ ★ ★ ☆
Includes
4 Essential Dip Liquids
Build powder dip
One Colored Powder
Pro Powder Brush
Four-Way File
Pro Soak Nail Removal Clips
Results Last For
6 Weeks
Benefits
➡️Special build powder that fortifies nails
➡️It gives results that last for as long as 6 weeks
➡️Easy removal
➡️Easy to use
Ingredients
?Polymethyl Methacrylate
?Benzoyl Peroxide
?Titanium Dioxide
?Mica
?Iron Oxides
Side Effects
No Side Effects reported yet
Customer support
[email protected]
Money Back Guarantee
10 day
Price
$68 for the starter kit
Availability
Only on amazon
Website
Click Here
Introduction To Nailboo
Nailboo is a DIY (do-it-yourself) nail kit that is meant to provide a more practical version of a manicure that also offers a durable finish. According to the manufacturers, the easy-to-use design of Nailboo is what makes the product stand out from the competition.
Although the application is easy, you might be confused when it comes to choosing the nail powder color as Nailboo dip powder offers varieties of colors to choose from. The creators say that their motive behind developing such a product was to eliminate the culture of spending both money and time at professional salons. Instead, they wanted to provide access to affordable, salon-like nails that can be used in the comfort of your home.
In the coming sections of this Nailboo review, I will take you to every aspect of this product to make you understand why this dip powder manicure kit is gaining hype on the internet. This way, you will also get a chance to familiarize yourself with the Nail boo system.
What's Included In Nailboo Starter Kit?
According to Nailboo reviews, the starter kit includes the following items: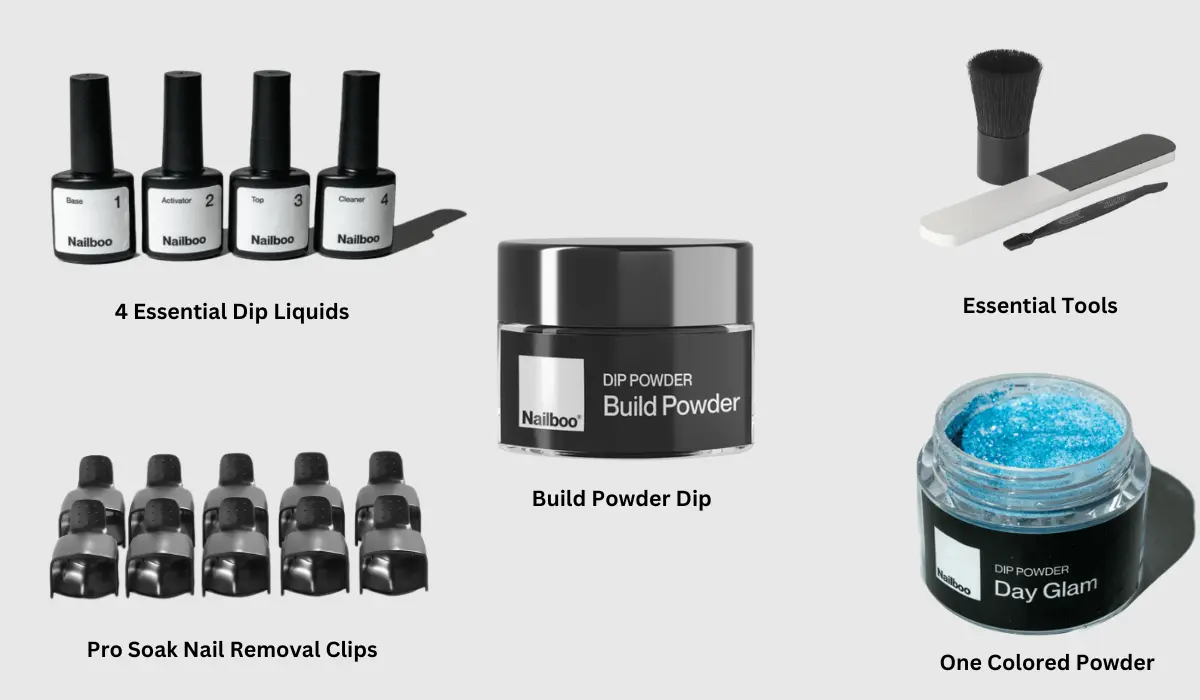 There are two advanced sets available which come with 4 colored powders and 6 colored powders.
How To Use Nailboo Dip Manicure Kit?
Unlike the common manicure that uses traditional nail polish, Nailboo is a manicure that works by dipping your nails in a specially-designed powder dip.
Step 1 – Before dipping your nails in it, you may apply a single coat of base liquid.
Step 2 – Dip the nail into the Build Powder.
Step 3 – Apply Base Coat to the full nail.
Step 4 – You can follow this by dipping your nails into a colored powder of your choice.
Step 5 – Brush away excess powder.
Step 6 – After the dip, you are supposed to apply an activator as well as a top coat.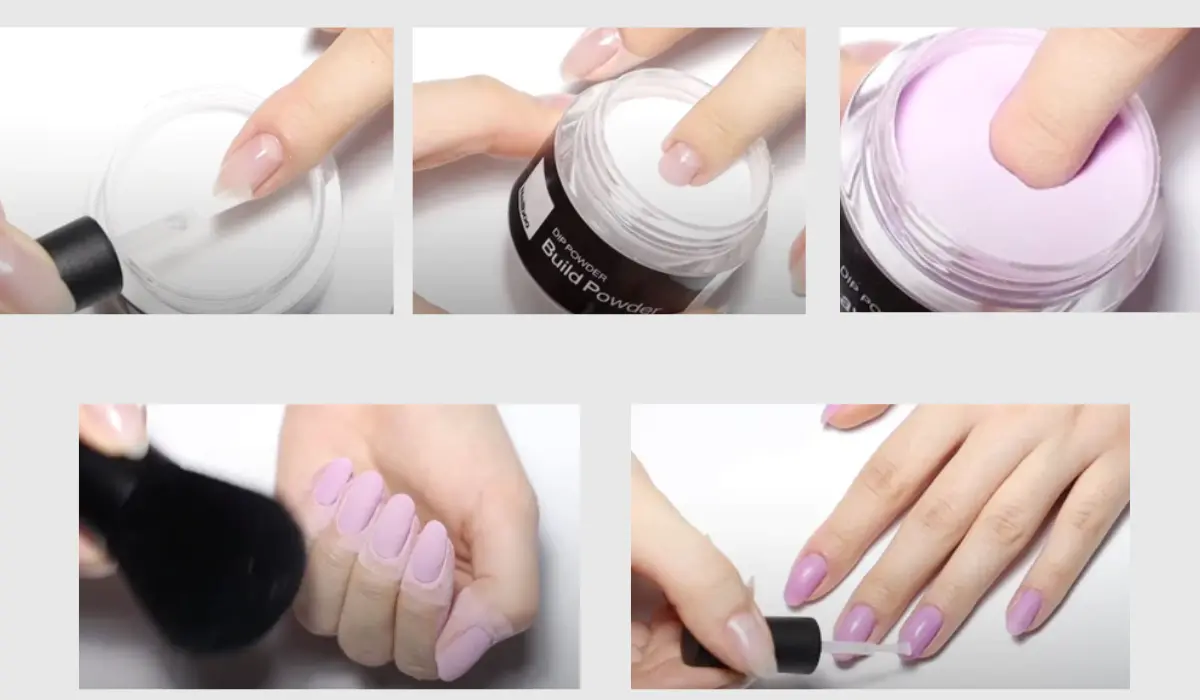 The Nailboo dip powder is responsible for that long-lasting effect you get. It helps to create a more resilient coat on your nails ensuring a durable finish.
While people used to believe that a salon-like nail can only be attained with the help of UV/LED lights, the Nailboo creators proved them wrong by showing how their product works fine without any UV/LED lights. If applied as directed, then you can expect it to last longer than any regular manicure.
Discuss The Role Of Each Nailboo Ingredient
Nailboo nail coatings and colored powders are made of different ingredients and they are as follows: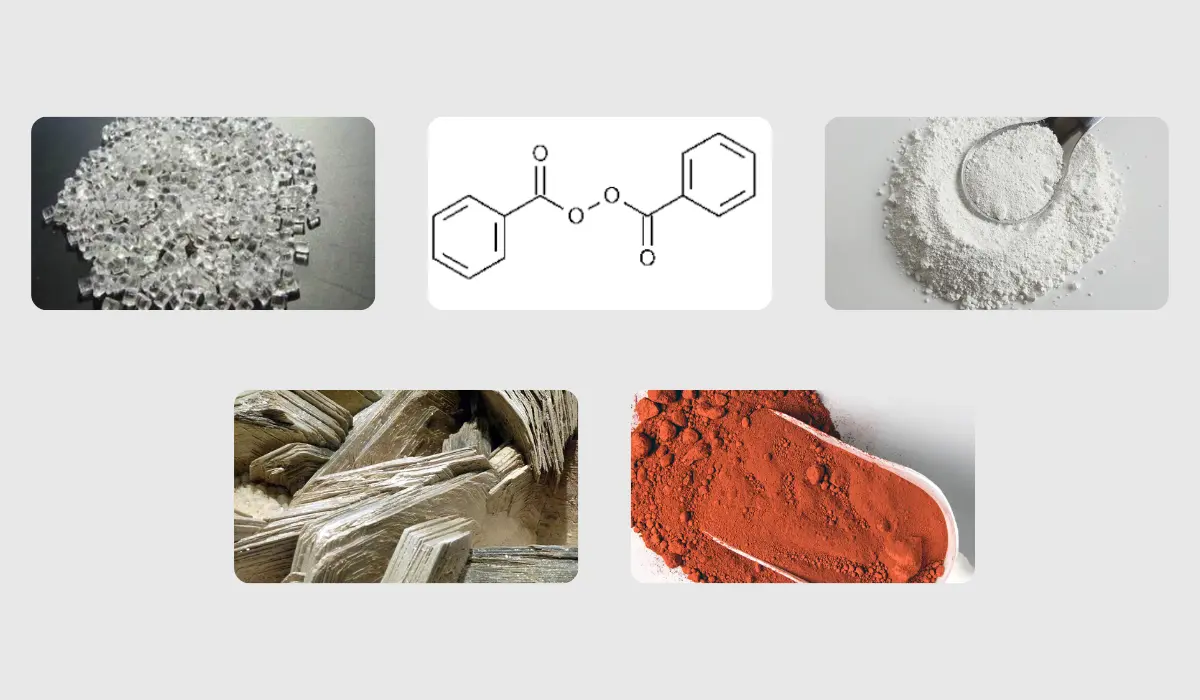 | | |
| --- | --- |
| Ingredients | Benefits |
| Polymethyl Methacrylate | Polymethyl Methacrylate is a synthetic methyl produced from the polymerization of methyl methacrylate. It is commonly used as a substitute for glass due to its transparent appearance. Due to the same quality, it is also used in clear nail polishes. |
| Benzoyl Peroxide | Benzoyl Peroxide is an antiseptic well-known to treat acne and reduce germs on the surface of your skin. This Nailboo ingredient is one of the most common photoinitiators used in nail polishes. Upon exposure, benzoyl peroxide dissolves itself to form a shiny layer on the nail. |
| Titanium Dioxide | Titanium dioxide is used in nail polishes and other nail products to give your nails a sparkling effect. Usually, titanium dioxide itself appears in silvery white color. |
| Mica | Mica is the key Nailboo ingredient. It is the one element in most nail products having an adhesive property. This leads to a durable manicure without any cracks and flakes. |
| Iron oxides | Iron oxide is a common pigment used to add color to nail paints. Gold, bronze, brown, and copper are colors that can be easily achieved with iron oxides. |
Nailboo Benefits Discussed
Normally, we use a product to enjoy the benefits it claims and the same goes for Nailboo professional dip manicure method as well. It offers several benefits and they are as follows:
✅ Nailboo's special build powder fortifies your nails – No matter how hard you try to beautify your face, your nails play a major role in deciding whether you are actually beautiful or not. And, you can trust Nailboo with this. Nailboo manicure kit comes with special build powder that enhances the quality and appearance of your nails.
✅ It gives results that last for as long as 6 weeks – Traditional manicures usually last for almost a month, but the Nailboo dip powder manicure kit is meant to maintain the color and shine for as long as 6 weeks. It is one of the major benefits. With Nailboo at-home manicure, you can enjoy the salon-grade finish in the comfort of your home.
✅ Easy removal – Nailboo system can be easily removed with the help of the remover gel and filers. This also ensures that your nails are safe and their cuticles are not damaged. You will not have to spend hours removing the paint, instead, the Nailboo remover gel helps in removing the stain in less than a few minutes.
✅ Nailboo is easy to use – The application is pretty easy as there are specific applicators or tools to carry out each procedure. To the maximum, Nailboo nail coloring might take up to 5 minutes.
Pros And Cons Of Nailboo DIY Dip Powder Kit
Every nail care product has its own unique pros and cons and it is your responsibility to choose one product among them for yourself. The easiest thing you can do is to look for nail kits that provide more advantages when compared to the others.
In addition to this, you should also ensure whether the claims made by the manufacturers are true or not. After my thorough research on various Nailboo reviews, I can say that this manicure kit is working to deliver the desired results with the least disadvantages.
The following are the pros and cons of the Nailboo DIY dip powder kit:
PROS
Nailboo colors last up to 6 weeks, which is longer than any traditional manicure
Provides salon-like finish
No UV/LED lights required
You can apply and remove them whenever you want
Cheaper than traditioanl manucures
Application only requires less than 5 minutes
CONS
You might end up messing your nails if applied without properly following the guidelines
Nailboo is not ideal for children below the age of 10
Nailboo Usage Recommendation
Nailboo is an at-home manicure kit that comes along with instruction information to guide you throughout the process. While it is directed to only use a single coat of base and topcoat, you need not have to overdo it as it will only ruin the appearance of your nails. Also, the Nailboo dipping color powder is also pretty thick, so you need not have to re-dip your nails in them.
In short, you are supposed to follow the Nailboo instructions while applying. If you do it properly, you will get a salon-like shiny finish. The Nailboo efficiency is such that it will work for anyone regardless of their nail shape and nail structure.
Nail Salon Vs Nailboo Dip Manicure Kit
| | |
| --- | --- |
| Nail Salon | Nailboo |
| Hours in salon chair (+ travel & wait time) | Applied quickly from home |
| Spend time booking | Your own schedule |
| Awkward conversations | Peace of mind, relaxing |
| Unsanitary, shared facilities & tools | Always sanitary |
| $60 avg. cost per mani | As low as $2 per mani |
How Long Do Nailboo Nails Last?
According to Nailboo customer reviews, this dip powder starter kit gives an instant result that will last for a longer period. To be precise, your manicure will last approximately 6 weeks after application. According to the manufacturers, you will not even get the thought of reapplying Nailboo before 6 weeks of application.
From this, it is feasible to assume that the Nailboo nail dip kit stands in a higher position in terms of the longevity of its results.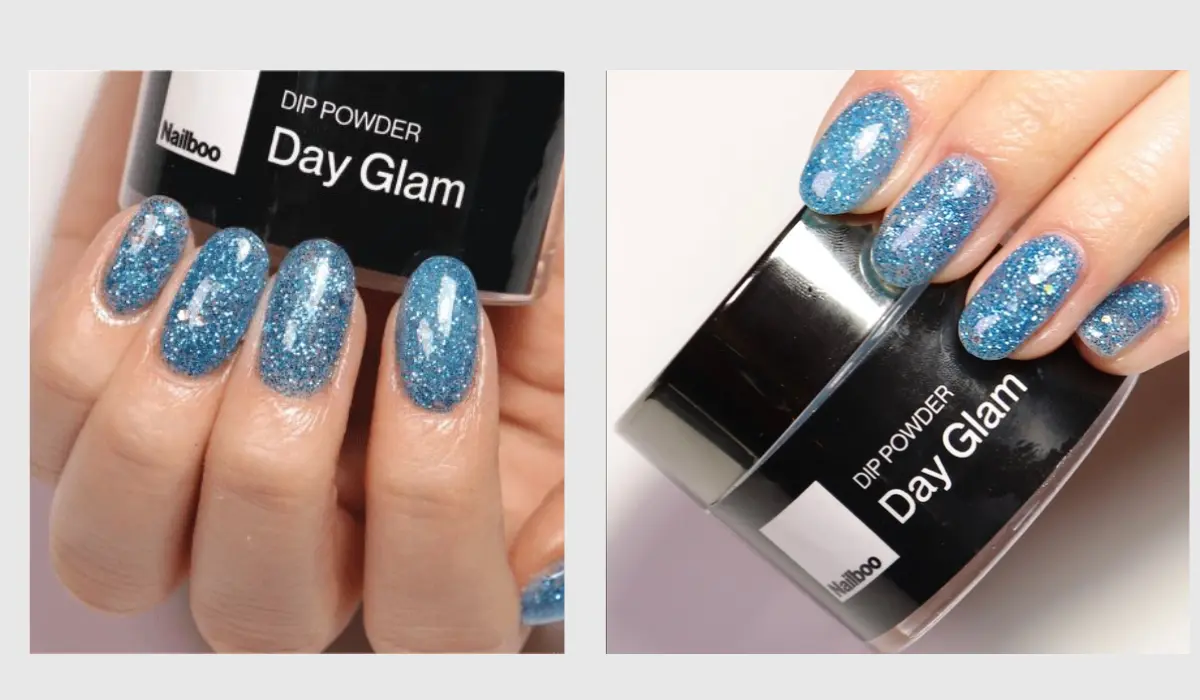 Nailboo Price Details
Nailboo powder dip kit is an Amazon product that is only sold on the website or app of Amazon. Since the current generation is good at making online purchases, and prefers it over offline purchases, it becomes more convenient to get your hands on Nailboo. However, make sure that you are not fooled by replicas and purchase from Nailboo official website.
The Nailboo dip powder manicure kit is available in three different packages and the pricing is as follows:
1 powder pack is priced at $68
4 powder pack is priced at $98 + Free removal kit
6 powder pack is priced at $140 + Free nail care kit and removal kit +Free shipping
Does The Website Have A Refund Policy?
Since Nailboo is an Amazon product, it is safe to expect that you will be eligible to get a refund. But, only under certain conditions. As per Amazon guidelines, you can return any product within the next 10 days and enjoy 100% money back.
However, the product should not be opened or used. In short, if the Nailboo dip kit you get is free of any damage, then you better use it than return it. But, if the case is otherwise, then you may return your order within the next 10 days.
Final Verdict On Nailboo Reviews
If you have been looking for an alternative to a professional manicure that requires a lot of money and time, then the Nailboo dip manicure kit is certainly for you. It gives you that shiny salon-like nails in just a few minutes within the comfort of your home.
Moreover, the color along with shine is meant to stay on your nails for as long as 6 weeks approximately. In addition to it, the Nailboo manufacturer is also willing to make your purchase experience better than usual by adding free gifts and free shipping features to selected packages.
There are also no Nailboo reviews that mention any drawbacks like any possible side effects or any such sort.
In a nutshell, Nailboo DIY at-home nail drip powder kit is a less expensive, yet working nail kit that works to make your nails look like they received professional manicures. Now, it's your turn. You may now decide whether to love your nails or leave them as it is.
Frequently Asked Questions
1. What makes Nailboo nail dip powder kit different from traditional manicures? 
Dip powder is different from traditional manicures in a number of ways. While a traditional manicure requires LED lights or drying time to give that nature effect to your nails, Nailboo works to deliver the same or better results without depending on LED/UV lights. 
2. Can the use of LED/UV light make the Nailboo stain last longer? 
Nailboo does not require any assistance from LED/UV lights. It works fine without these things and it is better not to expect any additional results by using these lights. 
3. Can the Nailboo kit be also used for pedicures? 
Nailboo can be used on your toes for flawless pedicures that go well with your manicure. You may follow the same application method to do your pedicure. It will also last up to 6 months and might differ depending on the care you provide. 
4. Is the Nailboo color easy to remove? 
Similar to its application, Nailboo is also easy to remove. The kit includes removing gel or removing clips that can be easily applied on the required areas to pull off the reaming stain. 
5. Does Nailboo make nails strong? 
Dip powder manicures are well known to make your nails strong and fortify them. It is Nailboo's special build powder that protects your nails. Also, you can be free of any concerns unless you are careful while removing your dip polish. This way, you can stay away from damaging your nails as well. 
6. Does Nailboo work on short nails?
The application isn't reliant on nail size, allowing for a versatile selection based on other crucial factors.
7. How long does Nailboo dip powder last?
Nailboo results will last for three to six weeks so you won't need to change your color frequently.
8. Is Nailboo worth it?
This starter system is an ideal choice for beginners venturing into dip nails or for those seeking an enjoyable gift option.
9. How many coats of Nailboo dip powder?
Just two coats of Nailboo powder are required to achieve a professional salon-grade color finish.
10. How long does it take to do your nails with Nailboo?
In a mere half-hour, from initiation to completion, achieving flawlessly manicured nails becomes an attainable feat.
References
Disclaimer
Please be advised that any recommendations or suggestions made here are not a substitute for professional medical advice from a certified healthcare provider. In case you have concerns or doubts regarding the details shared above, make sure you consult with a licensed professional before making any purchasing decision.