What is acupressure? It is a form of therapy in which manual pressure is applied on several points of the body to reduce stress, improve blood flow, reduce pain, headache, migraine, etc.
Acupressure is a Chinese medicinal method that was practiced for self-healing to eliminate stress and mild pain. This therapy works by giving manual pressure on these pressure points and is said to relieve your pain.
Benefits Of Acupressure
Most of the time people are not aware of acupressures benefits and underestimate it. Acupressure not only helps with improving skin health but also helps get a cure for many other diseases as well.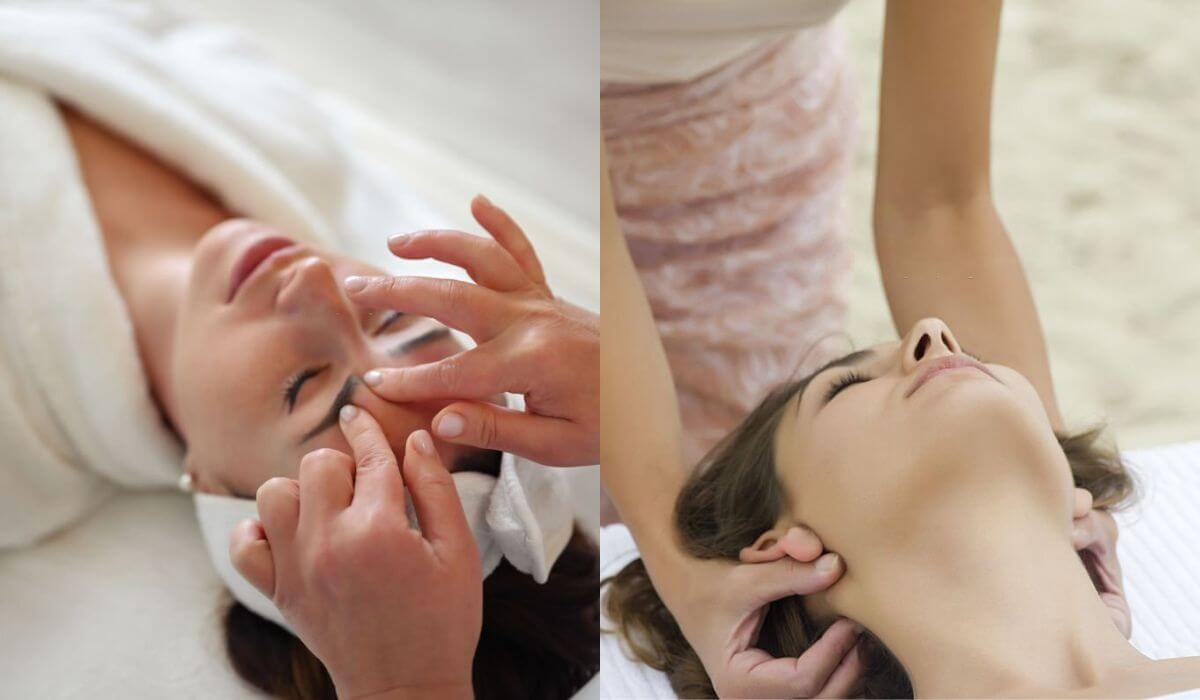 People often doubt whether acupressure really works whereas it is scientifically proven to work on mild pain, stress, headache, etc.
People often go for medicine or other quick pain-relieving options that might even be harmful to us or may cause long-term side effects. We often forget we can self-cure ourselves with just our fingers practicing the acupressure methods. It is safe and effective plus it is not expensive at all.
Are Acupuncture And Acupressure The Same?
We often get confused with Acupuncture and Acupressure. Acupuncture works with needles whereas Acupressure is even more easy to adapt to our daily lives as it can be practiced anywhere and anytime. A gentle massage and you get great long-term results.
This same acupressure can be helpful in improving the skin tone and making it glow. Acupressure helps the skin in much better ways than expensive creams or lotions do. It can be done anywhere and anytime and is free of cost. All you need is your hands to make this happen.
Even basic skin massage improves the health of your skin. It improves blood flow, the skin tone, and makes it look fresh. So think about how good acupressure will work on the face if basic massage can do this little.
If you make facial acupressure a part of your daily routine, it works wonders on the face. We feel confident when our face is healthy and happy and acupressure not only makes the skin healthy but gives a glowing complexion too.
But there are other different health benefits with it. The benefits include having better sleep, a peaceful mind, improved focus, reduces anxiety and physical pain, etc.
Different Types Of Acupressure Techniques
There are different types of acupressure techniques that help improve skin's complexion. I will list down the most common ones. They include the Third Eye Point which is also known as Yin Tang.  It is the pressure point right in the middle of your eyebrows, that is the center of your forehead.
You have to massage in a circular motion in this area. It helps to calm the mind, relieves pain, boosts immunity, and put us in a good mood. The next method is the Four Whites. This point is under the eye socket, on top of your cheekbones.
Acupressure at this point helps to remove blemishes and it nourishes the skin. But too much pressure under the eyes can cause problems like saggy eyes and wrinkles. Facial Beauty is another pressure point that helps in gaining a full-face glow.
It is right under the cheekbones, outside the nostril flare, and in the corners of the mouth. This helps to improve circulation, fade acne, reduce swelling, etc. The last one is the Wind Screen, which is a point behind the earlobe.
Massaging at this point helps to reduce migraine as well as the ringing sound in the ears. It balances your thyroid gland and improves the skin's glow.
Facial acupressure helps improve blood circulation, giving it an inner glow and making it healthy. Too much pressure should be avoided. Massage gently on the pressure points to see the difference it is going to make.
It helps in reducing the puffiness of the eyes and helps fade dark circles, wrinkles, etc.  It not only alleviates physical pain but mental stress too. For Acupressure to work in an effective way, massage in a  circular motion for about 2 to 3 minutes every day.