Determining your face shape is an essential step in learning to properly apply makeup, get the most flattering haircut, and find the eyeglass styles that complement you best. Your face shape is defined by your bone structure – the contours of your hairline, cheekbones, jawline, and other features.
There are six main face shape categories, with some variations in between. Read on to learn how to assess your face shape along with the distinguishing traits of each type.
How To Determine Your Face Shape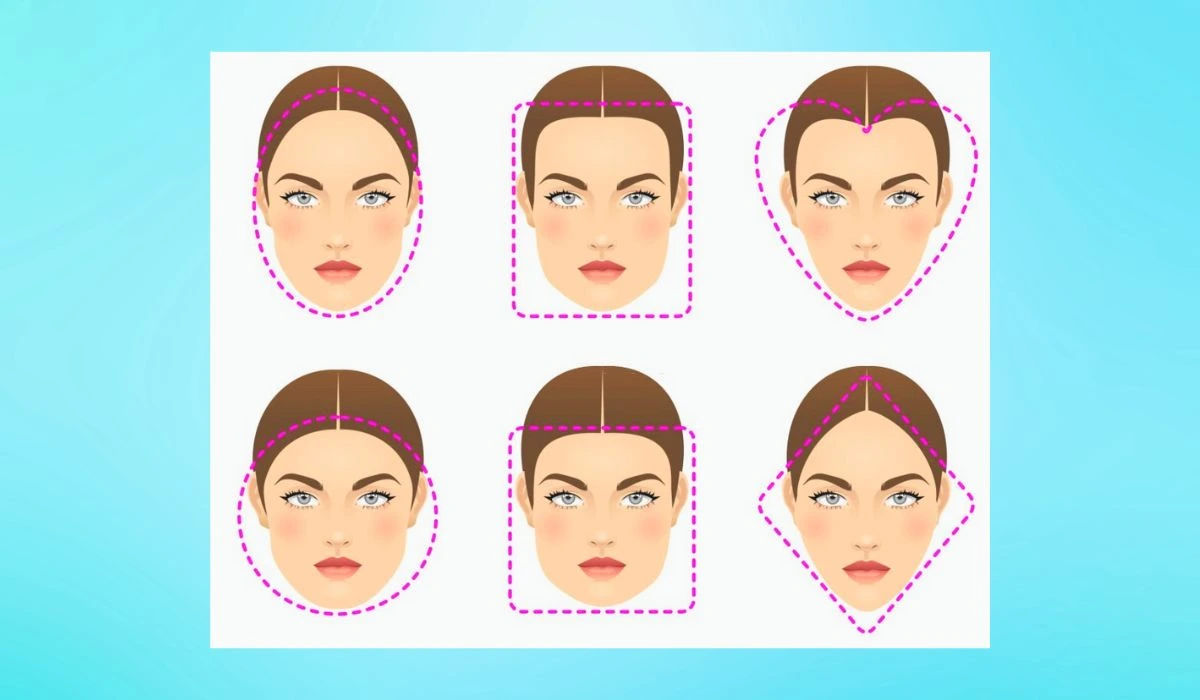 Follow these steps to identify your face shape:
Tie your hair back and stand facing a mirror in front of a plain background. Remove any makeup or glasses.
Use a dry-erase marker or lipstick to trace the outline of your face reflection on the mirror.
Step back and assess if your face is longer than it is wide or vice versa. Compare the size of your forehead vs. jawline.
Examine where the widest and narrowest points are. Also, note the shape your facial outline creates.
Based on these factors, match your measurement ratios and outline shape to one of the face shape categories below.
Face Shape Types
Here are the six most common face shape categories and their defining characteristics:
Oval Face Shape
The face length is 1 1/2 times the width.
The forehead and jawline are approximately equal in size.
The oval outline is egg-shaped.
Round Face Shape
Face length and width are nearly equal.
The forehead, cheekbones, and jawline form a circular outline.
The face has no obvious angles.
Square Face Shape
Face length and width are nearly identical.
The forehead, cheekbones, and jawline form right angles.
The outline resembles a box.
Heart Face Shape
The forehead is the widest part of the face.
Chin tapers to a point.
Cheekbones are wide and high.
The outline resembles an inverted triangle.
Oblong Face Shape
The face is noticeably longer than it is wide.
The forehead, cheekbones, and jawline form a long, straight outline.
Diamond Face Shape
Face length and width are balanced.
The widest part of the face is at the cheekbones.
The forehead and jawline come to a point.
The outline forms a diamond shape.
Besides these main categories, combinations like "oval-square" or "oblong-heart" are common. Don't stress if your face doesn't match one type perfectly!
Tips For Your Face Shape
Once you know your face shape, you can tailor beauty routines and styling choices to flatter your particular features:
Round face – Add height with upswept hair. Contour to accentuate cheekbones. Try cat-eye glasses.
Square face – Soften angles with curled hairstyles and wispy bangs. Try round glasses.
Heart face – Add volume at the chin with bob cuts or layers. Highlight eyes and lips.
Oblong face – Add width with full side bangs and volume at cheeks. Avoid very tall styles.
Diamond face – Balance face with eye-skimming bangs. Build volume at the chin. Avoid excessive length.
Consult makeup and hair stylists to craft looks customized for your shape. Correctly identifying your face shape helps create the most natural, harmonious look.
Conclusion
Ascertaining your precise face shape only takes a few simple measurements and comparisons. Once you know if you have an oval, round, square, heart, oblong, or diamond-shaped face, you can better complement your natural bone structure. Tailoring your hairstyles, makeup, glasses, and other beauty elements to fit your face shape gives a polished, put-together look. Don't hesitate to get creative within the general guidelines for your shape!
Also Check: How To Use A Gua Sha Tool On Face? What Are The Benefits?