Brushing your hair can be a daily ritual with hidden benefits. It can make your hair stronger, reduce breakages, and improve scalp blood circulation. Plus, it can distribute natural oils to keep each strand moisturized. And, the bristles massage the scalp, bringing essential nutrients to the hair follicles and stimulating hair growth.
By brushing regularly, you can experience shinier, healthier hair and a rejuvenated scalp. So, grab your brush and reap the rewards of this simple yet effective hair care practice!
Importance Of Hair Brushing
Brushing your hair is key to having healthy and beautiful locks. It detangles strands, stimulates blood flow to the scalp, and boosts growth. Plus, it distributes natural oils for a shine.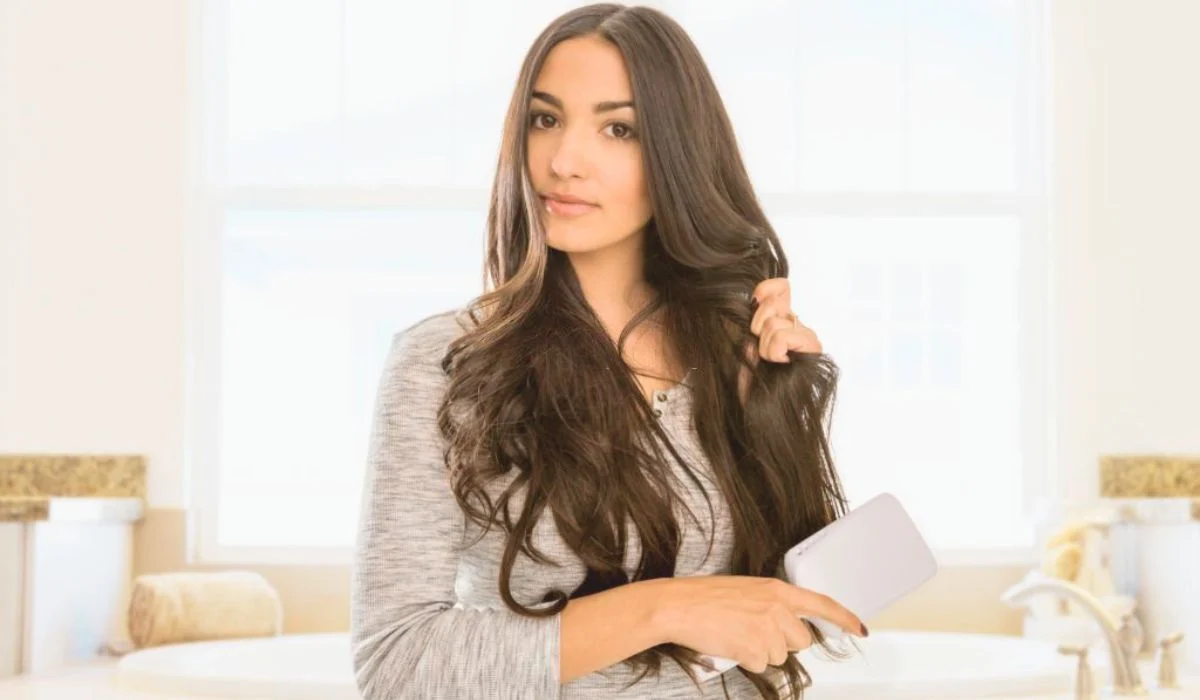 Moreover, brushing exfoliates your scalp, removing dead cells and creating a good environment for new hair. Also, it prevents buildup on your scalp, keeping your hair clean.
Brushing can also reduce breakage and split ends. It does this by gently taking out tangles and knots, while evenly distributing conditioning treatments and masks through the hair.
For the best results, use a brush with natural bristles. It's gentle on both your scalp and strands. Also, choose one that's suitable for your hair type, like thick or curly hair.
If you have long hair, start by detangling the ends and then move up to the roots. Massaging your scalp while brushing can improve circulation.
What Are The Benefits Of Brushing Hair?
Brushing your hair regularly has lots of benefits, not just for removing tangles! It's important for keeping your hair healthy and looking good. Here are the top five:
✅ Helps hair growth by increasing blood circulation in the scalp and supplying essential nutrients to the follicles.
✅ Distributes natural oils from root to tip, making hair softer and shinier.
✅ Removes impurities like dust, pollution, and dead skin cells.
✅ Smooths down the cuticles and reduces frizz.
✅ Relaxes the scalp and relieves tension.
The type of brush you use is important too. You must choose one with bristles that suit your needs – detangling, volumizing, or straightening.
Types Of Hair Brushes
Hair brushes are essential tools for hair health and beauty. There are many types, each designed for different hair types and styling needs. Knowing the types can help you pick the right one.
▶️ Paddle brushes are flat with evenly spaced-out bristles. They are great for detangling and smoothing long, thick hair. The large area prevents damage.
▶️ Round brushes have a barrel shape and are used for styling – making voluminous curls or waves. It's good for medium-long hair.
▶️ Vented brushes have open spaces between the bristles, so air circulates while using them. This speeds up drying and gives a smoother finish.
Some paddle brushes have ball-tipped bristles that massage the scalp, boosting blood circulation and hair growth. Natural bristle round brushes spread natural oils from the scalp to the ends, giving you healthier hair.
Techniques For Proper Hair Brushing
Choose the right brush for your hair type. If you have thick and curly hair, choose a brush with wide bristles. For fine or straight hair, go for a brush with softer bristles.
Start from the bottom of your hair when brushing. Work your way up toward the roots. This helps prevent breakage and reduces discomfort.
Be gentle yet firm when brushing. Apply even pressure. Don't pull or tug on knots, as this can damage hair.
Brush each day to maintain a healthy scalp. This will also distribute natural oils throughout your hair for nourishment.
Using a clean brush is important. Remove trapped hairs from the bristles regularly to prevent bacteria.
Before brushing, use a detangling spray or conditioner. This will make it easier to comb through knots and minimize damage.
Follow these techniques and you'll soon have healthier, shinier, and more manageable hair!
Common Mistakes To Avoid
Brushing your hair is vital for keeping it healthy and shiny. But, to maximize the benefits, you must be aware of the mistakes to avoid. Here are some of them:
❌ Using the wrong brush: Different hair types need different brushes. The wrong brush can cause breakage and damage, so buy one that is suitable for your hair type.
❌ Brushing wet hair too harshly: Wet hair is delicate and breakable. So, brush gently when your hair is wet.
❌ Brushing from the roots: This leads to tangles and knots. Start brushing from the ends and work your way up to prevent pulling and breakage.
❌ Overbrushing: Regular brushing is beneficial, but overbrushing strips away natural oils from the scalp. Limit brushing to two or three times a day.
❌ Not cleaning your brush: A dirty brush transfers dirt, debris, and product buildup onto your clean hair. Clean your brush regularly for optimal cleanliness.