Finding the right sunscreen is crucial to protect dark skin tones from sun damage while maintaining a flawless glow. Darker skin with more melanin has some natural SPF but still requires additional sun protection.
Choosing a sunscreen specifically formulated for deeper skin tones ensures suitable UVA/UVB coverage without causing breakouts, white cast, or irritation. In this article, we will discuss the 5 best sunscreen options for dark skin along with their benefits for a beautiful, sun-kissed glow.
5 Best Sunscreen For Darkened Skin Tones
Here is the list of five sunscreen options for dark skin tones: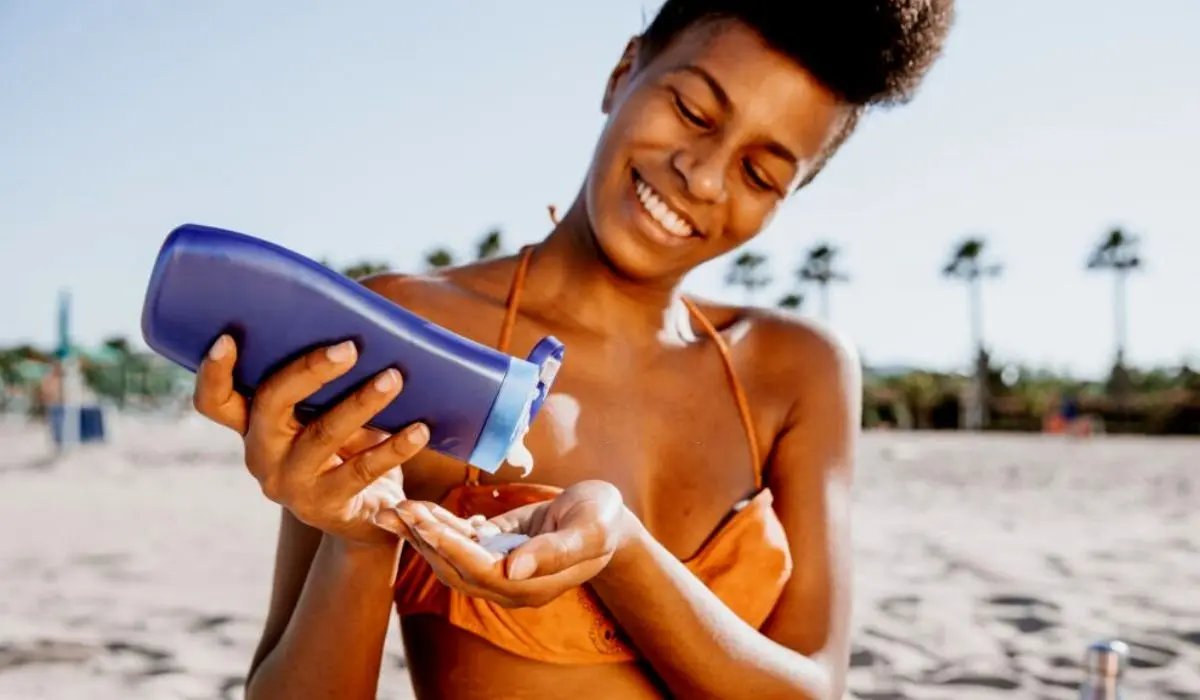 1. Neutrogena Clear Face Sunscreen SPF 30
This lightweight serum-like sunscreen provides powerful broad-spectrum protection using advanced sunscreen technology. It is water and sweat resistant for up to 80 minutes.
It also contains antioxidants that protect from environmental aggressors. The fast-absorbing, non-comedogenic formula works well for acne-prone darker skin tones.
2. La Roche-Posay Anthelios Clear Skin Oil-Free Sunscreen SPF 60
It is a lightweight oil-free sunscreen that delivers high UVA/UVB protection with Cell-OX Shield antioxidant technology. The sunscreen contains minerals like titanium dioxide along with a citrus antioxidant complex that protects dark skin and controls oil and shine.
3. Bliss Block Star Daily Sunscreen SPF 30
This mineral sunscreen with zinc oxide provides non-nano broad-spectrum sun protection. It contains antioxidant vitamins E and C along with soothing aloe vera. The tinted, lightweight formula blends easily into darker skin without any white residue or greasy feel.
4. Unsun Cosmetics Tinted Mineral Sunscreen SPF 30
This sunscreen is specially formulated for melanin-rich complexions. It provides non-nano zinc oxide protection along with antioxidants like vitamin E, green tea, and chamomile. The tinted mineral formula blends well on darker skin without chalkiness. It is also vegan and reef-safe.
5. Black Girl Sunscreen SPF 30
It provides broad-spectrum sun protection with 13% zinc oxide and is designed specifically for black skin tones. The lightweight, fast-absorbing formula with avocado, jojoba, and cacao oils leaves no white cast. It is also paraben, oxybenzone, and fragrance-free safe for sensitive dark skin.
Does Sunscreen Prevent From UV-Radiations Completely? Will It Help To Stay Glowing During Daylight?
Yes, sunscreen is important for dark skin tones to prevent UV damage as darker skin is still vulnerable to sunburns and skin cancer. Though melanin provides natural sun protection, it is not enough. Here is how sunscreen helps to keep dark skin glowing and youthful:
? Prevents UV damage: The SPF in sunscreen prevents damage from the sun's UVA/UVB rays that cause pigmentation, dark spots, fine lines, and sagging skin.
? Avoids sunburn: The protective shield of sunscreen prevents painful sunburn that can scar and dry out darker complexions.
? Maintains even tone: By blocking UV rays, sunscreen prevents tanning and uneven tone so the complexion remains flawless.
? Prevents hyperpigmentation: The sun protection minimizes the overproduction of melanin that causes age spots and melasma.
? Reduces photoaging: Daily broad-spectrum sunscreen guards against premature aging, wrinkles, and leathering of darker skin over time.
? Retains moisture: Sunscreen locks in natural moisture which enhances the soft, supple, and glowing look of dark skin tones.
? Delivers antioxidants: Added antioxidants like vitamin E, and green tea extracts provide an extra layer of protection from environmental stressors.
So consistent use of sunscreen tailored for darker skin is crucial to maintain an even-toned, radiant complexion while outdoors and preventing any sun-related damage.
Benefits Of Sunscreen To Avoid Sun Tan
The key benefits of using sunscreen daily to avoid sun tanning for deeper complexions include:
? Prevents UV damage: Sunscreen shields from UVA/UVB damage that causes accelerated aging like wrinkles, lines, and sagging.
? No uneven skin tone: It prevents uneven tanning and the appearance of dark spots or patchy skin.
? Controls oiliness: Added oil-absorbing ingredients help reduce shine on acne-prone darker skin.
? Moisturizes skin: Sunscreens contain moisturizing ingredients to hydrate and maintain plump, supple skin.
? Prevents sunburns: The protective film barrier prevents painful sunburns and peeling of the skin.
? Safeguards skin: Mineral sunscreens provide safer broad-spectrum protection for sensitive dark skin tones.
? Makeup base: Non-greasy sunscreen formulas provide the perfect smooth base for makeup application.
? Improves skin texture: With daily usage, sunscreen refines the skin texture and reduces blemishes.
? Anti-aging: Sun protection minimizes photodamage, pigmentation, and premature aging of skin over time.
Related:- Home Remedies For Oily Skin And Pimples – Symptoms
Is Sunscreen Suitable For Daily Use For All Ages?
Sunscreen should be an essential part of the skincare routine for dark skin tones across all ages:
? Babies under 6 months – Avoid sunscreen and drape with protective clothing and a hat. Try to stay in the shade.
? Children – Apply mineral sunscreen SPF 30+ liberally whenever going out. Reapply every 2 hours.
? Teens – Use oil-free sunscreen for acne-prone skin daily. Look for added skin benefits like hydration, and anti-aging.  
? 20s to 40s – Use broad-spectrum sunscreen with at least SPF 30 daily along with other protective measures. Reapply every 2-3 hours when outdoors.
? 50s and above – Opt for sunscreens with anti-aging benefits like antioxidants, hyaluronic acid, and retinol to minimize skin aging.
While daily sunscreen is ideal, those with very dark skin tones can use it on days with extended sun exposure to protect them from burns, pigmentation, and even skin tone. Consult a dermatologist for tailored advice based on your skin type and tone.
Conclusion
Protecting dark skin tones from harmful UV exposure is important for healthy, glowing complexions. Choosing a sunscreen specifically formulated for deeper skin ensures suitable broad-spectrum protection without a chalky residue.
Mineral sunscreens with antioxidants and oil-absorbing formulas are ideal to prevent uneven tanning. Applying sunscreen daily provides multiple benefits such as reducing hyperpigmentation, photo-aging, sunburns, and skin cancer risks.
Use an SPF 30 or higher based on your age and always reapply every few hours for optimal protection. Make sunscreen a vital part of your skincare regimen all year round to maintain flawlessly radiant darker skin tones.
Read More:- 7 Best Face Masks For Every Skin Type – Benefits Of Face Masks
FAQs
1. Does darker skin need sunscreen daily?
Yes, daily sunscreen is recommended for darker skin even though it has some natural melanin protection. The extra UV protection ensures an even, flawless complexion and youthful skin.
2. What SPF is best for dark skin tones?
SPF 30 or higher broad-spectrum sunscreen is optimal for darker complexions. Also look for added benefits of antioxidants, oil control, anti-aging, etc.
3. Does sunscreen prevent tanning on dark skin?
Yes, consistent use of sunscreen prevents uneven tanning, and dark spots and protects deeper skin tones from harmful UV rays that accelerate aging.
4. What finish of sunscreen is best for darker skin?
Lotions or creams provide better broad-spectrum coverage and blend easily into black or brown skin without leaving a white cast.
5. Should sunscreen be reapplied over makeup?
It's best to reapply sunscreen under makeup. Makeup with SPF is not enough sun protection. Reapply every 2 hours if outdoors for extended periods.