Tattoos are and have already been a part of a personality that carries it. The weight of a permanent scar turned into a beautiful carving has always been admired. But after a few years of the ink, there is a change in the color. This may be because of exposure to UV rays, aging of the skin, or exfoliating skin.
With proper healing and aftercare of the tattoos, you can preserve the ink color for longer. In this blog, we are going to explore the 6 best lotions for you to use on your tattoo. This will not only help you to keep the essence of your tattoo but also protect you from the possible skin infections that you might get.
The Need For Tattoo Aftercare
Having a tattoo is like having a permanent scar on your body, but a beautiful scar. When you decide to go for a tattoo, you must have thought that this piece of art has a deep meaning in your life. It is something that you want to be with for the rest of your life.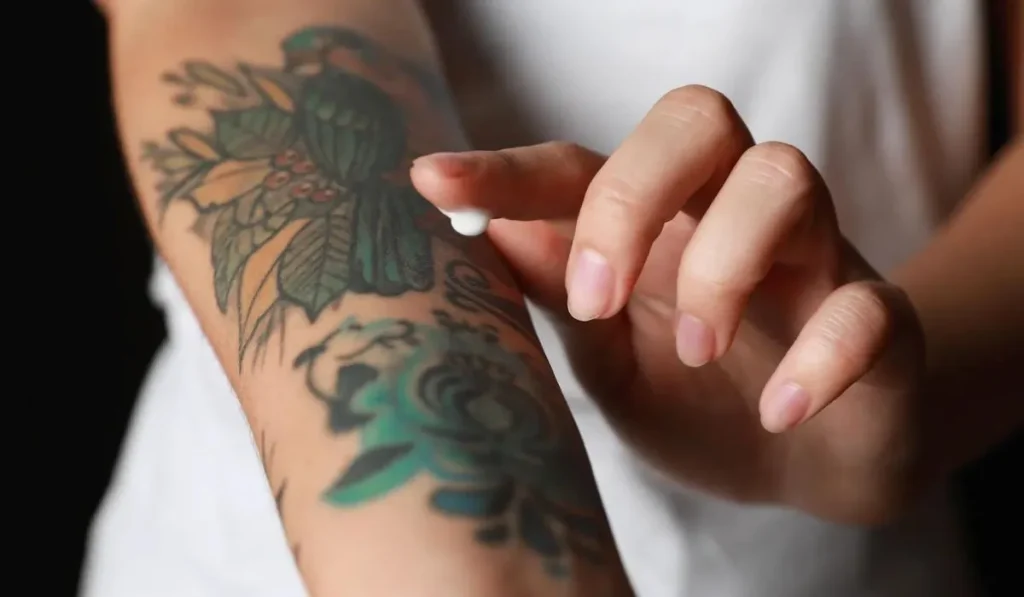 But in the process of getting a tattoo, your skin is cut out and ink poured on it. Which later heals and the ink inside your skin is a designated scar. Anytime your skin is cut open, you are opening yourself to infections and chemicals.
6 Best Lotions To Use After Getting A Tattoo
Once you have got a tattoo, the tattoo artist will give you a set of instructions for you to follow for the next 30 days. These instructions will serve the purpose of protecting your skin.
After the medical wrap has been removed from the surface, you will have to use a lotion that moisturizes and heals your skin. Here are some of the best lotions in the market for your aftercare.
After Inked Tattoo Moisturizer
The name of the lotion serves the purpose very well. It is a vegan product that has grape seed oil in it. The moisturizer will help prevent any feeling of itchiness or scabbiness that you feel around the tattoo. Most of the artists recommend this lotion as it goes well with the colored ink and preserves the vibrancy of the tattoo.
Tattoo Goo Salve
This is more of a salve than a lotion. You can find this product on online and offline retailers easily. It is made with olive oil, beeswax, and cocoa butter that soothes your skin from dryness and itchy feeling. You can also use this for existing tattoos that are fading away as it rejuvenates the skin and is non-greasy. 
Mad Rabbit Replenish Lotion
This lotion is an all-round skin suitable lotion that is recommended for fresh and existing tattoos. It is rich in vitamin A, sesame oil, and shea butter which improves the skin elasticity and strengthens the barrier for skin. This fragrance-free formula locks in the moisture and keeps your skin hydrated all day long.
Hustle Butter Deluxe Tattoo Cream
This cream absorbs the skin and reduces the flakiness of the skin. It is made from organic shea, mango, aloe butter, and coconut. This cream softens and hydrates your skin with the intent of retaining moisture to prevent any infection. Apart from this, it is also anti-inflammatory.
Bright All Natural Tattoo Lotion
This formula is made for fast healing and ensures reduced inflammation, itching, dryness, and irritation on your skin. It is a gluten-free and vegan cream made with all-natural ingredients to boost the colors of your tattoo. You can also use it as a daily cream as it makes your skin look supple and smooth.
Billy Jealousy Lotion
Another great recommendation for colored tattoos. This is made with shea butter, rosemary, and grape seed oils that protect your tattoo and skin from UV rays. Green tea leaf extracts, this lotion gives your skin lightweight, and anti-aging properties that will also soothe any irritation that comes its way.
ALSO READ:- How To Use Honey For Dry Skin? Glowing Skin Awaits
Conclusion
If the tools or materials are not sterilized or safe for the skin, it might give you an infection for life instead of a tattoo for life. So, it is very important to take care of your tattoos, especially the new ones. As your skin has undergone trauma and is likely susceptible to infections.