Having thick, voluminous hair may seem like a blessing, but it can also feel heavy, get tangled easily, and be difficult to style. This is where claw clips come in handy! Claw clips are game-changers for managing thick locks by securing hair fast without damage. We'll explore what makes these clips so useful for thick hair along with the 5 best options.
What Are Claw Clips For Hair? How Claw Clips Beneficial For Thick Hair?
Claw clips, also called barrettes, get their name from their unique clamp-like design. They have a spring-loaded mechanism that allows the clips to open wide to gather hair and then firmly close to hold it in place. The wide mouth and tight grip make them ideal for thick or dense hair that needs extra holding power.
Unlike regular clips or elastics that can pull and cause breakage, the springs in claw clips gently but securely grasp chunks of hair without snagging, tangling, or damaging strands.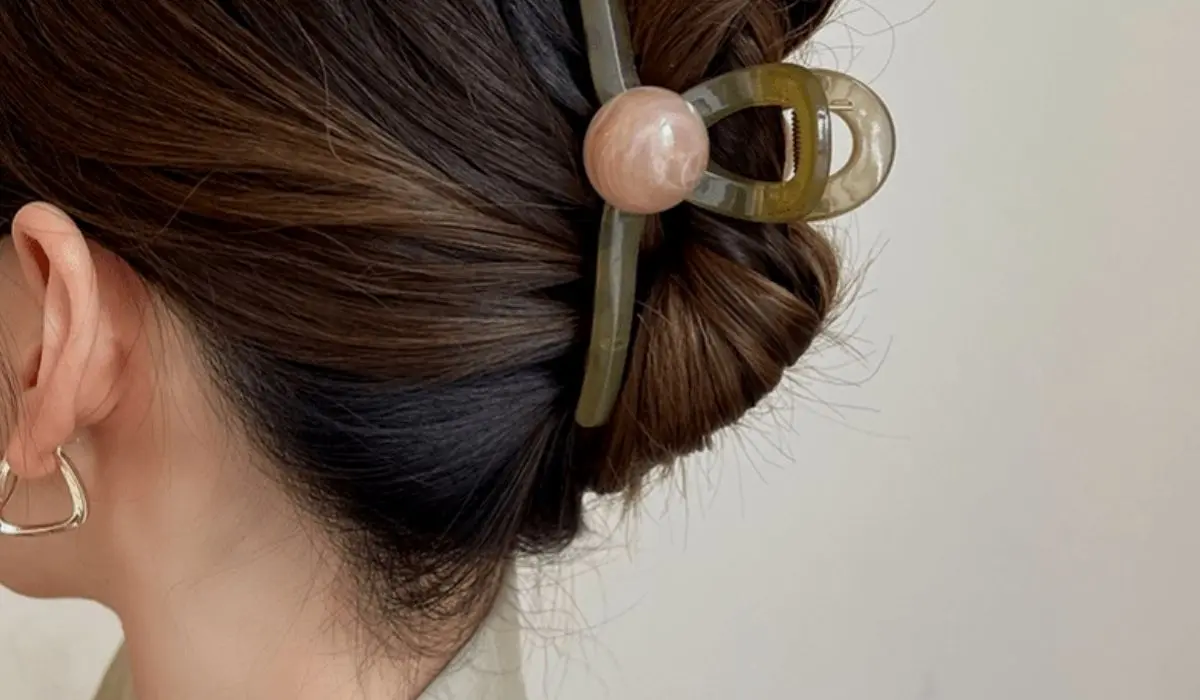 The broad, rounded claw surface protects against dents and creases while the anti-slip padding keeps them from slipping out. For thick hair, this means you can pile it up easily into a bun or updo without painful tugging, crimped strands, or headaches.
5 Best Claw Clips For Thick Hair
1. Hair Candy Jaw Clips
With anti-slip rubber lining, these heavy-duty clips keep thick hair up without tugging or sliding. The wide mouth and strong grip easily gather all textures and volumes. Reviewers with curly and coarse hair say these hold securely all day without leaving dents.  
2. Sheets Brand Jumbo Claw Clip
This extra-large claw style can twist up the thickest braids, ponytails, or buns with ease. The textured surfaces provide an amazing no-slip hold while the smooth interior won't rip out strands. It's gentle but secure enough even for extensions and wigs.
3. Osensia Big Hair Clips
Made of premium resin, these sectioning clips are larger than average to handle loads of hair. The carved ridges grip hair firmly while the rounded edges prevent creasing. Reviewers say it helps manage their thick, unruly locks.
4. Cehomi Claw Barrettes Set
A set of 6 colorful medium-large clips made with anti-slip silicone pads that keep them securely in place without snagging. The smooth plastic won't tug or tear hair when gathering ponytails, updos or sections.
5. Elrene Professional Hair Clips
Strong steel springs allow these salon-quality clips to open 3 inches wide with tons of holding power. Polished edges glide over hair gently while textured tips provide non-slip grip. Reviewers love them for heavy braids, bridal styles, and long days at work.
Uses And Benefits Of Claw Clips For Thick Hair
Claw clips offer many benefits for managing thick, heavy locks:
? Evenly distributes the weight – Pulls hair up so it's not dragging down at the scalp which can cause headaches.
? Prevents tangles and breakage – Smoother surface glides over hair without pulling, tugging, or creasing strands.
? Fast styling – Makes quick messy buns, top knots, and half updos possible without hair ties or pins.
? Comfortable hold – Does not squeeze hair too tightly, reducing tension on roots the way elastics can. 
? Stays put – Non-slip pads keep it securely positioned and prevent slipping out.
? Longer-lasting styles – Updos, braids, and sections last longer without loose pieces falling. 
? Damage-free – Smooth rounded edges won't rip or crease strands.
? Mess-free – Neater than bobby pins or small clips sliding out of thick hair.
? Versatile – Can also be used to section hair, pin up shorter layers, or do half-updos.
Tips To Ensure While Using Claw Clips For Thick Hair
? Choose larger clips with more surface area and grip strength to hold thick hair securely.
? Look for beveled, rounded edges to prevent creasing, denting, or snagging individual strands. 
? Seek out non-slip rubber lining to keep clips anchored in place once positioned.
? For half updos, use two clips – one on each side – to ensure a secure hold.
? Position the claw sideways for slicked-back looks to get the most holding power across the head.
? Open the claw fully before gathering hair to allow it to grasp as much hair as possible.
? Place the clip far enough up the hair shaft to adequately support the weight when styling updos.
? Smooth out hair after putting it in the clip to avoid bumps or lumps in your style.
Conclusion
With the right claw clip, thick, heavy hair is no match! A high-quality claw clip with a strong grip and smooth edges can help make styling thick hair a breeze. No more painful tugs, slipped-out clips, or saggy updos.
Claw clips allow you to quickly pull hair up into a polished updo or fun messy bun without damage or hassle. Choose wide claw clips with padding for the most secure hold on your mane.
Read More:- Hot Oil Treatment For Hair Growth – Uses & Benefits!
FAQs
Q: Do claw clips work on thin/fine hair?
A: They can, but may slide out more easily. Look for textured surfaces to help grip smooth, fine hair. Using multiple smaller clips may be needed.
Q: Where is the best place to position a claw clip?
A: For updos or ponytails, position the clip 2-3 inches from the scalp or base of hair to effectively hold the weight. For sections, place it wherever you want hair divided.
Q: How do you put thick hair in a claw clip?
A: Gather hair into your hand, smoothen it over with a brush, then use your other hand to fully open the clip. Place it 2-3 inches from the scalp and press closed. Smooth bumps with your hand after closing.
Q: Can claw clips cause breakage?
A: When used correctly, claw clips should not cause breakage. Always fully open clips before putting hair in to avoid pinching strands. Place padding side toward hair for the smoothest surface.
Q: Should your hair be wet or dry with claw clips?
A: Claw clips can be used on either wet or dry hair. Many people prefer fully dry hair which provides texture for grips to hold onto. Make sure wet hair is detangled first before using clips.