Sign up for updates (and be the first to know about the Persimmon creme launch!) by signing up here.
---
September 1st marks a big day for us: the re-introduction of our Farm to Face line, including the newest addition to the line—a Persimmon Anti-Aging Night Crème.
This same time last year, Shari Rudavsky from the Indy Star came down to Bedford to chat with me about the Farm to Face line, right in the plot where I grew everything.
Farm to Face was a big project for me. I'm used to being behind a keyboard all day, not laboring outside in the 95 degree Indiana sun – and it was a lot of work, to say the least. My lofty aspirations didn't exactly match the output; several plants died from early harsh weather or neglect (or both). I just couldn't get in the groove of things.
Thankfully, a few hardy and/or heirloom plants just wouldn't die (that's a joke – I am very grateful they made it) and so they became the first batch of Farm to Face products.
As Shari's questions about Farm to Face dug deeper and deeper into the heart of the reasons why I chose to take on this endeavor (a dream prompted me do it, but that's how about 90% of my life decisions come about, anyway), I said something unexpected – even to myself – on camera, to the effect of:
"The thing is, people see these exotic ingredients and think, 'Wow! Look what such-and-such fruit from this far-flung island can do for my skin! It's from such a far away place with a strange name that I've never even heard of before; it must be amazing.' The truth is, whatever active compound inside that ingredient that is soo amazing can almost always be found right here at home. Instead of thinking the grass is always greener on the other side, we've got to see that everything we need is right here in Indiana."
"Can you say that again?"
"Probably not," I laughed, and tried again, and failed miserably.
I'm not polished. I speak the truth, but I can never say it the same way twice. That's because I'm not giving rehearsed marketing lines, it's just the truth bubbling out. It is years of research and observation that have developed into informed opinions, coming out in an organic way.
You'll see the same thing happen in the Persimmon Crème introduction video below (albeit with a little editing; I did get into a few laughing fits in the filming of this)—the truth comes out. It's as natural and honest and open as I can be, and admittedly, it's condensed.
My point was: We really do have everything we need right here at home.
It's not often you see a product using walnut oil or pumpkin seeds or persimmon; those things aren't sexy—they don't conjure up mental images of long, tan legs on an exotic beach. Honestly, they're a little boring. But to me, and to many of you, they're home.
The thing about skincare is that it shouldn't be too sexy.
Skincare is meant to be boring.
That's because skincare is about science. It's the intersectionality of science—for effective treatments to slow down both quantitative and qualitative signs of physical aging of the epidermis—and aesthetics: that is, beauty.
Let me say that again: Skincare is the intersectionality of science and beauty.
It should be a little boring.
We know what we know pretty well, and what we don't, we research, and if there was something out there that was magic in a bottle, we'd have found it by now.
Alas, us mere mortals have to be content with 25% increase of this or reduction of that here or there, adhere to a routine to maximize potential skin benefits, learn to love and accept the genes we were born with, and once in a while – just once in a while – really enjoy ourselves, by treating skin care as self care.
---
When I'm home in the fall (everybody's favorite season, let's be honest), my autumn is always full of fresh Persimmon puddings (I'll take the corner, please!), the smell of black walnuts wafting in the air (especially down by the BNL tennis courts) and big pumpkins—especially trips to Hubler's orchard.
All of these "fruits" are in fact superfoods; they're just local superfoods, so we overlook them in lieu of acai, chia seeds, pomegranates or other exotic foods.
Local Superfood / Ingredient #1: Persimmon
Persimmons have proven to be very useful. Persimmon leaf extract as an aqueous solution can be added to tea to help maintain blood glucose levels for diabetics (source), the leaves extracted in ethanol can protect optic nerve crush-induced retinal degeneration (source), and the fruit peel extracted in ethanol can even be used effectively as an additive in chicken feed to to improve production performance in late stage laying hens (source).
None of those benefits have anything to do with skin (we'll get there), but it just shows you how awesome and diverse persimmon is. It's truly our own #HomegrownSuperfood. (And I will be using the persimmon peel research bit on my next run of Dinky's-bought late-stage laying hens!)
When it comes to skin, persimmon leaf extract – exactly what we use in our newest product, the Persimmon anti-aging night creme:
Inhibits collagenase (enzymes that breakdown collagen–the protein that gives skin structure)
Inhibits tyrosinase (which creates hyperpigmentation – dark spots – on the skin), and
Inhibits elastase (enzymes that breakdown elastin–an important protein forming the main constituent of elastic connective tissue, which makes skin stretchy and supple)
In fact, Persimmon leaf extract "demonstrated anti-wrinkle and skin-lightening effect comparable to that of hydroquinone effect, without any side effects (source)."
Additionally, Persimmon leaf extract has an anti-allergy effect; that is, it can be useful as a treatment for contact dermatitis and other inflammatory diseases of the skin (source). It can even be used in a preventative way to treat dermatitis and trans-dermal water loss (source).
For our Persimmon Anti-aging Night Creme, we literally copied the procedures used in the this research, and maxed out the percentage of Persimmon Leaf Extract, to make it as high as possible.
So actually, harvest looks like a lot of this (this photo is actually from our farm in Greene County, Indiana):
(By the way, If you're already sold on the idea of our Persimmon Creme, don't miss out; make sure to sign up for the waiting list / updates list here.)
Local Superfood / Ingredient #2: Black Walnuts
Walnut seed oil honestly probably belongs in WINK. High in Omega-3 fatty acids, the precursors to prostaglandins (which make lashes and brows grow), Walnut Oil is high in EFAs (essential fatty acids), which are essential for the synthesis of tissue lipids (i.e. skin's natural oil). (source)
Omega 3s are awesome for the skin, and walnuts have just about the highest plant-derived source of Omega 3s. Walnut oil carries natural UV protectant properties, like many other expeller-pressed oils (source), and is truly hydrating for the skin.
According to world-renowned skincare formulator and chemist Paula Burgeon "Omega fatty acids truly are remarkable ingredients for skin. They serve as the essential building blocks of skin's surface layers, creating a smoother, more even, younger-looking, and healthier complexion, no matter your age or skin type." (source)
Topical application of Omega 3 fatty acids can:
Reinforce and smooth skin's surface.
Increase hydration without feeling heavy, and help keep skin hydrated.
Calm signs of external stressors, including redness and sensitivity.
Visibly strengthen and protect skin against signs of environmental damage.
Deliver antioxidants for anti-aging results.
Omega 3s are hard to find in nature and oils high in Omega 3s are generally the most expensive oils to add to skincare products. I don't care. I used it anyway–a lot of it.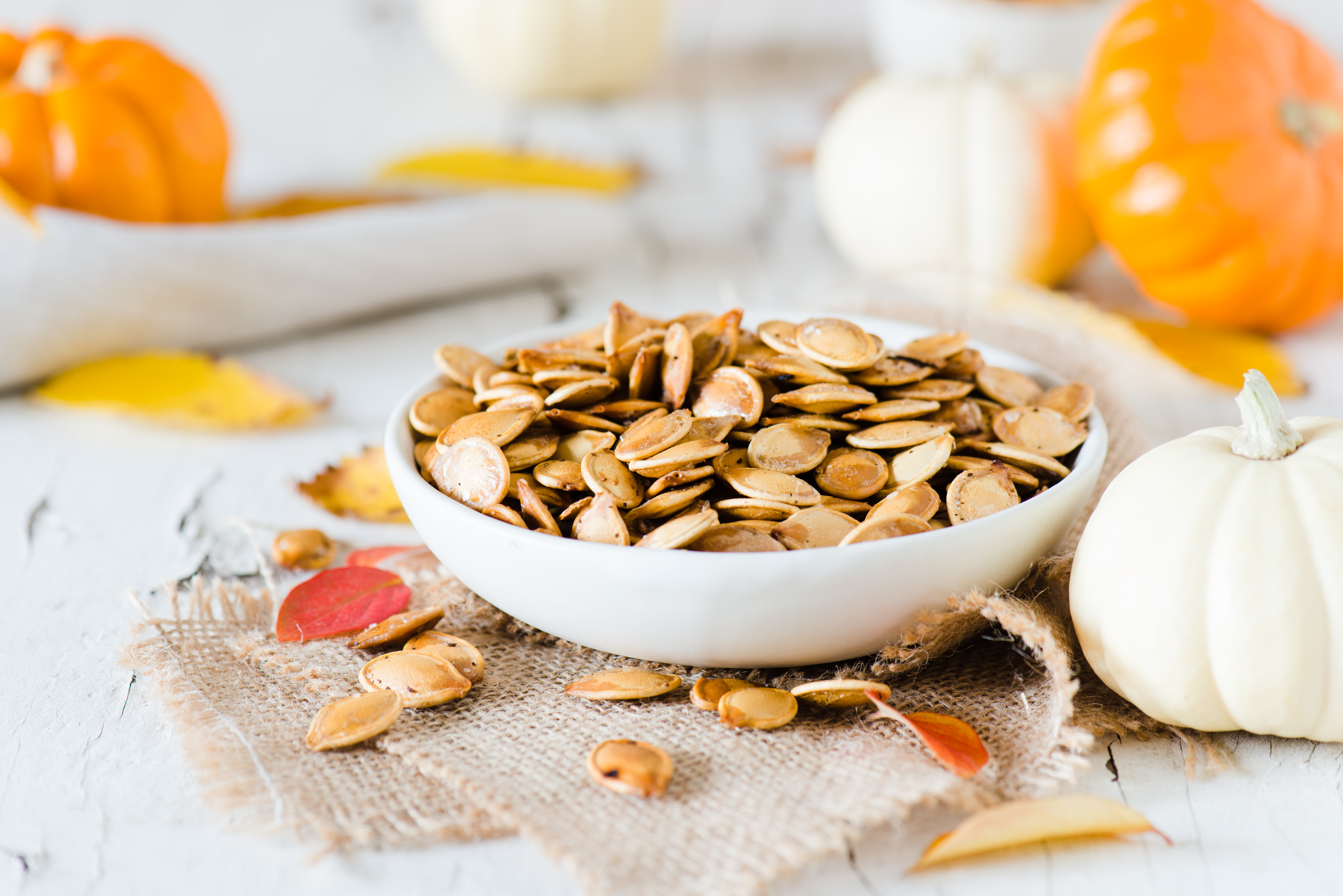 Local Superfood / Ingredient #3: Pumpkin Seeds
It wouldn't be fall without pumpkins, would it?
We often throw out all the pumpkin pulp and seeds, but the seeds and the pulp both have a lot packed inside. Pumpkin seed oil is high in Omega 3s, as well as zinc and vitamin E. It's been shown to help with hair regrowth in men with androgenic alopecia (source) for more reasons than just it's Omega 3 content (Again, another ingredient that should be in WINK!)
Pumpkin seed oil can heal wounds (source) and hydrates skin deeply. What separates pumpkin seed oil from black walnut oil is pumpkin's high Beta-carotene concentration (source), which is both photo-protective and anti-inflammatory.
Though pumpkin pulp is already in many skincare products on the market, pumpkin seed oil is uniquely and perfectly suited for our Persimmon anti-aging night creme because it's a hydrating, vitamin-rich oil. Just like black walnut seed oil, it can:
Reinforce and smooth skin's surface.
Increase hydration without feeling heavy, and help keep skin hydrated.
Calm signs of external stressors, including redness and sensitivity.
Visibly strengthen and protect skin against signs of environmental damage.
Deliver antioxidants for anti-aging results.
Pumpkin seed oil is the perfect seasonal beauty ingredient, but also great for year-round use.
Ingredient #4: Hyaluronic Acid
Finally – not a local, seasonal ingredient, but a skincare staple – hyaluronic acid can hold 1000x its weight in water. It not only holds water, but it also attracts it.
Hyaluronic acid is a polysaccharide, which occurs naturally in the human body to help cushion and lubricate the joints. It's found in connective tissue and eye fluids, however, almost fifty percent of hyaluronic acid found in the body is in the skin, making it a major component of skin tissue. (source)
Hyaluronic is the little helper you need for skin that's losing its ability to retain moisture (as all skin does over time). It not only helps you look more hydrated and refreshed today, but it also helps revitalize the skin's outer layers over time, for long-term suppleness and hydration (source). There's really no debate on any of this.
When it comes to skin's immediate appearance: Hydrated skin = Less Wrinkles 
Hyaluronic acid is the star ingredient in literally ALL of the most expensive and popular skincare products on the market (Lancome Advanced Genifique Youth Activating Concentrate, SkinCeuticals Hydrating B5 Gel, CeraVe Facial Moisturizing Lotion, Peter Thomas Roth Hyaluronic Acid Complex, and the list goes on and on..) although the percentages are never declared. There's probably a good reason for that: hyaluronic acid is so effective and SO expensive. Hey, I don't mind though: only the best for my Amalie fam!
As a short recap, hyaluronic acid will:
Make your skin brighter
Replenish skin's moisture
Revitalize Skin's Outer Layer
Make skin look younger 
If you want to know more about HLA, I like Futurederm's breakdown (per usual).
This was a long blog, but damnit, I have worked really hard – not just in the garden outside – but also researching and formulating in the lab for over a year, to make the Persimmon Anti-Aging Night Creme the best night cream on the market.
The Persimmon Night Creme is:
Scentless, non-irritating
Free of dyes, fragrances, parabens, pthalates
Free of corn, soy, gluten, milk, yeast
Made with 75% or more organic ingredients
Homegrown and hand-picked
Grown organically and sustainably in Southern Indiana
Made in the USA
When used daily (each night, after cleansing and apply all serums and oils), you should see:
Nourished, hydrated, supple skin
Increase in collagen and elastin structure in the skin
Less dark spots / discoloration and hyper-pigmentation
Brighter, younger-looking skin
Reduction in appearance of fine lines and wrinkles
Long-term strengthening and revitalization of skin
Again, the Persimmon Anti-Aging Night Creme is seasonal; it was limited to what we could grow, pick, and extract this year. When we're out for the year, we're out. That's it. So don't wait around!
If you want to try it for yourself, make sure to sign up for updates here for on our launch on September 1st, 2017. 
If you're not sure you'll like it, get the sample size FREE with any full-sized product purchase (SHINE, WINK, REWIND, or CALM) starting September 1st.
Thanks for reading! Let us know your questions in the comment section below!