For its aromatic and therapeutic qualities, anise oil particularly made from the seeds of the Pimpinella anisum plant, has been utilized for many years.
This essential oil has numerous benefits for the skin and hair in addition to its unique licorice-like smell. In this article, we'll look at the various benefits of anise oil and provide you with some quick and simple recipes to use in your skincare and haircare routines.
Benefits Of Anise Oil For Skin
Its potential use in cosmetics cannot be ignored. Anise oil has a number of advantages for the skin when used in skincare programs. Anise oil has the potential as a useful addition to your skincare routine because it helps your skin stay healthy and glowing.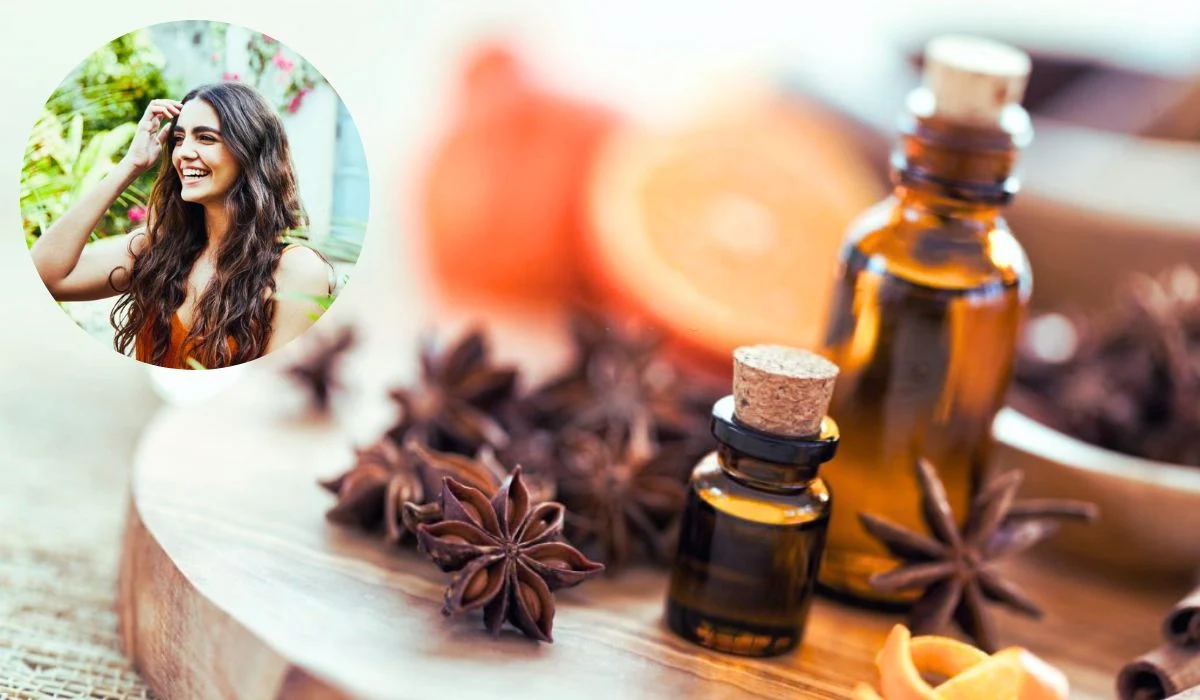 ✅ Antimicrobial Properties
When it comes to exhibiting potent antimicrobial properties, Anise oil is rich in it turning out to be effective against many microorganisms mainly fungi. This helps to prevent Skin infection and encourages the growth of healthy and clear skin cells.
✅ Soothes Skin Irritations
The anti-inflammatory properties of the oil help the skin to relax from irritations such as itching, redness, and inflammation. It is specifically intended for skin that faces conditions like eczema and dermatitis.
✅ Natural Antiseptic
Anise oil acts as an antiseptic liquid due to its special properties. It can be applied for minor cuts and wounds as well as for insect bites. The oil cleanses the area and fastens the healing.
✅ Anti-Aging Effects
Anise oil is claimed to have anti-aging properties, the particular reason behind this is the antioxidant elements found within the oil. All these help in securing yourself from oxidative stress and premature aging by mainly reducing the appearance of wrinkles, age spots, and much more.
✅ Skin Toning
Anise oil can be used to tone the skin by balancing the pH level of our skin. These overall impact and enhances the skin texture via controlling excess oil production. The oil is hence proved to be appropriate for oily and acne-prone skin.
Benefits Of Anise Oil For Hair
Anise oil has many benefits when used for hair treatment. Anise oil's high vitamin and therapeutic content means it can benefit the scalp and hair in numerous ways, including improving their health and appearance.
If you're looking for a natural and effective way to treat your hair or if you just want to improve your current hair care routine, try adding some anise oil.
✅ Stimulates Hair Growth
Anise oil is a great choice to look out for when you want healthy hair growth. The oil promotes blood circulation to the scalp stimulating the hair follicles and helping with its growth. It is recommended for people facing issues like hair loss or thinning hair
✅ Controls Dandruff
Antimicrobial and antifungal properties within the oil are sufficient to capitalize on the increase of dandruff. The oil is a great remedy to control its production and reduces the itchiness caused by dandruff as well as excessive oil production.
✅ Adds Shine And Luster
Anise oil is a well-recognized substitute for a conditioner and a natural option to be precise. By helping to smoothen the cuticles of hair it reduces frizzyness and improves the hair texture of dull and lifeless hair.
Anise Oil Recipes For Skin And Hair
Mix 2 tablespoons of raw honey, 1 teaspoon of anise oil, and 1 tablespoon of plain yogurt to make a cooling face mask.
After cleansing the skin, apply the mixture and let it on for 15 to 20 minutes. Utilise warm water to rinse. This mask boosts antioxidants while calming and hydrating the skin.
2 tablespoons of coconut oil and 5–7 drops of anise oil should be mixed to make a hair growth oil. In circular techniques rub the mixture onto the scalp. Before shampooing, let it sit for a few hours or overnight. This oil mixture promotes hair development, nourishes the scalp, and enhances the condition of the hair in its entirety.
Mix 1 part anise oil with 4 parts witch hazel to create a skin toner. Utilizing a cotton pad or spray bottle, apply the toner to freshly cleaned skin. This organic toner helps to regulate the pH of the skin, tighten pores, and brighten the complexion.
Add 5-7 drops of anise oil to your usual shampoo or conditioner for dandruff treatment. Wash your hair with the mixture, giving special attention to the scalp. Before rinsing, keep it soaking for a few minutes. Regular use can support a healthy scalp and minimize dandruff.
Conclusion
Anise oil has many different kinds of advantages for the skin and hair. It is a beneficial addition to a fashion accessory routine due to its antibacterial, anti-inflammatory, and antioxidant features.
Anise oil can help with a variety of issues naturally, from soothing irritated skin to encouraging hair growth to decreasing dandruff. Use these simple instructions as part of your skincare and haircare routine to get the most of the benefits of anise oil for shiny, healthy skin and hair.