Its been all over the media: castor oil is great for your lashes and brows.
If you're a WINK user, you already know from experience that castor oil can do great things for your lashes and brows: it's the #1 ingredient of WINK! So lets dive into exactly how and why castor oil is the best-kept secret to lash growth.
What is Castor OIl?
Castor oil is the vegetable oil extracted from the bean or nut of the castor oil plant, found in Jamaica. It is either pale or yellow in color, or even black, depending on the processing method. (I'll let you in on a little secret: since I've seen better results on lash growth with black castor oil, I use the darkest castor oil I can find for our WINK lash and brow oil.)
For decades, castor oil has been used to help heal burns, cuts, and wounds. It has also been used to treat inflammation and acne, earning it the nickname "miracle oil." Did you know this oil can also help make your eyelashes grow?
How Castor Oil Works
Not only does castor oil have both anti-inflammatory and antibacterial properties, it is also rich in proteins, minerals, vitamin E, and both omega 6 and 9 fatty acids (source). What does that mean exactly? These ingredients will not only nourish your lashes, but they will also accelerate blood circulation which encourages eyelash growth. The antibacterial properties can also help relieve dry, itchy patches and dandruff on the scalp.
Another impressive ingredient in castor oil is ricinoleic acid. Ricinoleic acid helps balance the skin's pH and undo some of the damage caused by harsh chemicals found in some skincare, haircare, or beauty products. The antioxidants in castor oil will also support the keratin found in hair and help to make it stronger, and smoother. (The Health Site).
Types of Castor Oil
Castor oil and Jamaican Black castor oil are the two forms of this miracle oil. While they both have very similar properties they are processed differently which sets them apart from each other. castor oil is made by cold pressing fresh castor beans. Because they are cold-pressed it lowers the risk of degrading the oil. During the process of creating Jamaican Black castor oil, the castor beans are first roasted.
Cold pressing castor oil creates a more pure product and results in a pale yellow color. Jamaican Black castor oil is much darker in color due to the ash from the roasting process. This can also give it a slightly burnt scent.
Because of the way the castor beans are processed, each oil has a different pH level. The ash found in Jamaican Black castor oil creates a higher, more alkaline pH, and is believed to have more clarifying properties than its counterpart as a result.
Both castor oil and Jamaican Black castor oil have similar benefits. However, Jamaican Black is better for those who have dry, thick hair. The additional clarifying properties also make Jamaican Black ideal for those with dandruff in their eyebrows and on their scalp. (Natural Hair Rules)
Wait A Second – Castor Oil Needs Some Help to Grow Lashes
Castor oil is high in ricinoleic acid, but that's just one type of essential fatty acid that your body needs for optimal hair growth.
It's not only much more convenient, but a lot smarter to reach for an eyelash growth serum (like WINK ) that contains castor oil, alongside other ingredients, to get the optimal mix of essential fatty acids that your eyelashes need to be healthy and grow long and strong. When your hair isn't growing, it's either resting or well, dead. If it's dead, there's no bringing it back. If it's resting, we have a chance to stimulate the follicle back into the growing phase.. but how? Research shows that it all starts with essential fatty acids. Essential fatty acids have been found to increase prostaglandin/prostaglanoid production in individuals with a deficiency (Medical Hypotheses, 1980). Prostaglandins stimulate eyelashes to enter and prolong the growth (anagen) stage. This means, if you supplement your eyelash and eyebrow follicles with essential fatty acids, you may be stimulating prostaglanoid production naturally, which would result in fuller, longer lashes as well as fuller brows.
Applying Castor Oil to the Lashes
Castor oil is thick, so remember to use it sparingly. A little can go a long way. It is best to apply it with your finger, or a clean spoolie brush. Leave it on overnight and apply once or twice weekly. (Wellness Mama)
Using raw castor oil can be incredibly messy and difficult to remove in the morning due to it's thick consistency. An applicator is a convenient, efficient and safe way to get the essential fatty acids (found in castor oil and other ingredients) to your lashes. Applicators can keep the product on the skin and out of your eyes, preventing a potential eye infection.
Still Looking for Ways to Lengthen Lashes?
Check out our additional resources (we have a lot!)"
– 5 Steps to the Longest, Thickest Lashes Ever
– Coconut Oil for Lashes: Will it Help?
– Will Vaseline Help My Eyelashes Grow?
– How to Get Voluminous Lashes Every Day
– How to Apply Mascara for Longer-looking Lashes
– FREE E-book: The Lush Lash Guide
– WINK, our lash and brow oil for longer and fuller-looking eyelashes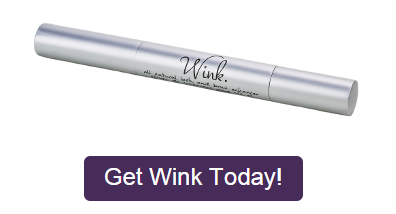 Gentle Reminders: If you liked this type of content and want to see more, scroll to the top of the page, enter your email in the right hand column, and click "subscribe." To share with friends, use the social sharing icons below. This blog contains affiliate links; both clicking on and purchasing through links help pay for this content.