Eyebrows frame the eyes and help define facial features. While filling in and shaping the brows is common, concealing the underbrow area has become an important makeup technique. The underbrow area often has discoloration that can make the brows appear ungroomed.
Using an underbrow concealer can brighten the brow ridge area for a lifted look. This article covers how to apply eyebrow concealer and other underbrow makeup products.
What Is Underbrow Makeup? How It Is Used?
Underbrow makeup refers to makeup products applied to conceal, color-correct, highlight, or prime the skin under the eyebrow. It is used to brighten the brow ridge area under the arch of the brows for a more youthful wide-eyed look.
An underbrow concealer, also called a brow bone highlighter, helps disguise any discoloration, veins, or shadows under the brows.
How Do You Apply Eyebrow Concealer? Steps For Applying Eyebrow Concealer
Follow these steps to seamlessly apply underbrow concealer:
1. Start with clean moisturized skin under brows. Brush brow hairs upwards using a spoolie.
2. Choose a concealer that matches your skin tone or is slightly lighter. Liquid or creamy concealer works best.
3. Use a small stiff angled brush to pick up the product.
4. Identify the brow ridge by running your finger from the inner to the outer corner underbrow.
5. Apply concealer in light short strokes underbrow following the ridge. Blend downwards.
6. Soften the edges by stippling them with a makeup sponge for a seamless look. 
7. Set with translucent powder using pressing motions. Avoid excessive powder.
8. Finish by grooming brows with brow gel. Brush hairs back into place over concealer.
Using the right shade is crucial for a naturally brightened yet not obvious look. Apply minimal product and blend well underbrow tail and arch for best results.
Types Of Underbrow Makeup
Here are the common types of underbrow makeup products: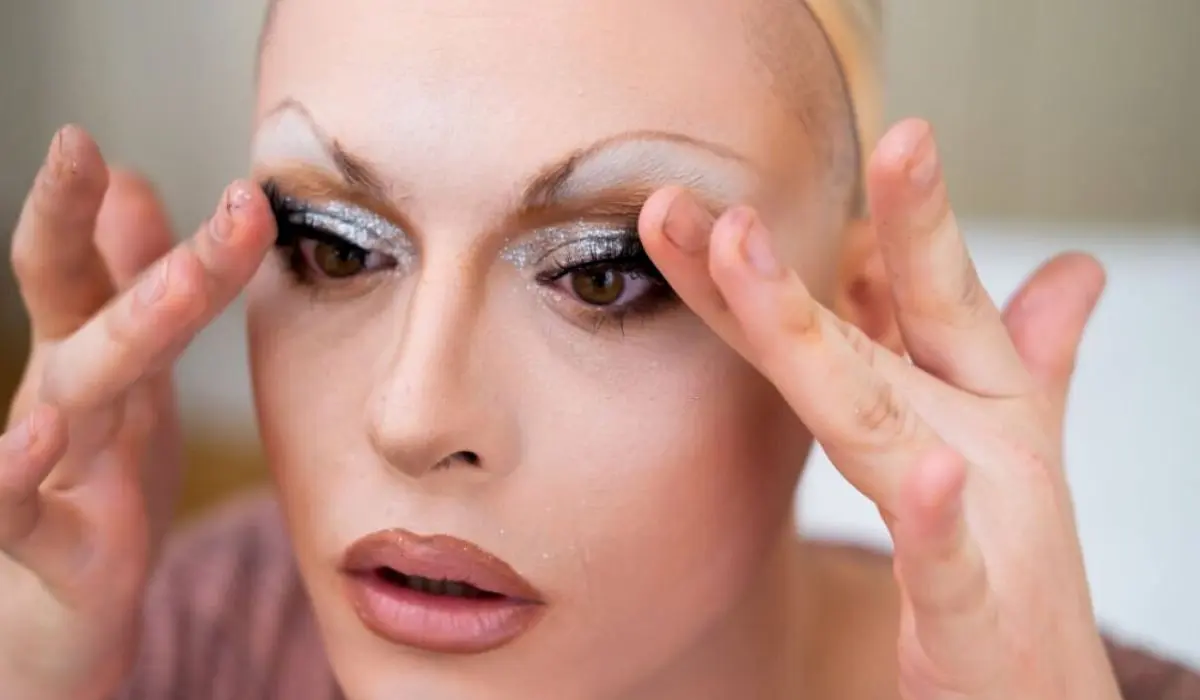 1. Concealer – Liquid or cream concealer offers buildable coverage and a dewy finish after blending. Use a shade lighter than your skin.
2. Color corrector – A green color corrector can cancel out redness under brows. Lavender corrector brightens sallow skin. Apply before concealer. 
3. Highlighter – Matte highlighting powder or creamy highlighter brightens and defines the underbrow area.
4. Eye primer – Neutral eye primer creates a smooth base for concealer and prevents creasing.
5. Setting powder – Translucent powder sets concealer for a long-lasting finish. Avoid sparkly finishing powder.
Benefits Of Underbrow Makeup
Using underbrow concealer and makeup offers many benefits:
1. Conceals discoloration and veins under the brows.
2. Provides a clean, flawless base for brow makeup. 
3. Brightens the underbrow area and makes arches more prominent.
4. Defines the brows and makes eyes look more lifted.
5. Offsets any dullness or shadows around the brows.
6. Gives a smooth, well-groomed finish to the brows.
7. Makes brows look thicker and fuller, especially when hair is sparse. 
8. Creates symmetry between brows and facial features.
9. Gives a wide-awake, youthful look when used properly.
Precautions And Tips For Underbrow Makeup
Here are some tips to apply underbrow makeup safely:
1. Always do patch tests for new makeup to check for allergies.
2. Never apply concealer over eye makeup for clean application.
3. Use a color corrector before concealer if discoloration is severe. 
4. Opt for waterproof concealer for oily skin and long wear.
5. Never forget to set concealer with powder to prevent creasing.
6. Use an eyebrow pencil after concealer for natural hair-like strokes. 
7. Avoid shimmery highlighters that photograph with flashback.
8. Lightly fill any sparse areas along the brows after concealing. 
9. Do not apply excessive concealer or take it too far down onto your eyelids.
10. Carefully select a concealer shade that matches your skin tone.
11. Keep all makeup brushes and sponges clean to prevent infection.
Conclusion
When used properly, underbrow concealer and highlighter can give an instant brow lift and brightened look. Concealing the brow bone area helps frame the eyes better while allowing the brows to stand out.
Use lightweight liquid or cream products that blend seamlessly under the brow. Set with powder and finish with brow gel for flawless lifted arches all day long.
Read More:- What Is Eyebrow Slit? Are Eyebrow Slits Attractive For All?
FAQs
1. How do you cover grey hair underbrows? 
Use a yellow-toned color corrector to neutralize the grey tones before applying concealer.
2. Should you highlight under brows for hooded eyes?
Yes, proper highlighting can help open up hooded eyes. Avoid going too far down onto the lid.
3. Can men use underbrow concealer?
Yes, men can also use underbrow concealer and highlighter subtly for well-framed brows. Use products labeled no-shine.
4. What is the best concealer for oily under-eye areas?
For oily under eyes, use a mattifying concealer or cream-to-powder formula that controls oil.
5. How often should underbrow concealer be applied?
Apply it daily as part of your brow routine. Use a primer if concealer creases or fades faster.