This#LeMarcLiquidLipCrème by Marc Jacobs was #gifted by Marc Jacobs and#Influenster for review. No other compensation was provided. This blog contains affiliate links.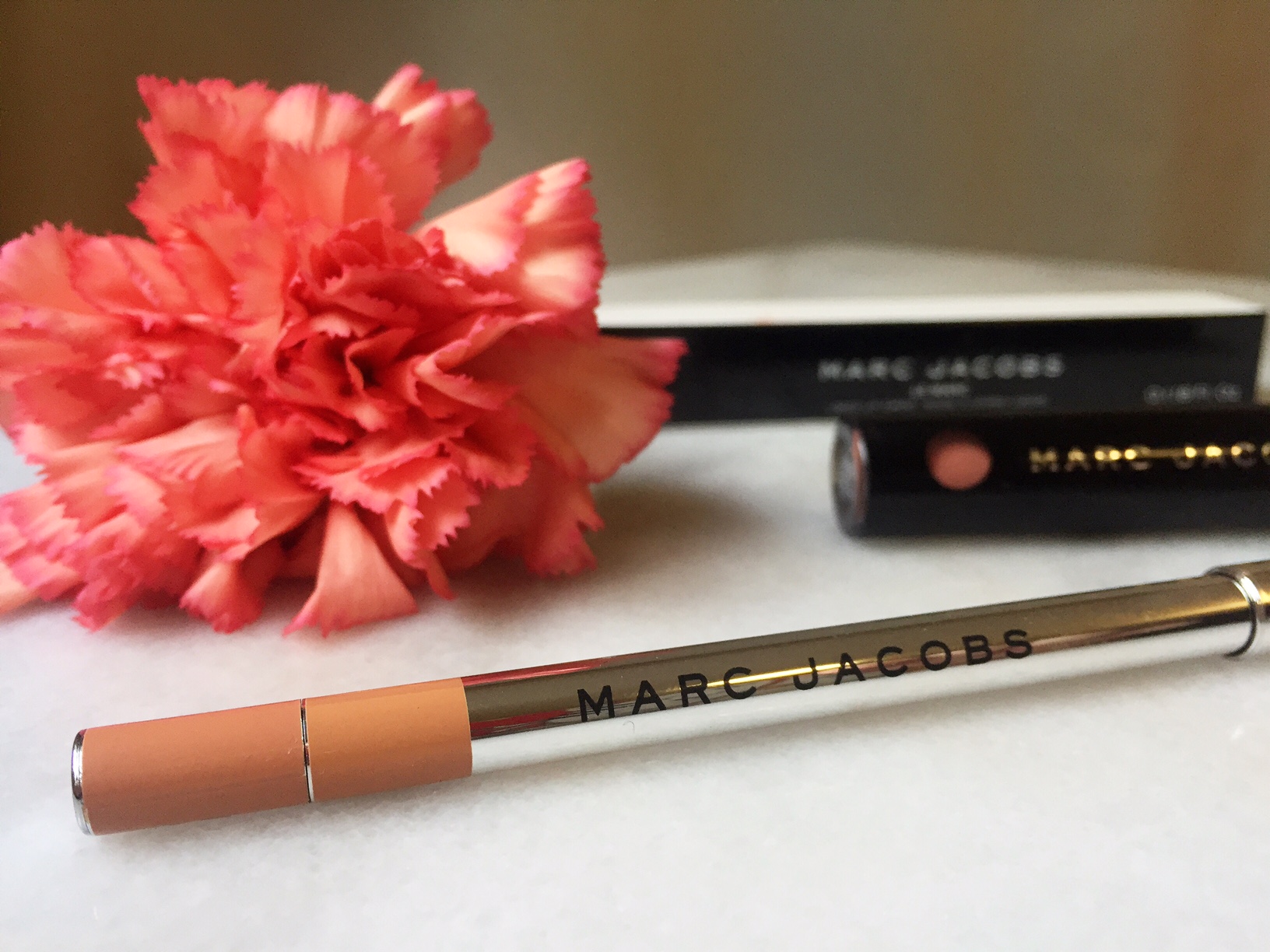 Today I had the absolute pleasure of testing the #LeMarc lip kit by Marc Jacobs. Actually, it's not a kit, but it was sent to me as one.
I'm not a big lippie person–I usually stick with one of my 50 shades of the same fire engine red–but I do know a thing or two about what makes a good lippie and a bad lippie.  And while I'm the first to tell fashion brands venturing into beauty to "stay in their lane", the Le Marc lip products are actually worth your consideration.
So, without further ado:
First Impressions: Le Marc by Marc Jacobs
For reference, here's what I was sent to review:
The Le Marc Poutliner in (Nude)ist 300 and the Le Marc Liquid Lip Créme in Hot Cocoa 460. The colors are reminiscent of stand-outs during the 90s. Yes, I remember most of the 90s.
Packaging:
A quick rundown on the packaging, because who doesn't love to talk about beauty packaging: the outer box is cheap (150-200g paper) and unmemorable. The lippie packaging, on the other hand, is quite memorable.
As with other Marc Jacobs products, the lippies have a decidedly round or oval design, with sleek seamless printing. The liquid lip créme has a small transparent peep-hole toward the end of the tube, to let you see the true color of the gloss (smart). The Poutliner pencil is made of sleek aluminum with a band at the end to show off the color (standard but classy).
The Poutliner really stuck out to me as sleek and classy; it's something I would like to pull out and show off at "touch-up" time.
Application:
The Poutliner box reads:
Gel-based. Collagen-infused. Farewell to Feathering. Crayon Gel.
No lie, this was the EASIEST application of any lip liner that I've ever used. It glided on, twists up out of the pen (yay, no sharpening required!) and applies like a dream. Most pencils that I use are a). wooden and b). tough as nails to apply BUT they stay forever so I don't mind.
Most days that I wear lipstick, I'm actually just wearing lip liner on the full lip. Lipstick smears, smudges, fades, feathers.. it kind of sucks to wear. But lip liner stays put, doesn't transfer, and while the matte look was wildly popular, lip liner was kind of a no-brainer.
Here's what lip liner only looks like:

It was fairly hydrating as far as lip liners go. It's definitely wearable alone.
The Lip Créme reads:
Plump Look. Satin-Sheet Sheen. Yours to Try.
Overall, I was less impressed with the Lip Créme. Don't get me wrong, it tasted/smelled good (faintly of birthday cake) and applied easily and evenly. It matched the lip liner perfectly and carried a mid-sheen: not quite glossy, not quite matte.
It just wasn't as "innovative" or new-to-me as the gel crayon Poutliner.
Here's the full look:
Wear & Tear:
I didn't wear the color out, as didn't really suit me, but given how well the lip liner and lip créme worked together (some formulations really aren't compatible), I would expect at least 4 hours of wear before a touch-up was needed.
Unless you're like me and constantly lick your lips. Then stick with just the Poutliner for all-day wear.
Takeaways: Le Marc by Marc Jacobs
If the color looks good to you, definitely give this duo a try.
All the colors in the Le Marc collection range from nude to pink–so no fire engine reds or island-ready fiery oranges for me–but they are perfect for the sophisticated woman looking for an easy lip kit that will wear all day. I'll probably be reaching for the Clear Poutliner and apply it before liner, lipstick or lipgloss to prevent feathering.
Shop the Le Marc Look: