Having bright, glowing, and fair skin is a desire for many. However, due to pollution, sun exposure, poor lifestyle choices, and inadequate skin care, the skin can become dull and pigmented over time.
People often turn to chemical creams and treatments to lighten their skin tone, which can sometimes do more harm than good. A natural, safe, and easily available alternative is cucumber. With its cooling, soothing and bleaching properties, cucumber can gradually lighten, tighten and nourish the skin.
Is Cucumber Good For Skin Whitening? 
Yes, cucumber is an effective natural ingredient for skin whitening and brightening. Its high water content (95-98%) helps hydrate, revitalize, and soften the skin. It acts as a mild astringent, tightening enlarged pores and controlling excess sebum production which can cause skin dullness.
Cucumber also contains mild natural bleaching agents like ascorbic acid and caffeic acid along with vitamin C and antioxidants. Together, these curtail excess melanin production and reduce pigmentation and tan for a brighter complexion. The vitamin and mineral content of cucumber nourishes the skin, combats free radicals, and protects against damage.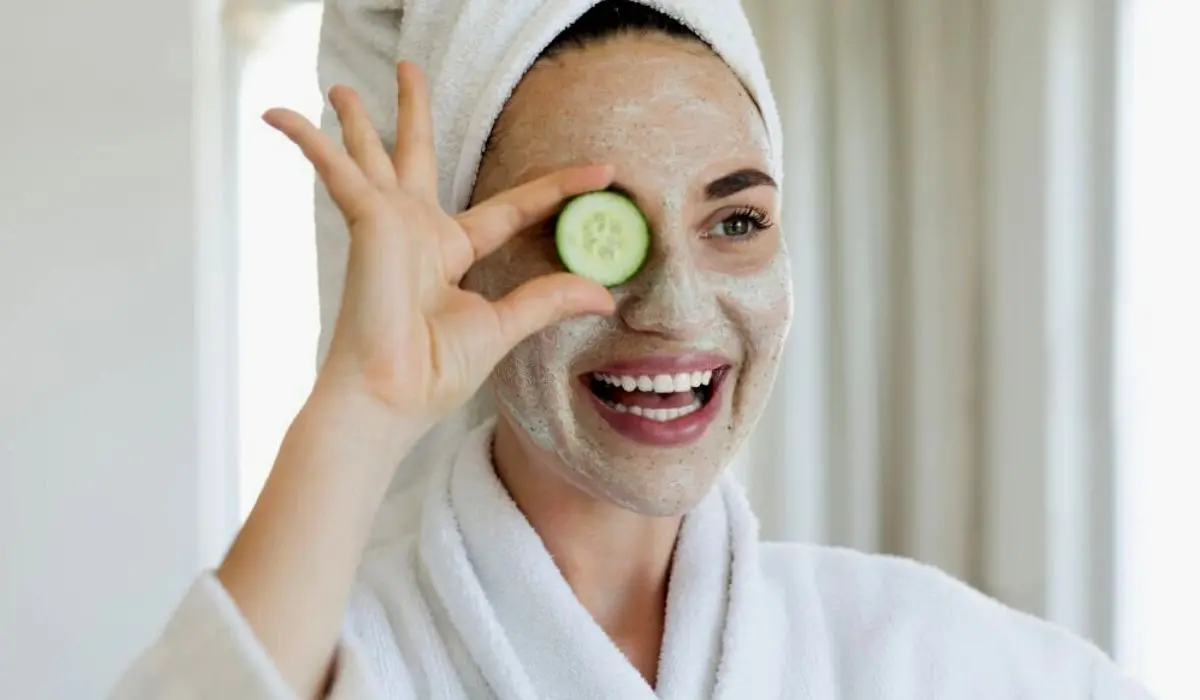 How Is Cucumber Used For Skin Whitening? Uses Of Cucumber 
1. Cucumber Juice
Extract fresh cucumber juice and apply it directly on cleansed skin using a cotton pad. Allow it to dry, without rinsing, for at least 30 minutes before washing off with water. The astringent properties help tighten pores. Doing this daily provides a bleaching effect over time.
2. Cucumber Puree 
Blend 1 peeled cucumber into a paste. Add a pinch of turmeric and 1 tsp honey. Apply this puree on the face and neck. Leave it on for 20 minutes and rinse with cool water. Turmeric brightens the dull complexion while honey moisturizes. Using 2-3 times a week will rejuvenate the skin.
3. Cucumber Yogurt Mask
Mix 1 tbsp yogurt with 2 tbsp grated cucumber. Apply on the face and allow it to dry for 15-20 minutes before rinsing off. Yogurt moisturizes and exfoliates gently. Doing this 2-3 times a week will lighten skin over time.
4. Cucumber Lemon Toner 
Mix equal parts cucumber juice and lemon juice. Dip a cotton pad and apply it on clean skin. It helps tighten pores, control oiliness, and fade tan when used daily. Rinse after 20 minutes. Vitamin C boosts radiance.
5. Cucumber Rose Water Mist
Blend a peeled cucumber and strain out the juice. Mix it with equal parts rose water and a few drops of glycerin. Transfer to a spray bottle and spritz this hydrating mist on your face 2-3 times a day. It helps soothe and brighten dull skin.
6. Cucumber Almond Scrub
Blend together 1⁄2 cucumber, 2 tbsp almond powder, 1 tsp honey, and a few drops of lemon. Gently rub this effective scrub on the face in circular motions and wash off after 10 minutes. Almond powder exfoliates while honey and lemon whiten skin. Use 2 times a week. 
7. Cucumber Sandalwood Pack 
Mix 2 tbsp cucumber pulp with 1 tsp sandalwood powder and 1 tbsp milk to form a paste. Apply on a clean face and wash off after 20 minutes. Sandalwood brightens skin while milk nourishes. Using this pack 2-3 times a week helps lighten the tan.
8. Cucumber Multani Mitti Pack
Grate 1 cucumber and squeeze out its juice. Mix with 2 tbsp Multani mitti, 2 tsp rose water, and a few drops of lemon juice. Apply this smooth pack on the face for 20 minutes and wash off. Multani mitti cleanses deeply while lemon removes tan. Use twice weekly.
9. Cucumber Apple Pack 
Grate 1 apple and cucumber each. Add 2 tsp oats powder and 1 tsp honey to make a smooth paste. Apply on the face for 15 minutes and rinse with water. Apple exfoliates, oats cleanse while honey moisturizes, giving an instant glow. Use once or twice a week.
10. Cucumber Aloe Vera Gel
Blend cucumber pieces without peeling. Add 2 tbsp aloe vera gel and juice of 1⁄2 lemon. Apply this gel on the face and rinse after 30 minutes. Aloe vera and lemon tighten pores, control oiliness and deeply cleanse the skin. Using 2-3 times a week helps whiten skin tone.
Benefits Of Cucumber For Skin Whitening
✔ Hydrates and nourishes skin deeply
✔ Tightens open pores and controls excess oil
✔ Contains mild bleaching agents like ascorbic acid 
✔ Rich in antioxidant vitamins C, E, and caffeic acid
✔ Curtails melanin production and reduces pigmentation
✔ Protects from sun damage and reduces tan 
✔ Combats free radicals and environmental damage
✔ Soothes irritation, inflammation, and puffiness
✔ Lightens acne scars, blemishes, and dark spots
✔ Improves collagen production for a firming effect
✔ Gives an instant glow and brightened complexion
Related:- Lip Serum For Dark Lips – Benefits And Usage Guide For Smooth Lips
Tips While Applying Cucumber For Skin Whitening
✔ Always use fresh cucumber, avoid wilted ones
✔ Peel and grate or blend to extract maximum benefits
✔ Perform a patch test before initial use to test for allergies
✔ Apply sunscreen before stepping out in the sun after using cucumber
✔ Use mild natural cleanser after cucumber application 
✔ Limit direct sun exposure and eat a healthy Vitamin C-rich diet 
✔ Maintain consistency in using cucumber for visible results
✔ Drink lots of water and moisturize the skin well after use
✔ Combine with other natural ingredients like lemon, yogurt, oats, etc to boost the benefits
✔ Store cucumber packs in the refrigerator for up to 3 days, do not freeze
Conclusion
When used regularly in face packs, juices, and toners and as part of a healthy skincare routine, humble cucumber can work wonders to lighten the skin tone naturally.
With its soothing, astringent, cleansing, and bleaching effects, it reduces tan, controls excess oil, tightens pores, exfoliates gently, curtails pigment production, and protects the skin from damage. Cucumber is safe for all skin types, non-irritating, and free from side effects.
For best results, adopt cucumber skin-lightening remedies along with plenty of sun protection, a vitamin C-rich diet, and adequate water intake. Gradually, you can achieve brighter, more luminous, and fairer skin.
Read More:- Coffee Face Mask For Glowing Skin: Transform Your Skin Naturally
FAQs
1. Can cucumber remove dark spots?
Yes, cucumber has mild bleaching properties that help reduce pigmentation and gradually lighten dark spots when applied topically and regularly.
2. How long does it take for cucumber to lighten skin?
With regular topical use of cucumber juices, packs, toners etc, initial skin-lightening effects may become visible over 2-3 weeks. For more pronounced and long-lasting whitening benefits, continue using cucumber for at least 2-3 months.
3. Is it okay to use cucumber on the face daily?
Yes, cucumber is very gentle on the skin and can be used safely on the face daily. It is suitable for all skin types, including sensitive skin.
4. Can cucumber remove sun tan?
Cucumber is rich in antioxidants and mild bleaching agents. With regular use, it helps reduce sun tan and pigmentation caused by sun exposure. Its astringent effect also tightens pores opened up by sun damage.
5. How to use cucumber on the face overnight?
After cleansing, apply cucumber juice or aloe vera and cucumber gel on the face. Leave it on overnight and wash it with water in the morning. This will deeply hydrate and nourish your skin through the night.