As skin ages, its needs change. Foundations that looked flawless in youth may begin settling into fine lines and wrinkles or accentuating age spots in mature skin.
However, the right foundation can minimize signs of aging for a beautiful, youthful glow. This article explores how foundations suit older adults, the top 6 foundation options, precautions, and answers common questions.
Is Foundation Suitable For Older Adults? Types Of Foundations Suitable For Older Adults
The foundation is not only suitable but can be helpful for older adults when chosen wisely. The keys are using formulas that hydrate, plump, and provide buildable coverage. Avoid drying, matte textures. The main foundation types suitable for mature skin include:
? Liquid foundations with a satin, radiant, or dewy finish that won't settle into wrinkles. Lightweight and medium coverage options.
? Cream foundations and compacts that give a moisturizing effect to nourish aging skin. Sheer to medium coverage.
? Cushion foundations provide lightweight, buildable coverage with a hydrating effect. Convenient application.
? Mineral and powder foundations with a fine texture that doesn't accentuate dryness or fine lines. Give a soft-focus effect.
? BB and CC creams provide lightweight, easy coverage while benefiting the skin. Contain hydrating and anti-aging ingredients.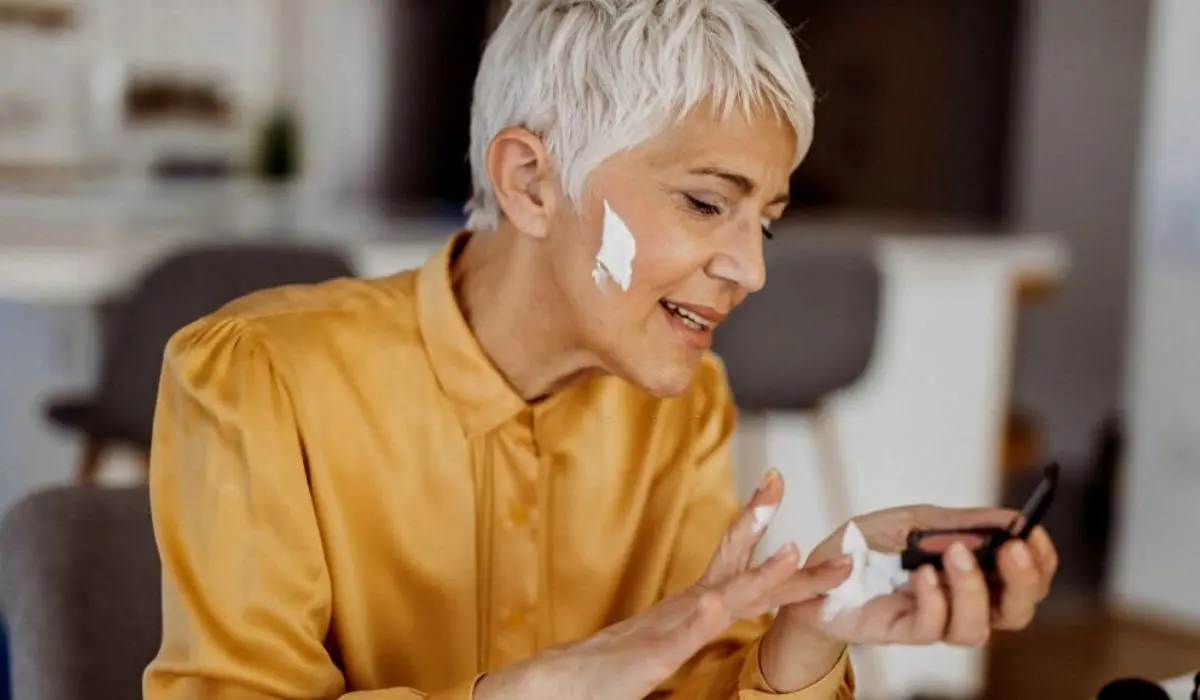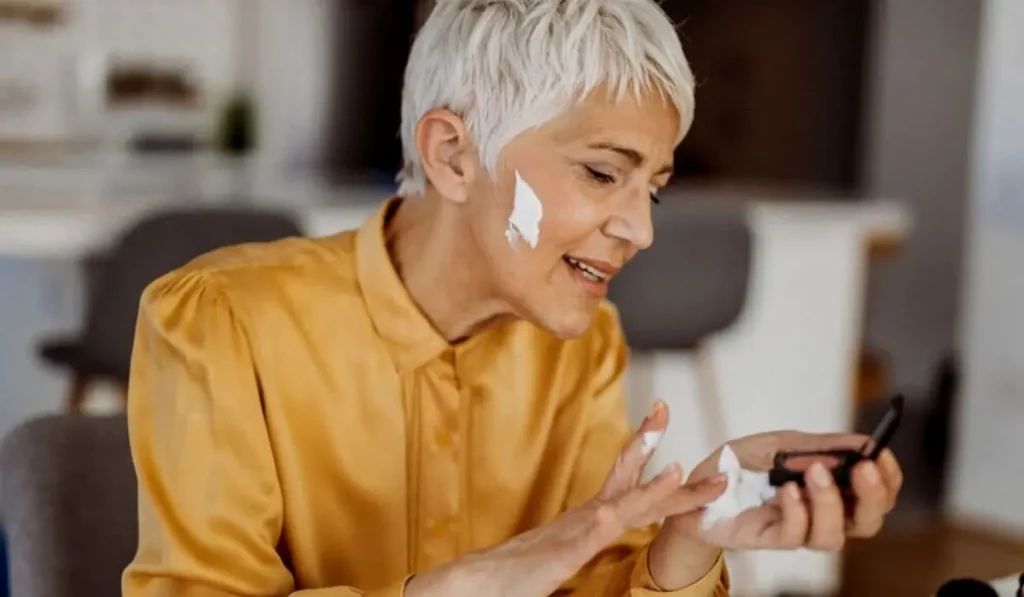 6 Best Foundations For Older Adults
1. L'Oreal Paris Age Perfect Radiant Serum Foundation
This lightweight serum foundation provides a radiant finish while covering age spots. Hyaluronic acid and vitamin C hydrate and plump skin.
2. Estee Lauder Futurist Hydra Rescue Moisturizing Foundation 
The oil-free, hydrating gel formula nourishes dry skin and gives buildable medium coverage with a satin finish. Diffuses the look of lines and wrinkles.
3. IT Cosmetics CC+ Cream with SPF 50+ 
Color-correcting pigments even out skin tone while antioxidants, niacinamide, and peptides improve skin over time. Provides full coverage with a natural finish and broad-spectrum sun protection. 
4. Clinique Even Better Makeup Broad Spectrum SPF 15
This oil-free liquid foundation offers customizable sheer to moderate coverage and a naturally radiant finish that doesn't settle into fine lines. Contains ingredients to improve skin elasticity and even tone.
5. Neutrogena Healthy Skin Liquid Makeup SPF 20
A budget-friendly light foundation that provides buildable medium coverage with a luminous finish. Contains retinol, hyaluronic acid, and vitamin C&E to improve skin while covering imperfections.
6. bareMinerals Original Loose Powder Foundation SPF 15
Silky mineral powder provides light, customizable coverage that lets skin breathe while disguising imperfections. Zinc oxide protects skin from environmental aggressors. Suitable for sensitive skin.
Risk Factors While Using Foundations For Older Adults
Some risks of using the wrong foundation formula for mature skin include:
? Settling into fine lines and wrinkles, accentuating their appearance
? Clinging to dry patches or areas of rough texture
? Caking, flaking, or causing breakouts 
? Not providing enough coverage for age spots and hyperpigmentation
? Blocking pores or aggravating conditions like rosacea
? Lacking sufficient SPF protection, allowing sun damage
? Containing irritating fragrances or ingredients 
Choosing non-comedogenic, hydrating formulas suitable for sensitive skin minimizes risks. Performing a patch test before applying any new makeup product can identify potential irritation or allergies.
Precautions While Using Foundations For Older Adults
Some precautions when selecting and applying foundation include:
? Opt for liquid, cream, or cushion formulas with a satin or dewy finish
? Start with a small amount and build up coverage gradually 
? Apply using a makeup sponge for a smooth, blended effect
? Set makeup with a translucent powder to increase wear time
? Avoid rubbing or tugging skin when applying and removing makeup
? Use makeup remover suitable for mature skin to avoid irritation
? Choose products labeled "non-comedogenic" or "for sensitive skin"  
? Check that foundation contains SPF protection against sun damage
? Test on a small skin area first to check for allergies or irritation
Read More:- How To Incorporate Wrinkle Creams Into Your Skincare Routine? Procedure And Usage
Conclusion
Foundation can be worn beautifully at any age. The right texture and formula help minimize imperfections and brighten mature skin for a vibrant, youthful appearance.
Silky, buildable formulas with moisturizing, anti-aging ingredients, and SPF protection are ideal for skin changes that come with aging. Following some simple precautions allows older adults to enjoy flawless-looking skin using foundations made just for them.
FAQs
Q1. Is liquid or powder foundation better for older skin?
A1. Light liquid or cushion foundations are generally better for mature skin as they provide hydration. But mineral powder foundations can work well for oily skin if the texture is finely milled.
Q2. Should you apply foundation all over your face?
A2. It's not compulsory, but applying foundation over the entire face helps create an even canvas for the rest of the makeup. Use concealer on small spots first. Focus foundation on areas that need more coverage.
Q3. Is it okay to wear a foundation every day?
A3. Yes, the foundation can be worn daily as long as you allow skin breaks and don't sleep in it. Use a gentle makeup remover to avoid irritation and let the skin breathe overnight.
Q4. Does the foundation really expire?
A4. Yes, foundations contain unstable ingredients that degrade over time. Toss out foundations over 2 years old. An unusual smell or texture means a product has expired. 
Q5. What is the best primer for mature skin?
A5. Look for hydrating primers with ingredients like hyaluronic acid. Silicone-based primers also work well to smooth fine lines and fill in pores before foundation application.