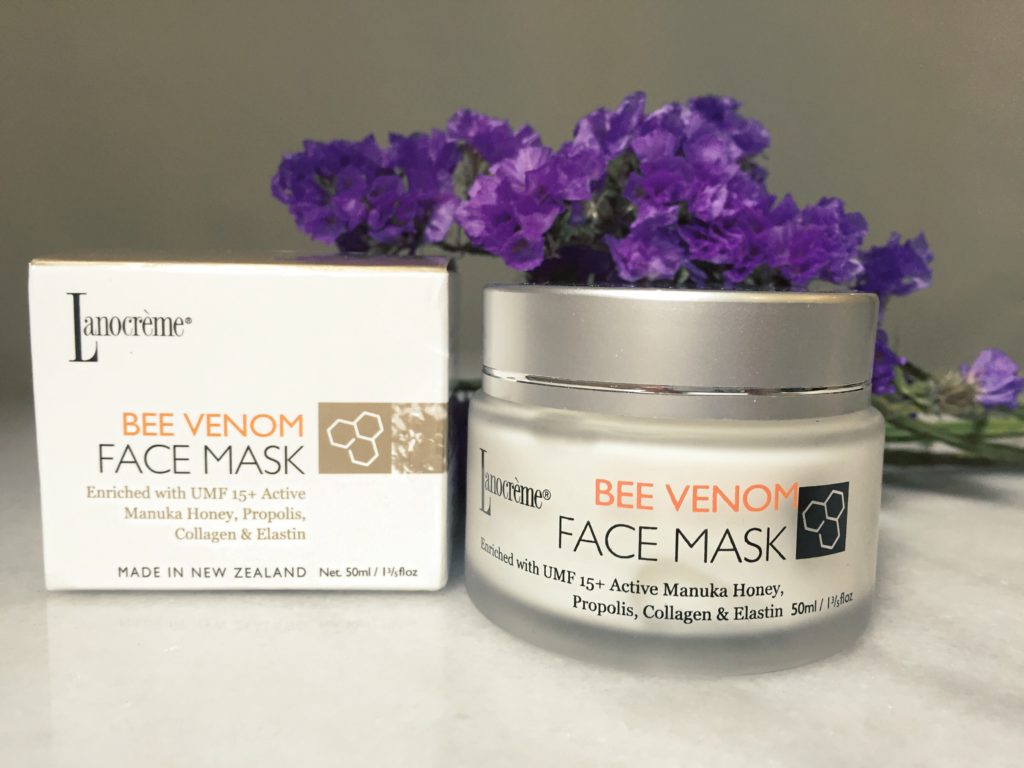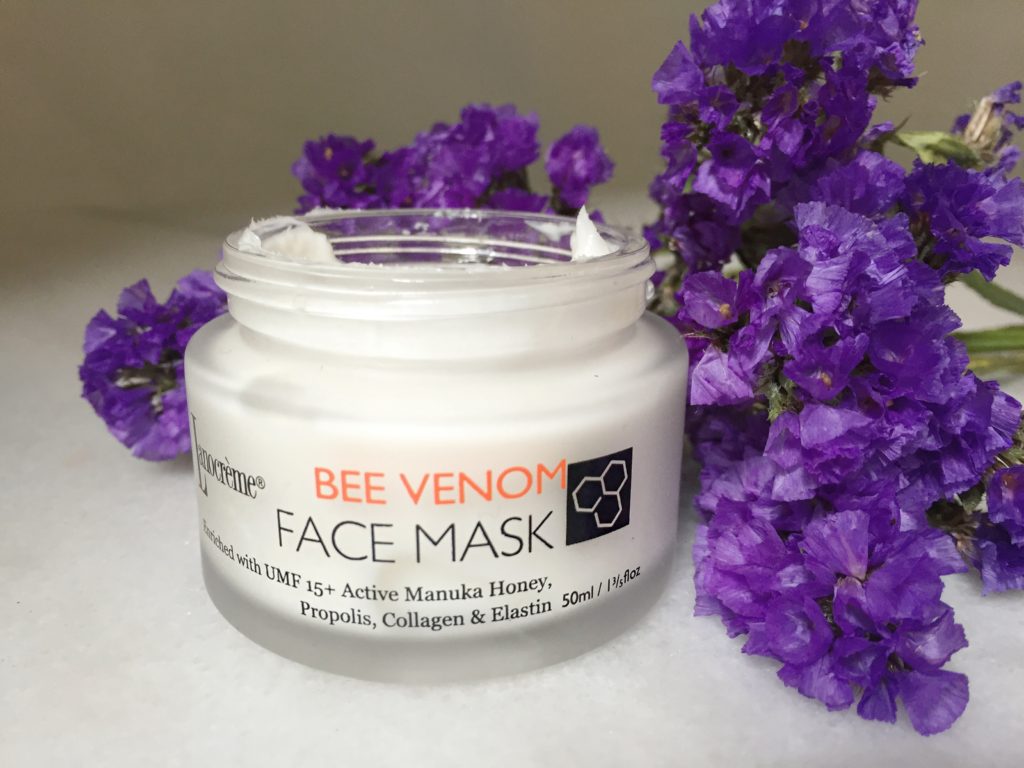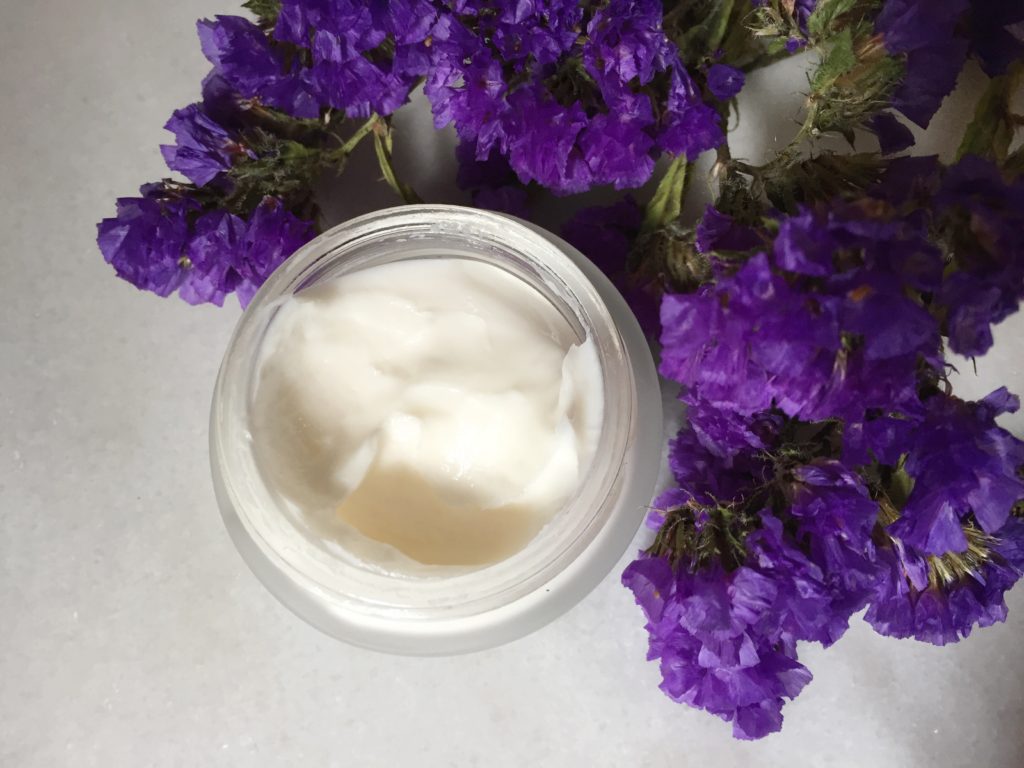 Bee venom has become a very popular alt-wellness anti-aging treatment, presumably since the Duchess of Cornwall openly attributed her age-defying wrinkle-reversing results in 2010 (source), and gaining popularity again in thanks to Goop founder Gwenyth Paltrow's 2016 interview with the NYT, where she mentioned that she's tried "apitherapy," or bee-stinging therapy.
What exactly is a bee venom facial, though? And what's the deal with bee venom?
Today I decided to dive into a load of research and even try it myself. Tears were shed in the making of this post.
Is Bee Venom an Effective Anti-Ager?
Back in 2010, when the Duchess of Cornwall came out saying she used bee venom, there was little research to back up the effectiveness of it. The Daily Mail posted a before and after of her (which for some, is enough evidence in itself):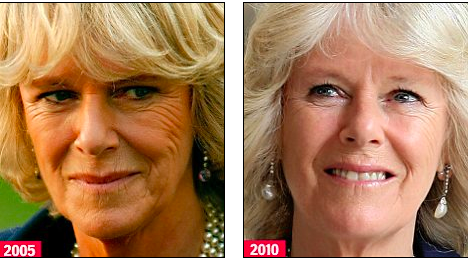 As they said, she's spent a lot of her years smoking and tanning. Bee venom has done the trick for her.
As a beauty blogger and more importantly, beauty product creator, I am always on the lookout for sly paid product placement, and I thought this might be one of those times.
However, the newest research (since this craze began) seems to back it all up.
Just want to say before I start: This next study is a PEOPLE study. Not an animal or in vivo test, so the results are pretty close to what reality will reflect.
This 2015 study asked 22 "generally healthy South Korean women aged between 30 and 49 years" to apply a bee venom treatment serum* on their entire facial skin at an amount of 4 mL twice daily in the morning and evening for 12 weeks. Clinical evaluations were made at weeks 0 (baseline), 4, 8, and 12. A dermatologist's visual assessment, photographs, and image analysis of replicas were used to evaluate changes in skin wrinkles.
*Here is the breakdown of the serum, made of 0.6% bee venom:
From participants' self-assessment, at the end of 12 weeks, 55% of the respondents indicated that the bee venom serum improved the appearance of fine wrinkles and made their skin look healthier and more youthful. 41% said it improved the depth of fine wrinkles. Around 40-45% said it improved the texture, softness and moisture of their skin, but those numbers went slightly up and down throughout the 12 weeks.
Sounds great, right?!
My Theory on "Anti-Aging" Bee Venom
The results actually only show a 10-15% decrease in the quantitative (measured) depth and appearance of fine lines and only 55% (at most) of participants self-reported any results. That means 45% of participants weren't happy with the results, and those who did experience results saw very small results. Are their results negligible? Probably not to them.
But when bee venom products are ringing in at $200 a pop, it makes me wonder if it's worth it.
And then there's this: One big ole disclaimer is that at the end of the study, the scientists say point blank:
"The mechanism by which bee-venom serum exerts its antiwrinkle effects is unknown."
They also added these tidbits from other studies, "When wounded mice were treated topically with bee venom, increased collagen protein synthesis was demonstrated,13 which might be related to increased proliferation and migration of human epidermal keratinocytes.14 Bee venom as a cosmetic ingredient may be useful as a topical agent for promoting skin regeneration or a treatment of certain epidermal conditions. Topical application of bee venom can be well tolerated in the human skin, because it has exhibited no dermal irritation potential in animal studies.15"
They also stated, "Long-term treatment with bee venom-containing cosmetics could be safe, because the irritation potential of bee venom is negligible."
I'm going to have to respectfully disagree ..for now.
My hypothesis is that they did not study the effects for long enough. When you compare the effects of Nerium on wrinkles, you'll see something similar. Potent anti-wrinkles effects that tend to wear off over time. It's users are crazy about the product, because it REALLY WORKS! … until it doesn't.
Eventually your body gets used to the poison you're putting on it every day and it stops reacting in an inflammatory matter to that poison. Read the 1 star reviews some time. You'll find the truth among the (compensated) hype. My review on Nerium's safety can be found here.
One key distinction here: Oleander is fatally poisonous to humans, whereas bee venom is simply irritating (unless you have an allergy to bees). Oleander is used as a poison, bee stings are minor irritations. When you play with oleander, you're playing with fire. Bee venom may not be quite as dangerous, though it is not without any side effects: the median incident of reaction during any given bee venom therapy is about 28% (source).
Who knows? Not enough long-term research either way yet.
If you turn to the beauty bible, Allure, they report this from an interview with Dr. Graf, "Dr. Graf says melittin, the active compound in bee venom, does have anti-bacterial and anti-inflammatory properties, and can boost the immune system. Since the venom is anaphylactic, it temporarily relaxes the facial muscles, breaking down cell membranes and improving circulation—all of which can theoretically contribute to a tighter complexion."
I do want to point out that the interview is PRIOR to the 2015 paper I cited. I'm not sure how much was really backed up at that point.
In any case, all we know is that Bee Venom does slightly help with the depth and appearance of fine wrinkles when used every day for at least 12 weeks. When it comes to wrinkles and fine lines, prevention is the true key. Bee venom is just a temporary solution to fix the problem after it's already occurred. ..Or so we think.
Now, onto the test!
The Test: Lanocreme Bee Venom Face Mask
Alright, onto the test. The research is great, but you always need to test it, right?
As you saw in the beginning of this post, I purchased the "Bee Venom Face Mask" by Lanocreme, to do this experiment at home. It was $5 at T.J. Maxx, which isn't a necessarily auspicious beginning for a product test, given that T.J. Maxx offers the discounted leftovers in beauty. The mask didn't expire until 2021, meaning this was an early reject.. so again, not an auspicious beginning.
Having had great success with my attempt at Korean double-masking last night–a Shea Butter Korean mask and a Snail Mask–I figured that I could apply a mask and work comfortably, letting the ingredients do their thing while I plugged away online.
First, let's look at the ingredients, instructions, warnings and claims, as any properly informed beauty participant should:
Ingredients:
Water, Glycerin, Stearyl Alcohol, Cetyl Alcohol, Glyceryl Stearate, Caprylic/Capric Trigylceride, Avocado Oil, Almond Oil, Polysorbate 20, Bee Venom, Leptospermum Scoparium Mel (UMF 15+ Active Manuka Honey), Propolis Cera, Hydrolyzed Marine Collagen, Hydrolyzed Elastin, Lanolin, Rosehip Oil, Theobroma Cacao Seed Butter, Hydrolysed Hibiscus Esculentus Extract & Dextrin, Benzyl Alcohol & Salicylic Acid & Glycerin & Sorbic Acid, Tetrasodium EDTA, Vanillyl Butyl Ether, Parfum (Fragrance).
Real talk, the ingredient list is pretty good. Given that my trusted sources say alcohol isn't actually aging to the skin (and in fact can help increase penetration of key ingredients), the rest looks pretty good. In fact, I would wager that bee venom is used in a higher concentration than the study (higher than 0.6% of the formulation), though it is impossible to know. My hopes are high for this mask.
The instructions read:
"Apply sparingly to the face and neck daily, avoiding the eyes and leave on for 15 minutes before washing off. For the best effects, this rejuvenating face mask can also be applied in the evening after cleansing as a night cream to tighten and rejuvenate your skin while you sleep."
Although this blogger said do NOT sleep with it on.
WARNINGS:
Product causes stinging effect
Do not use if you have a bee allergy
Not suitable for sensitive skin
Patch testing prior to use is recommended
Keep out of reach of children
Reads like a poison warning label.
Claims?
"Bee Venom stimulates the production of naturally occurring collagen and elastin, creating a tightening and smoothing effect."
Interesting..
Ok, I got this.
I wrapped a towel around my head and tied it in the back with a hair tie. I looked myself in the eyes in the mirror and braced myself for this adventure. "No matter what happens, I believe in me."
30 seconds later came the tears.
This wasn't your typical, "My skin is having a reaction to this very acidic thing right now" reaction. It wasn't an acid burn. I knew that. So I stuck with it.
1 minute in, the tears are visible.
"Oooh! dat stings.."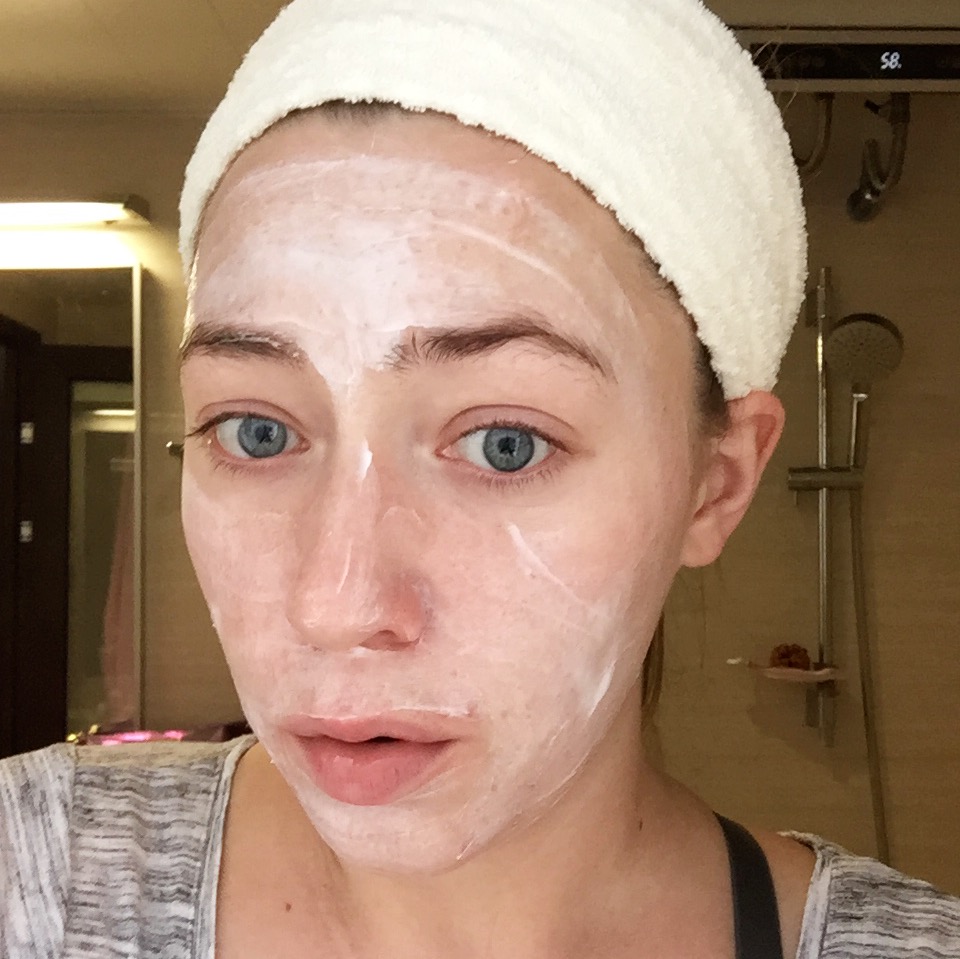 2 minutes in, I'm pacing the room.
My friend (witnessing this) said, "You look kinda red…"
"I'm gonna stick it out!" I yelled. "I can do this!"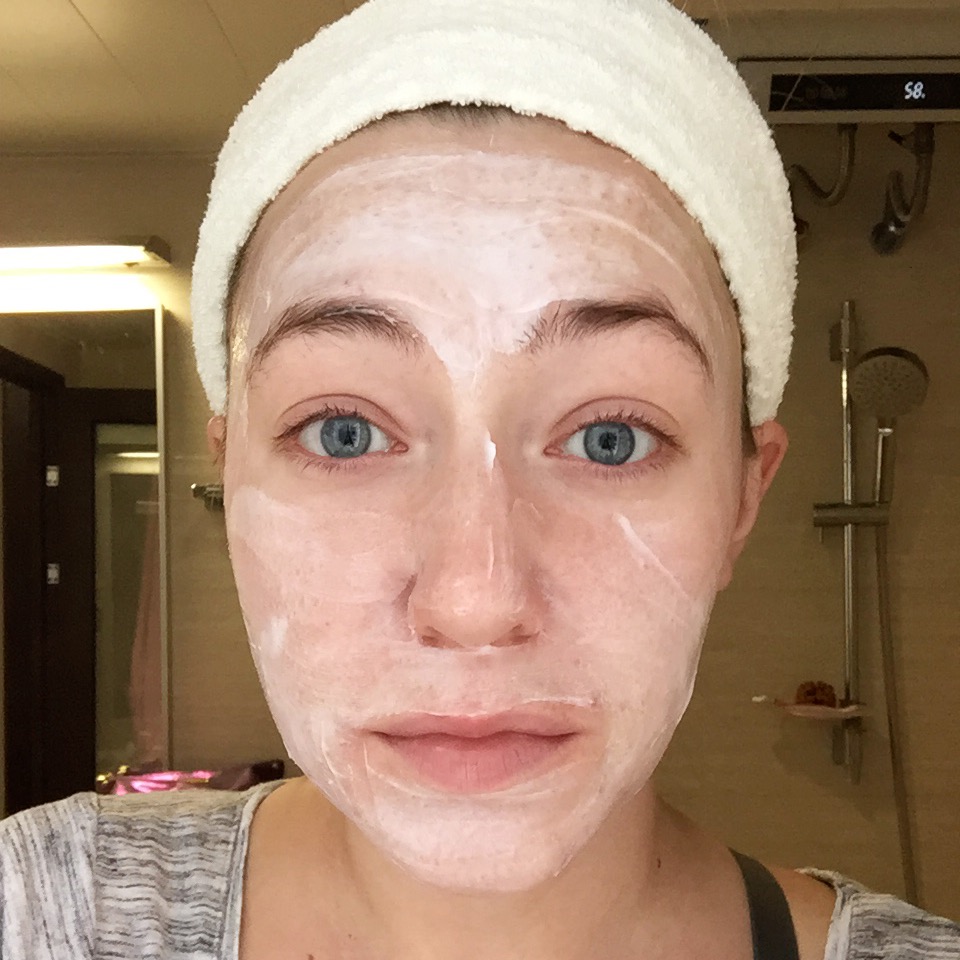 3 minutes in, I am exhaling VERY loudly and pacing and tearing up a lot.
I started jumping up and down a little to distract myself.
I'm starting to swear at no one or no thing in particular.
My friend again, "Don't you think you should stop?"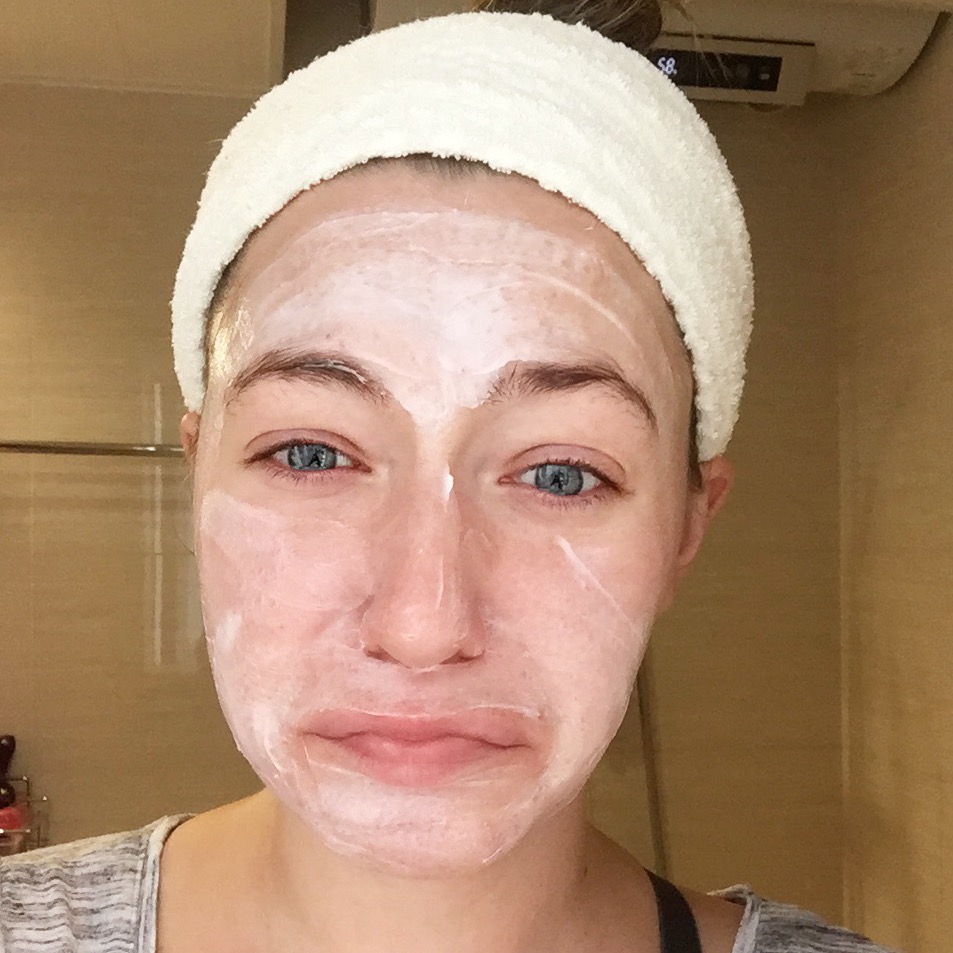 "Yeah I do."
"But first… LET ME TAKE A SELFIE."
4 minutes in, I called it quits.
I washed my face off with water as quickly as I could. I kept washing and washing, but the cold water felt warm to me. Nothing was relieving this burning, stinging bee venom sensation.
..I had an idea! 
I opened the air conditioning unit and stood in front of it, until the pain subsided. This is what that embarrassing situation looked like: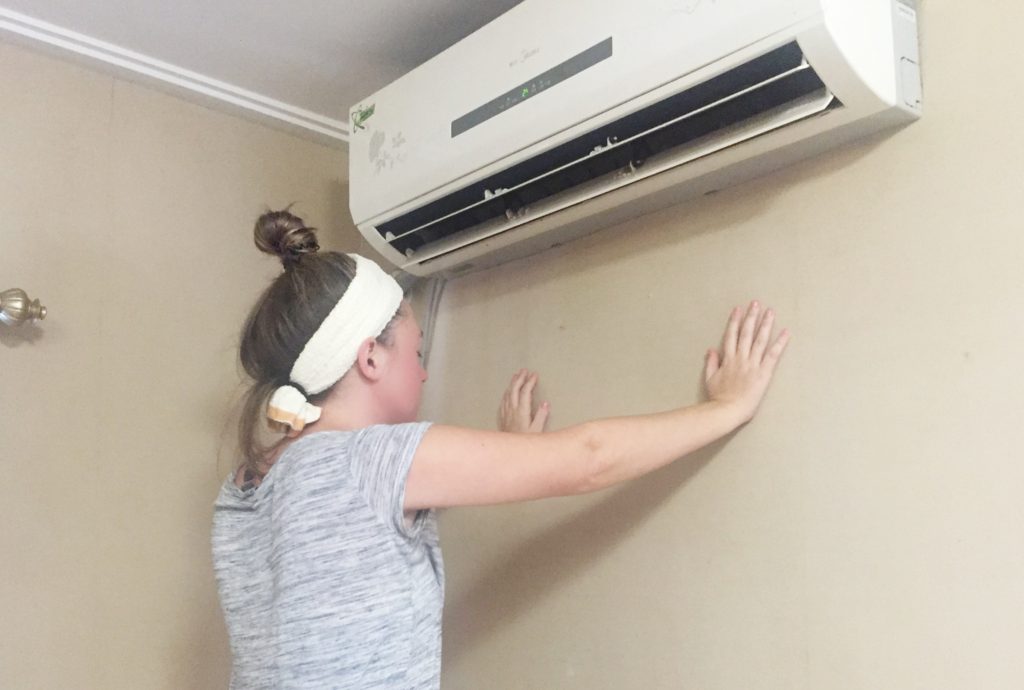 WOO SAHH
Thank god I had a friend to witness this incredibly embarrassing 5 minutes of my life, right?!
I neglected to understand the gravity of what the instructions were telling me before starting, falsely relying on happy recent memories with my Josie Maran "Lip Sting" plumper and thinking, "How painful could a 'bee sting' really be? It's skincare right? Like.. DIY skincare. It won't be that bad."
This was single handedly the most painful beauty experiment I have ever done. 
But what results did I have? I didn't even do a before and after. I was too focused on the pain.
So what's a beauty blogger to do?
I do it all over again.
The Test Take Two: Lanocreme Bee Venom Face Mask
The second time around I was a bit smarter.. I think.
I looked a my face–which was pretty smooth, not red anymore–and tried to figure out where I had fine lines that the bee venom could potentially help with.
My lovely forehead.
I have worry lines from RBF that ain't going away anytime soon.
Some days they are deeper than others, but if bee venom could help anything, it would be my worry lines.
This time I did what any good multi-masker would do, and simply applied the mask to my forehead!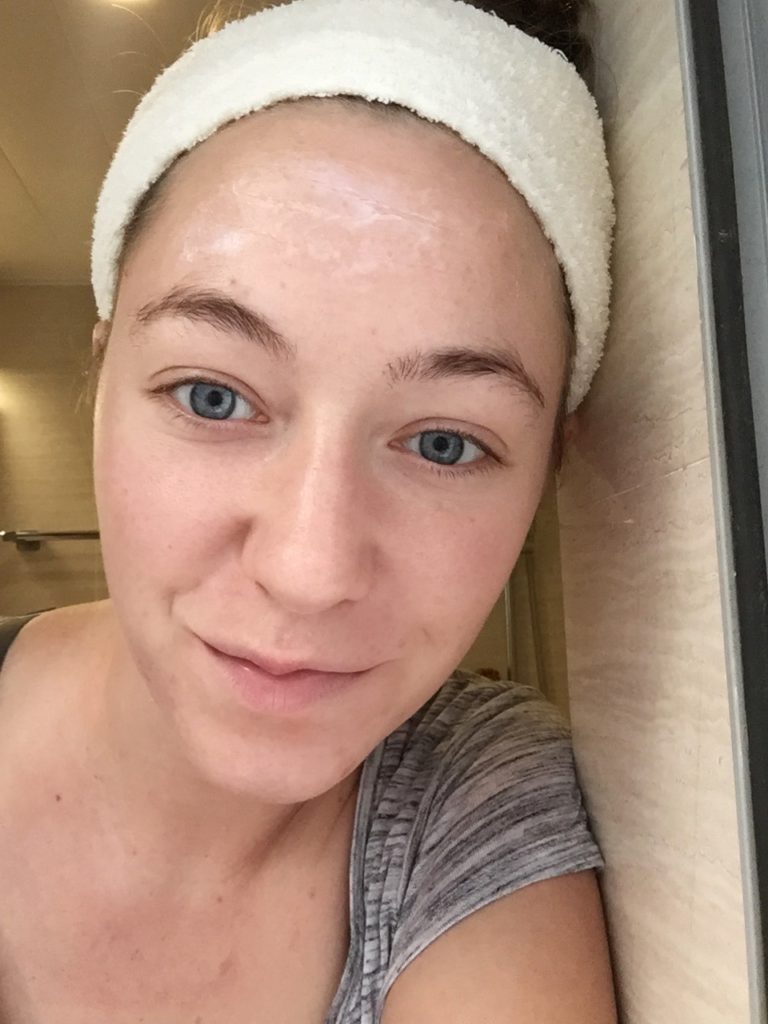 Much better.. Don't I look much happier this time?
The tingling didn't kick in until about 1 minute, and it was minor.  I kept the mask on my forehead while I worked on my computer. 15, 20, 30 minutes ticked by without me even noticing.
When I washed off the forehead mask, I noticed that my worry lines WERE less visible: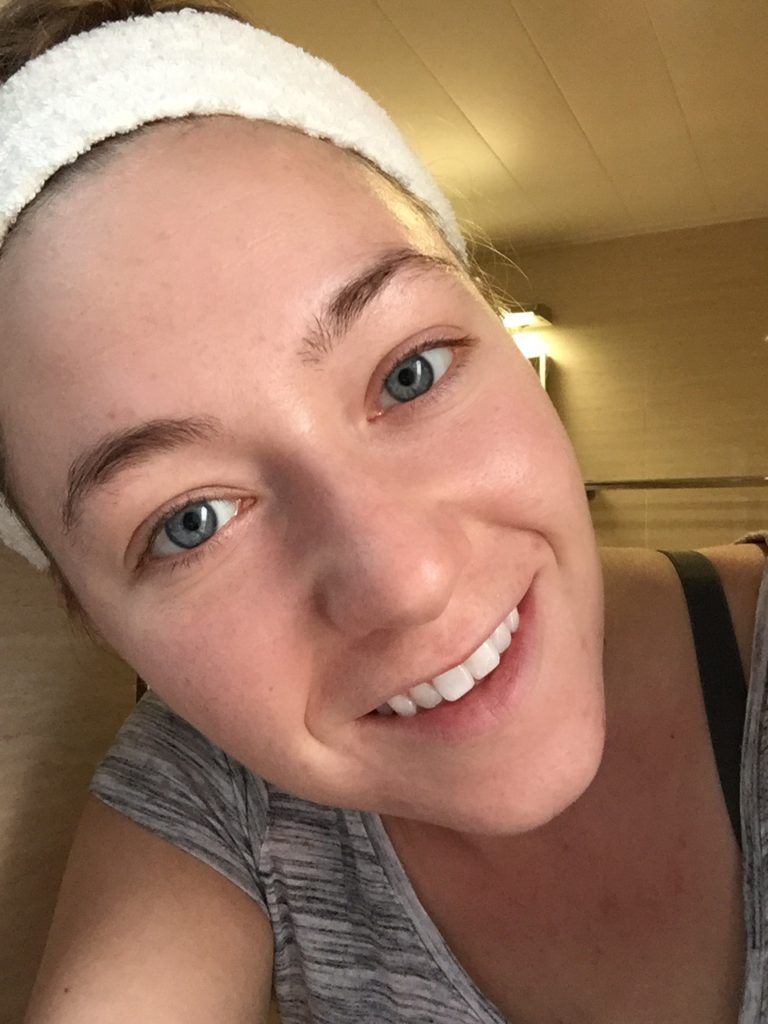 A lot less visible.
Yes, I know, the lighting isn't great at 5pm in November, but sans-makeup I was very happy with my less worried looking face. I feel like my results were on par with what the research suggested would occur, if not a little better (subjectively).
This is a product that was affordable, delivered results, has research backing it up, and will probably make it's way into my nightly skin pampering routine. I am excited to see what 12 weeks of bee venom can do for my forehead!
Takeaways: Bee Venom for Anti-Aging  + Lanocreme Bee Venom Face Mask
All in all, I was surprisingly happy with the bee venom mask.. just not as a full face mask.
Multi-masking is becoming increasingly popular and I now know why! My face has different regions with different issues, and I should treat it as such. Given that I'm only 24, I'd love to prevent as well as treat the fine lines on my forehead, before they irreversibly deepen.
For those looking for a similar wrinkle and fine line reducing effect without the side effects of unproven products like Nerium, I would suggest checking out a bee venom product as an alternative.
The Lanocreme Bee Venom Face Mask can be ordered off their website here. The site is functional, though it looks like it hasn't been updated since before I learned to type. You can also sometimes find Lanocreme products through 3rd party vendors on Amazon.
As with all alternative medicines, please, please, please read about all the side effects and BE careful! Don't overdo it, don't rub it all over sensitive skin, don't use it if you have a bee allergy and if you really want to be careful.. make sure you have an epi-pen nearby.
Gentle Reminder: If you like this type of content, support it! Scroll to the top of the page and enter your email in the right-hand side bar to keep seeing more content like this. If you super like it, use one of the social sharing buttons below to share it with your friends on social media, so they can enjoy it too ?
This blog contains affiliate links, like the ones below. Buying the products helps support the blog, but so does just clicking on them to browse ? Enjoy!
Ready to try Bee Venom for yourself? Check out my Picks: